Uncategorized
Loretta Lynn Shares Shania Twain's Viral "Mama Said" Video, Pays Tribute To Patsy Cline And Kitty Wells
And Loretta Lynn is doing just that, as she recognized some of her personal heroes in Kitty Wells and Patsy Cline yesterday, whom she called "the original female trailblazers" in a post on Twitter.
She noted that when she started in the business, it was a man's world, and they were some of the women she looked up to that helped her carve out her own place in the genre:
"When I came along it was a man's world. I idolized Kitty Wells and Patsy Cline… the original female trailblazers!
My heroes and inspiration. I'm always grateful and never forget what they did for me… for country music… for all us girls."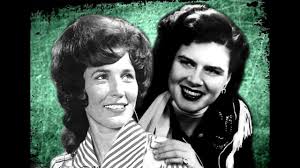 And in that same thread, stay with me here, she shared a link to a recent TikTok video by Shania Twain, which was a part of the viral "Mama Said" challenge in response to another video Taylor Swift had made calling Shania one of her personal heroes.
Shania shared her video with the same caption Taylor used, "country girls can't go pop" (which is an article for another day), and shared photos of the iconic Dolly Parton, as well as a clip of a performance they did together on Oprah years ago:
I love nothing more than to see all of these iconic women in country music recognizing each other's accomplishments and honoring the ones who inspired them to chase their dreams in the first place.
I've personally been inspired by each and every one of them, so it really just warms the heart to see stuff like this.
Cue the obligatory (and very obvious) "Man! I Feel Like A Woman"…