Shiloh Jolie-Pitt is the first biological daughter to former couple Brad Pitt and Angelina Jolie. As such, she became a Hollywood star almost immediately after she was born, making multiple headlines and landing a spot on the cover of People magazine. Who else can say they became the first-ever baby to become a wax figure in Madame Tussauds after they were born (via The U.S. Sun)? As a member of the famous Jolie-Pitt family, Shiloh is growing up fast as one of Hollywood's most well-known teenagers. Alongside Shiloh are her brothers Maddox, Pax, and Knox and sisters Vivienne and Zahara.
We have watched Shiloh grow up in the spotlight. From preferring to go by another name as a young kid to changing her style on the red carpet, we have truly seen her mature right before our eyes.
Here's how Shiloh Jolie-Pitt has changed so far over the years!
Shiloh was born in the spotlight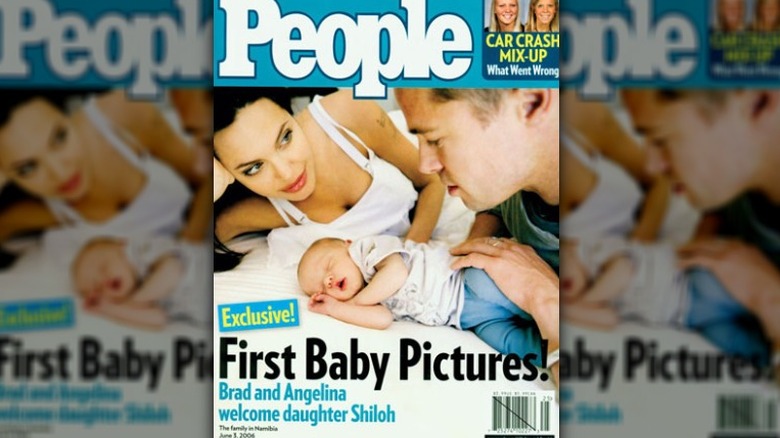 Shiloh Jolie-Pitt entered the world on May 27, 2006, in Namibia, Africa, and let us tell you, she made a pretty iconic debut. People magazine featured Brad Pitt and Angelina Jolie with their newborn on the cover, and according to The Hollywood Reporter, the issue sold 2.2 million copies. The magazine cover is known as one of the highest-paying baby covers, as Jolie and Pitt were reportedly paid $4.1 million. The two were reported to have donated the money to charities helping to support children across Africa. 
"I walked in the room and it was so overwhelming I had to walk out," Angelina's brother, Haven, told People of visiting Shiloh and her parents in the hospital after she was born. "To see the father, mother, daughter — it was such a beautiful image that it overtook me."
When Shiloh was born, she already had loving siblings at home waiting for her arrival — Maddox, Pax, and Zahara Jolie-Pitt. It wasn't long until Shiloh became a big sister herself. Her two younger siblings, twins Knox and Vivienne Jolie-Pitt, were born in 2008 (via PopSugar).
She's like her parents in different ways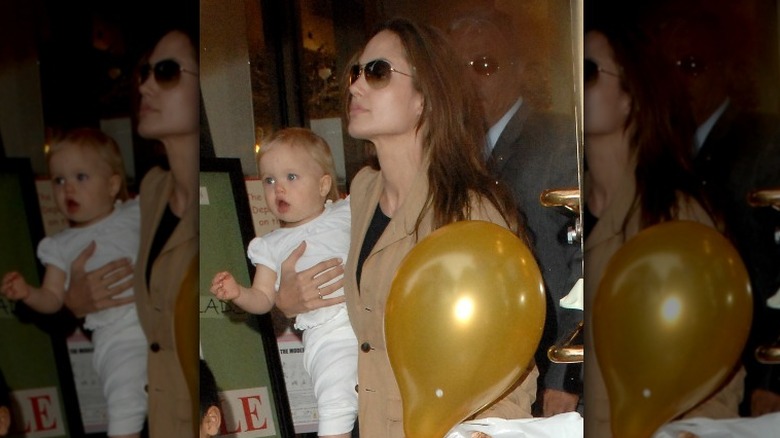 When Shiloh Jolie-Pitt was young, she quickly started showing similar traits and features to her parents. She began looking more and more like Angelina Jolie and Brad Pitt every day, and let's be honest, that is not a bad thing! According to the Daily Mail, Jolie spoke with Look magazine in December 2007 about how Shiloh stands out amongst the rest of the Jolie-Pitt family. "She looks like Brad," she said. "It's funny because she's almost going to be the outcast in the family because she's blond and blue-eyed."
Jolie later explained to Vanity Fair in 2010 about how she feels her personality was most similar to Shiloh's when she was a young child. She stated that Shiloh was "goofy and verbal," which said were "early signs of a performer." She added, "I used to get dressed up in costumes and jump around. But at some point, I got closed off, darker. … Then, as I had kids and got older — being goofy, lighter — it all came back." 
She has influenced her parents' work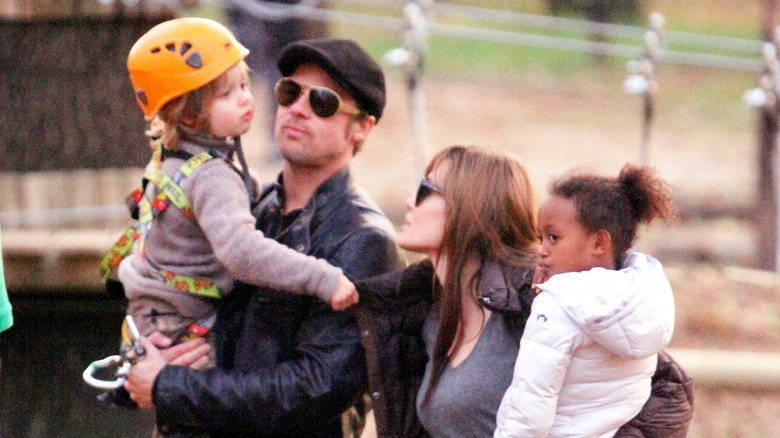 Talk about a star in the making! Brad Pitt and Angelina Jolie quickly incorporated their daughter into their work at about 10 months old. You may have recognized Shiloh Jolie-Pitt in her dad's award-winning film "The Curious Case of Benjamin Button." She starred in a scene with her father, watching a balloon fly away. According to People, Pitt suggested Shiloh to fill in and play costar Cate Blanchett's character as a baby in the film when a set of twins who were originally hired were misbehaving on set. 
Not only did she get to work with her dad on a major film, but Shiloh has also influenced some of the roles her mother has taken on as well! In an exclusive interview with Entertainment Tonight, Angelina Jolie revealed that her daughter played a major part in her accepting the role in "The One and Only Ivan." "Well, Shiloh years ago told me that she had read a book that she loved and she wanted me to read it," Jolie said. She noted that it was her main priority to "push it to stay as true to the book as possible" during the filming and development process. 
She liked being called John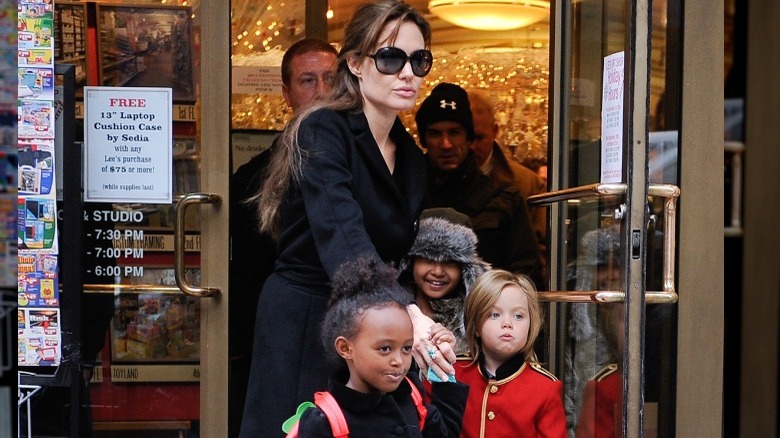 In 2008, Brad Pitt revealed to Oprah Winfrey that when his daughter Shiloh Jolie-Pitt was nearly 2 years old, she voiced that she wanted to start going by the name John or Peter instead of her given name, according to People. Pitt and Angelina Jolie were happy to accommodate. "She only wants to be called John. John or Peter. So it's a Peter Pan thing," he said. He explained how a typical conversation would go in their home: "So we've got to call her John. 'Shi, do you want …' — 'John. I'm John.'" 
The former couple didn't think twice about calling their daughter John and made sure to make their daughter feel seen, supported, and understood. Jolie spoke with the Daily Mail about her request, and noted that it is nothing people should be thinking heavily about. She shared how Shiloh's preference wasn't a big deal to their family, saying, "Some kids wear capes and want to be Superman and she wants to be like her brothers. It's who she is. It's been a surprise to us and it's really interesting, but she's so much more than that — she's funny and sweet and pretty. But she does love a tie…" 
These days, she seems comfortable continuing to go by the name Shiloh again.
Shiloh became a red carpet regular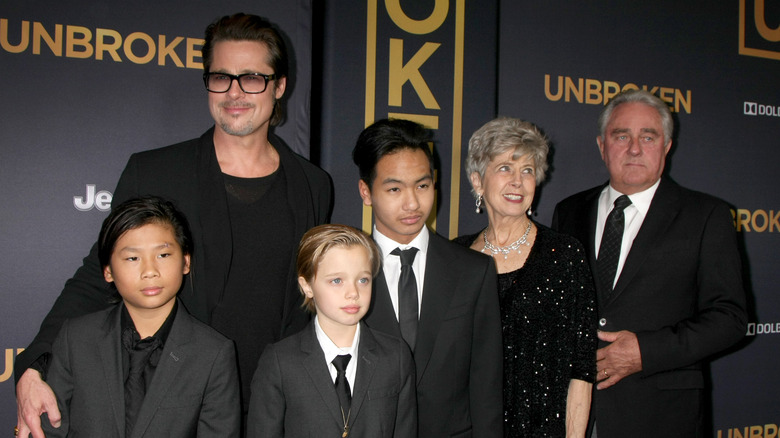 Shiloh Jolie-Pitt grew up in the spotlight and has attended numerous movie premieres and events with her family. Not only does she have a strong red carpet presence since she was young, but she's also gotten to show off her incredible sense of style, which is all about individuality. In 2014, Shiloh, dad Brad Pitt, and brothers Maddox and Pax attended the Los Angeles premiere of "Unbroken," directed by their mother, Angelina Jolie (via HuffPost). Shiloh rocked a sleek black pantsuit and a tie similar to her brothers and had her blond hair slicked back. Although Jolie wasn't able to attend the premiere due to having a case of the chickenpox, her family, including Pitt's parents, Jane and William, was in attendance. 
The next year, 8-year-old Shiloh had a girls' night out with her mother and sister Zahara at the Nickelodeon Kids' Choice Awards (via Us Weekly). The trio appeared to have a great night at The Forum in Inglewood, California, with the girls watching their mom win a Kid's Choice Award for Favorite Villain for her role in "Maleficent" (via Time). Shiloh rocked a casual look, wearing a light gray zip-up sweatshirt, shorts, and a dark gray t-shirt with a giraffe wearing a pair of neon sunglasses. 
Like mother, like daughter! Shiloh started to practice humanitarianism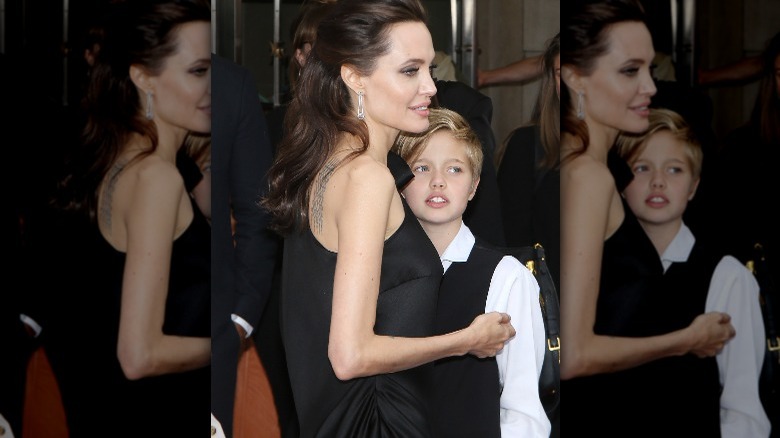 Angelina Jolie is a well-known humanitarian and has dedicated years of service as a Special Envoy for the United Nations High Commissioner for Refugees (UNHCR) organization. According to Us Weekly in 2015, Jolie continued her activism efforts alongside her daughter Shiloh Jolie-Pitt as they took a trip to southeastern Turkey in honor of World Refugee Day. During this visit, Jolie gave a speech voicing her concerns for the country: "We should call this what it is: not just a 'refugee crisis,' but a crisis of global security and governance, that is manifesting itself in the worst refugee crisis ever recorded — and a time of mass displacement."
According to PopSugar, Shiloh and her mother also took a trip to Lebanon and spent time with a Syrian girl named Hala that Jolie had met during a previous trip for the UNHCR. It's no surprise that Jolie has done wonderful work around the world and is now passing down her humanitarian efforts and compassion to her children. In an interview with People, Jolie stated, "Shiloh is very aware that I hold refugee families in high regard and has been asking to come on missions and meet them for many years."  
She has attended movie premiere after movie premiere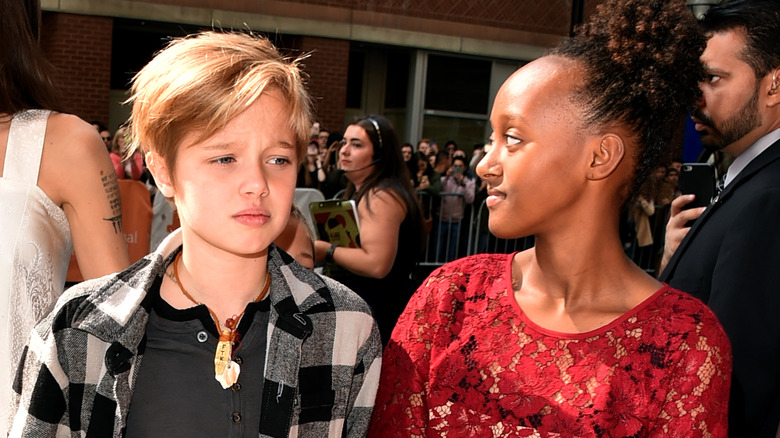 s
With parents who are major actors and directors, the Jolie-Pitt kids are going to attend a lot of movie premieres! In September 2017, Shiloh Jolie-Pitt appeared at the Toronto Film Festival for the premiere of "The Breadwinner" alongside her mother and siblings (via Us Weekly). Jolie produced the film, which is focused on a young girl living in Afghanistan who dresses as a boy to financially support her family. 
Shiloh showed up in a black, white, and gray plaid flannel looking almost identical to her father, Brad Pitt, with her blond hair swooped over to the side. As noted by Harper's Bazaar, the Jolie-Pitt family posed for pictures with Saara Choudry, the film's lead voice actress, and director Nora Twomey. Whether she is wearing a sleek suit, skinny jeans, or a pretty floral dress, Shiloh knows how to make a statement on the red carpet!
She's made friends with major celebs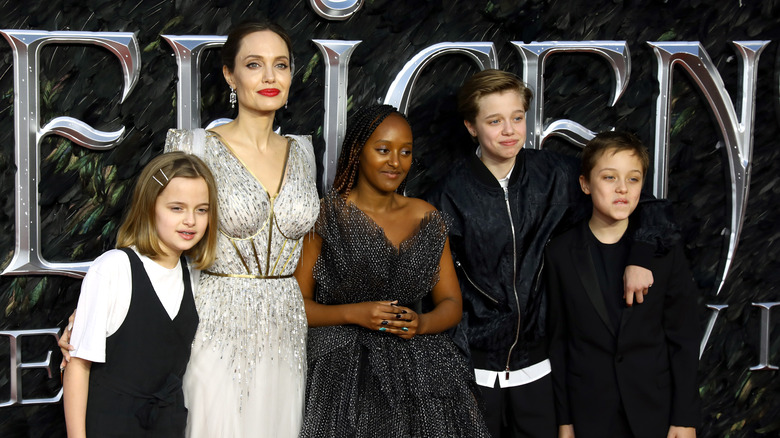 Shiloh Jolie-Pitt can typically be found strolling through Hollywood alongside her mother and other members of their famous family, but she has friends outside of her siblings, of course! In July 2019, she was spotted hanging out with "Stranger Things" star Millie Bobby Brown. According to TMZ, the two were seen spending time together outside of LA, grabbing lunch with Shiloh's sister Zahara Jolie-Pitt. The three teenagers dressed super comfortably for their girls' day, with Zahara rocking an all-black outfit, Millie donning in a graphic t-shirt and shorts, and Shiloh wearing camouflage shorts with a NASA hoodie. 
According to Hollywood Life, earlier in June 2019, Brown gave a big shoutout on her Instagram Story for "National Best Friends Day" to her two favorite gals, Shiloh and Zahara. She showed her two besties her appreciation in a Story with the caption "best friends 4L."
Shiloh became known for her gender-neutral fashion style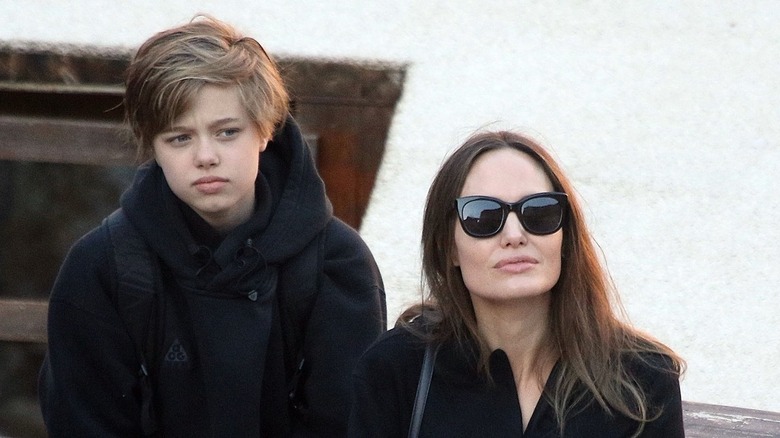 From a young age, Shiloh Jolie-Pitt has been known for her gender-neutral fashion. When Angelina Jolie was on the cover of Vanity Fair in 2010, she spoke about Shiloh's style. "Shiloh, we feel has Montenegro style. It's how people dress there," she said (via E! Online). "She likes to dress like a boy. She wants to be a boy. So we had to cut her hair. She likes to wear boys' everything. She thinks she's one of the brothers."
Shiloh's fashion choices have truly evolved over time as she has experimented with new unique looks. Although her style has changed, one thing that has stayed the same is her ability to stay true to herself. In May 2020, a source told Entertainment Tonight that her father, Brad Pitt, is completely supportive in whatever choices his daughter makes: "Brad is so proud of Shiloh and who she has become. He loves that she always stays true to herself and is so good to her brothers and sisters."
Shiloh had hip surgery in 2020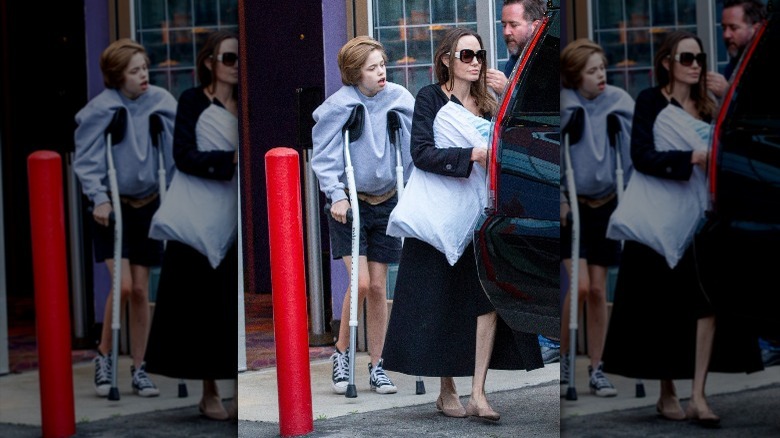 In an article for International Women's Day for Time in March 2020, Angelina Jolie revealed that Shiloh and Zahara Jolie-Pitt had had surgery. Although it was not shared why Zahara was operated on, Jolie stated that she watched Shiloh "go under the knife for a hip surgery." Shiloh had been seen hobbling on crutches after the surgery wearing a gray hoodie, dark shorts, and black converse sneakers. According to Page Six, Brad Pitt was reported to have missed the BAFTAs in order to support his daughters and be by their side during this time.
Jolie stated that she has watched her daughters come together and care for one another, especially her youngest daughter, Vivienne, who "studied the nurses with her sister, and then assisted the next time." She continued, saying, "I saw how all my girls so easily stopped everything and put each other first, and felt the joy of being of service to those they love."
She's been wearing her mother's stunning dresses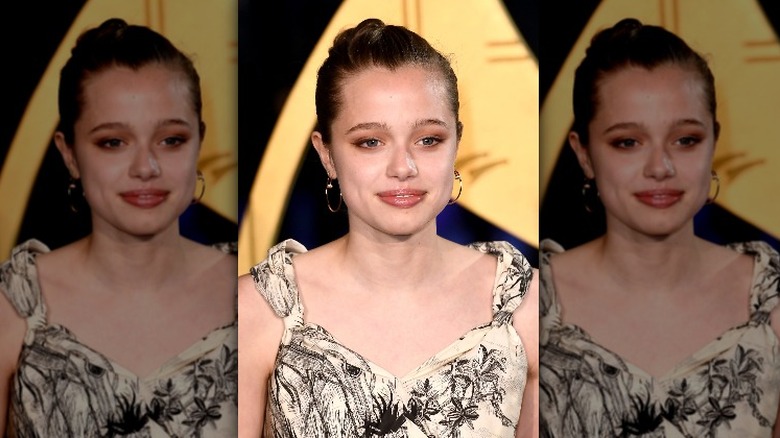 Shiloh Jolie-Pitt turned heads at the October 2021 U.K. premiere of Marvel's "Eternals" wearing one of her mother's dresses (via People). Angelina Jolie originally wore the black-and-white Dior dress to the Los Angeles press conference for "Maleficent: Mistress of Evil" back in 2019. Although the dress was once long enough to touch the floor, Shiloh opted to have it shortened above her knee for the special event. This isn't the first time Shiloh altered one her mom's dresses, either. According to W magazine, Shiloh also altered her mom's Gabriela Hearst dress that Jolie wore at a "Women for Bees" event in July 2021 for the U.S. premiere of "Eternals."
Shiloh was also seen alongside her mother and brother Pax at the "Paper & Glue" documentary premiere in November 2021, per Us Weekly. Shiloh chose a more casual look for the premiere, wearing a black hoodie, and had her hair tied back in a bun. Whether she's wearing a hoodie or a dress, she has proven that she can rock just about anything on the red carpet. (And Angelina Jolie is officially the coolest mom ever for letting her kids wear her clothing!)