Angelina Jolie's résumé is filled with movies in which she perfectly balances kicking butt amongst huge action set pieces with delivering a deeply emotional performance. She's done it in Taylor Sheridan's survival thriller "Those Who Wish Me Dead," the video game movie "Lara Croft: Tomb Raider," 2008's "Wanted," the soon-to-be-rebooted "Mr. & Mrs. Smith," and the 2010 film "Salt."
Directed by veteran journeyman Phillip Noyce, "Salt" is an intriguing example of Jolie's work. It almost feels like it was purposefully built around actress' wide-ranging talent. The character of Evelyn Salt is presented as both extremely strong yet somehow still relatable, and her quest to evade the CIA is as physically intense as it is emotionally taxing. Jolie's performance alone makes Evelyn impossible not to root for, even as the real story of her past with the CIA and the KGB takes a huge, unexpected turn. As for the story, the international espionage plot is ludicrous, but those action scenes are something else — straightforward yet ridiculously effective, like remnants of an excellent '90s direct-to-video B-movie.
A moderate success at the box office, "Salt" sparked rumors of a sequel that continued for several years — in a case of Hollywood back-and-forth nearly as convoluted as the movie's own plot — but "Salt 2" never did materialize. Instead, fans of the movie will have to make do with other recent action flicks that feel as if they were inspired by "Salt." Thankfully, there's one in particular that's guaranteed to deliver similar thrills.
Atomic Blonde is a testament to Charlize Theron's action skills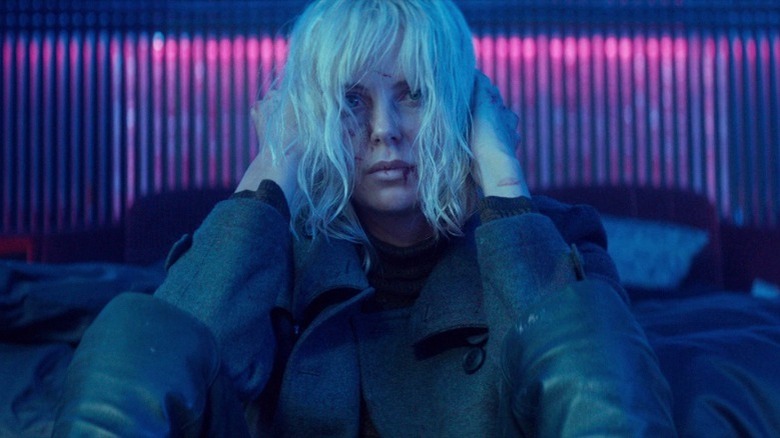 Just as "Salt" perfectly shows off Angelina Jolie's prowess as a powerful action star, "Atomic Blonde" is an ideal vehicle for star Charlize Theron's incredible physical talents. From "The Italian Job" to "Æon Flux" to "Hancock," Theron spent the 2000s quietly establishing herself as one of the most dependable yet unsung bruisers in Hollywood. When Theron eventually got a starring role as Imperator Furiosa in "Mad Max: Fury Road," the most important action movie of the 2010s, it was already a kind of coronation — but even more than that, it was a wake-up call: Hollywood owed her more great action opportunities. That eventually came with 2017's "Atomic Blonde," a movie that shows off Theron's real-life superpowers, which have gotten her injured on set more than once.
The plot, a double-agent MI6 story set in Berlin at the height of the Cold War, is a little tidier than "Salt" — but, once again, the concept of a "plot" is almost beside the point here. The main attractions are Theron as MI6 agent Lorraine Broughton, the cool spy-world aesthetics, the constant array of wigs, and the bravura stunts — all helmed by David Leitch, also co-director of the first "John Wick." 
Like "Salt," a great deal of "Atomic Blonde" indulges in the old-fashioned thrill of watching a charismatic hero untangle a massive conspiracy while squaring off against a series of assailants. However, "Atomic Blonde" goes even further than most B-movie throwbacks thanks to its gorgeous neon-drenched cinematography and refreshingly unfussy queer storyline. Plus, it features an unbelievable single-take sequence that blew everyone away. For fans of the genre, "Atomic Blonde" is simply unmissable.