Jennifer Lawrence
Jennifer Lawrence Shares Relatable Moment After Twinning With Person on the Street
Jennifer Lawrence recently crossed paths with a New Yorker, who wore the same exact dress as her. See their sweet reaction below!
There was a sweet silver lining to Jennifer Lawrence's unexpected twinning moment.
The Oscar winner recently stepped out in New York City in yet another easy, breezy ensemble that was perfect for the summertime.
Jennifer's effortlessly sophisticated outfit, in which she donned a beige spaghetti strap midi paired with black strappy sandals and her handy umbrella, proved to be a total hit.
So, what made this fashion statement stand out from the rest? During her July 31 outing, J-Law ended up crossing paths with a stranger who was wearing the exact same dress as her!
However, this wasn't a classic case of "bitch stole my look," but instead, the two appeared to be tickled by their matching moment. Photos captured the Silver Linings Playbook actress laughing with the bystander, who also flashed a smile.
Their dresses by fashion brand 6397 may have cost them more than $600, but their reaction was priceless.
As of late, the Don't Look Up actress has turned the streets of New York City into her own personal runway.
The same day she encountered her style twin, Jennifer made a convincing case for fans to bring out their umbrellas.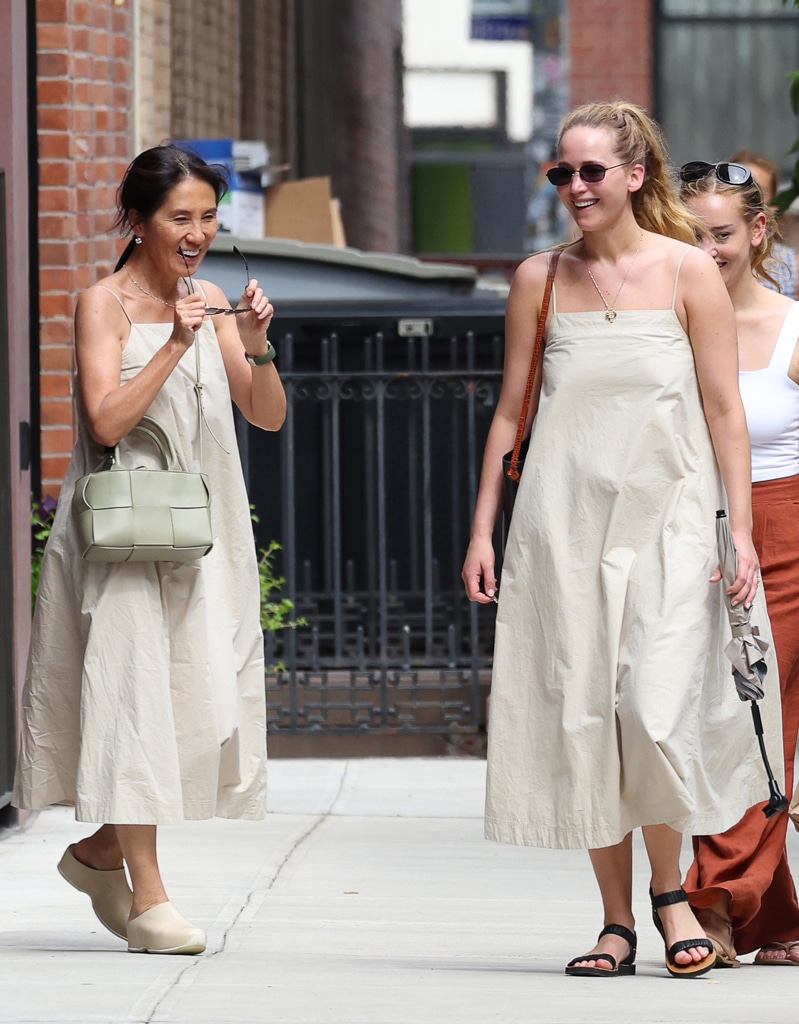 TheImageDirect.com
While grabbing iced coffee, the A-lister cleverly shielded herself from the sun by holding up the parasol. It brought the chic factor to her wardrobe, as she sported a black crop top tee and wide-leg jeans.
Just a few days earlier, on July 26, she enjoyed some one-on-one time with her husband Cooke Maroney, as the two held hands and coordinated with matching white tees.
Ever since Jennifer and Cooke welcomed their first child together in April, the new parents have been spotted going out more. However, they've kept their little one out of the spotlight.
"Every instinct in my body wants to protect their privacy for the rest of their lives, as much as I can," the actress told Vanity Fair last November. "I don't want anyone to feel welcome into their existence. And I feel like that just starts with not including them in this part of my work."