Scarlett Johansson
Scarlett Johansson's 10 Best Movies That Aren't Marvel, Ranked By IMDb
Scarlett Johansson is well-known for portraying Black Widow, but what other roles has she nailed outside the Marvel Cinematic Universe?
My Mother's Wedding, the directorial debut of Kristin Scott Thomas, starring Scarlett Johansson, Emily Beecham, and Sienna Miller, recently released its first look image in July. It is the third movie in which Scott Thomas has portrayed Johansson's mother, and fans are excited to see the pair together again.
Scarlett Johansson has contributed many gems to Hollywood. Although she is inextricably linked to Black Widow as an actress among the public, her roles outside the MCU are just as potent and compelling on an emotional level. Johansson has been the world's highest-paid actress since 2018, with 76 credits to her name. Surprisingly, many of her non-MCU movies have the highest IMDb ranking.
We Bought A Zoo (2011) – 7.1
Scarlett Johansson played one of her most iconic dramatic roles in We Bought a Zoo as Kelly Foster, the head zookeeper. It is not like her usually action-packed, intense, and emotional roles, but rather heart-warming. We Bought a Zoo is as wholesome as it sounds and the best of Johansson's comedy-drama titles.
As Kelly, Johansson is as sweet as ever. She acts as a quasi-love interest for Benjamin, played by Matt Damon as the lead. The characters here are the heart and soul of the film, and Johansson, including all others, played it well. We Bought a Zoo is a fun family movie to watch, especially if fans want to see a different side of Johansson beyond her typical performances.
9 

Vicky Cristina Barcelona (2008) – 7.1
Without Scarlett Johansson's outstanding portrayal of Cristina in the Oscar-winning film Vicky Cristina Barcelona, the film would not have been complete. Johansson plays a somewhat neurotic part in this breezy summer comedy. The film is a masterpiece that explores the complexities of sex and love. With esthetically pleasing shots, Vicky Christina Barcelona is also sure to inspire wanderlust.
Cristina (Johansson) is reckless and unsure about her goals in life. She recently ended a relationship and is eager to put her experience behind her by shooting a short film about love. This could allude to Allen's admission of having mixed feelings about his earlier films, but her persona conveys the desire to be liberated from all psychological and emotional constraints.
8 

Ghost World (2001) – 7.3
The 1993–1997 Daniel Clowes comic book of the same name served as the inspiration for Ghost World. Along with Thora Birch, who plays Enid, Scarlett Johansson portrays Rebecca, a high-school outcast. The film is a sophisticated, astute, and expertly crafted argument against conformity and the end of puberty.
Johansson excels at playing the part of a confused adolescent who is unsure of her goals in life. Rebecca never seems to mean what she's saying, not because of dishonesty, but because of a lack of self-knowledge and security. Although Enid, her on-screen counterpart, is significantly more charming, Johansson plays Rebecca with a dreary, gloomy attitude. Ghost World was also nominated for the Academy Award for Best Adapted Screenplay.
7 

Chef (2014) – 7.3

After helming many high-profile movies, Favreau wanted to "go back to basics" and make a movie about cooking. Chef is the result of this desire. Molly, a hostess for Carl Casper, the movie's main character and the head chef of Gauloises, is played by Scarlett Johansson. Although she has a small role, the film is incomplete without the contribution of many talented actors like Dustin Hoffman, Robert Downey Jr., etc. who all play minor parts in the movie.

Movies like these demonstrate Johansson's influence despite her little screen time. Even though she only appears in the movie a few times, her acting stands out. Many feel that she plays whatever part is given to her flawlessly and does not shy away from taking minor roles.
6 

The Man Who Wasn't There (2001) – 7.5
The Man Who Wasn't There is a unique vintage noir movie. In the subplot, Johansson portrays Rachel Abundas, also known as Birdy, with consummate skill. She gives the film a Lolita-esquire persona as her character explores a tentative relationship with Crane, the lead actor Billy Bob Thornton's character.
The film uses voice-over narration and is shot entirely in black and white, contributing to its background as a crime movie. Johansson thoroughly immerses herself in her role as a young pianist. Her dialogue is surprisingly sharp and concise and she leads in her role as a not very straight or quiet adolescent, as one would expect.
5 

Match Point (2005) – 7.6
Scarlett Johansson plays a significant role in the superb psychological thriller, Match Point. Nola Rice (Johansson) is fascinating in every little way. She is a struggling American actress engaged to Tom Hewett, who starts an affair with the main character, Chris Hilton, who is seeing Tom's sister.
Nola appears to have everything under control, but Allen masterfully pulls the rug out from under her feet and has her slowly tumble into a trap. With her outstanding performance, Johansson successfully blends the themes of sexuality, desire, and nostalgia. Additionally, her performance earned her two wins for the Best Supporting Actress from the IOMA and OFTA.
4 

Lost In Translation (2003) – 7.7
Awarded the Oscar for Best Writing and Original Screenplay, Lost In Translation is a romantic comedy-drama starring Bill Murray and Scarlett Johansson in lead roles. The two actors are magnificent in portraying their characters and won the BAFTA Awards for Best Performance by an Actor in a Leading Role and Best Performance by an Actress in a Leading Role, respectively.
Johansson plays a recent Yale Philosophy graduate, Charlotte, a young woman trapped in a loveless marriage staying in the same upscale hotel as Bob Harris, played by Bill. The film explores the cultural barriers the two face in Japan along with their life crises accompanied by the feeling of being lost. Charlotte is arguably the first real stand-out role in Johansson's career. Her chemistry with Murray is also exciting to watch. However, Lost In Translation leaves the audience with questions and deserves a sequel.
3 

Marriage Story (2019) – 7.9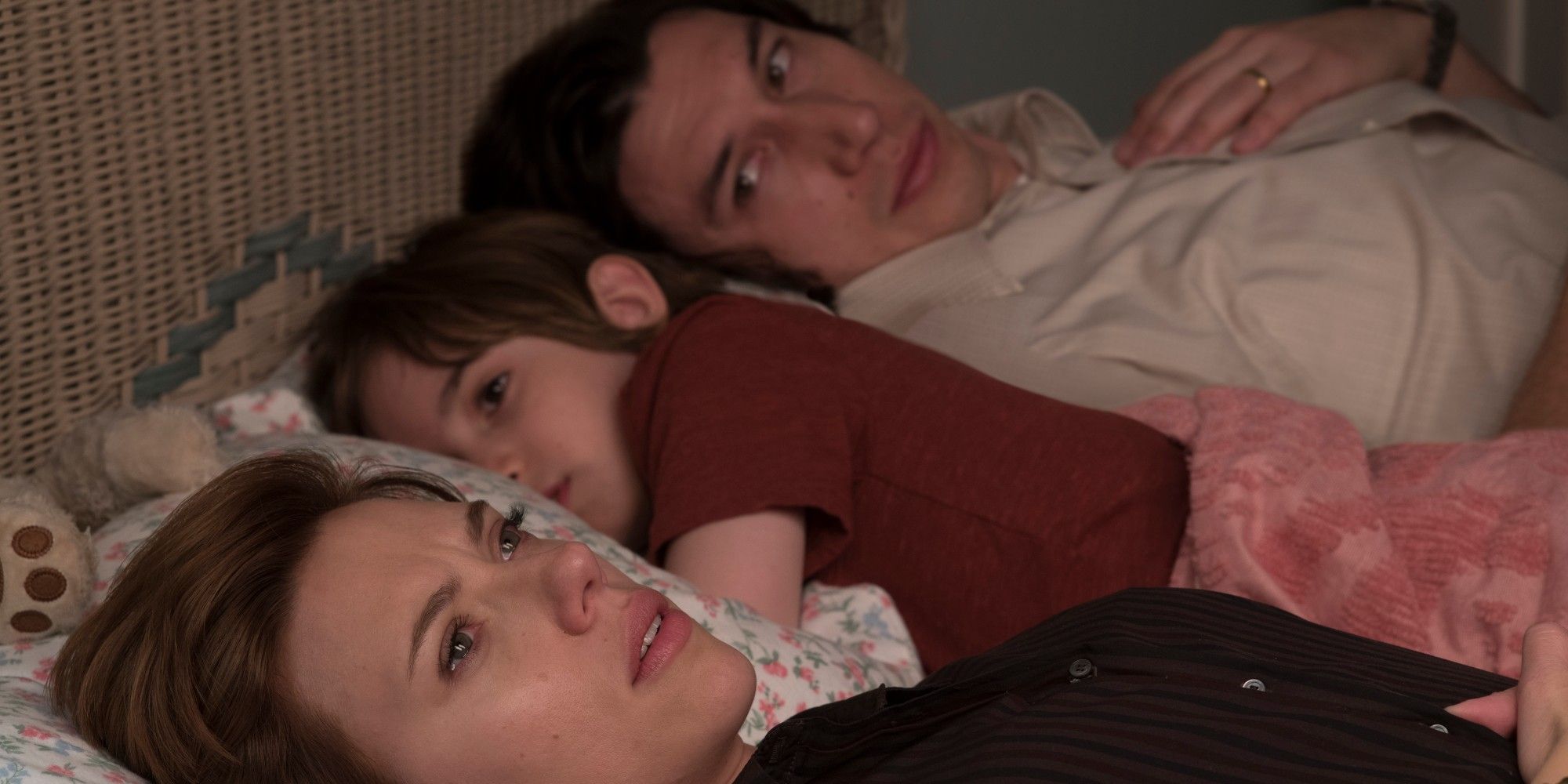 Marriage Story is a drama film following a couple in a struggling marriage dealing with a divorce. Scarlett Johansson plays Nicole Barber opposite Adam Driver, who plays Charlie Barber. Johansson received an Oscar nomination for Best Performance by an Actress in a Leading Role for the role.
Marriage Story is a movie about heartbreak and Johansson portrays a character who is going through a lot of anguish but must maintain strength throughout, and she gives a truthful portrayal. Although her performance will undoubtedly make anyone cry, her dialogue is even more moving and there are several poignant and devastating quotes in the film.
2 

Jojo Rabbit (2019) – 7.9
The World War II parody, Jojo Rabbit, explores topics surrounding Nazism and prejudice. Johansson excels in the role of Rosie, a single German mother who hides a young Jewish girl in her attic. The story revolves around her son, Jojo, as he learns this secret and faces his irrational nationalism.
Johansson plays a challenging and contentious role in Jojo Rabbit, but she does so with grace. Despite getting little screen time, she has an impact on the audience. Her character delivers a great deal of happiness and optimism essential for Jojo's character development and her outstanding portrayal of Rosie demonstrates her wide range.
1 

The Prestige (2006) – 8.5
The Prestige is a lauded psychological thriller film, as apparent by its IMDb ratings. Directed by Christopher Nolan, it presents an excellent main cast of Christian Bale as Alfred and Hugh Jackman as Robert, two rival stage illusionists. Both of the main characters make use of Scarlett Johansson in an essential yet supporting role.
Johansson appears in a supporting role as Olivia Wenscombe. Although her part as the pawn between the rivals provided a little gravitas, she plays a flower vase role as the magician's assistant in the film. She is as charming and beautiful as her role requires and the character has a pivotal role in how the final act plays out.