Jason Statham
Jason Statham: 'Do I want to be the next James Bond? Absolutely'
He's got the deadliest skills and the maddest stare but has Jason Statham got the chops for comedy? As his new film Spy opens, Britain's toughest export talks about keeping a straight face, doing his own stunts and having 007 in his sights
"If someone wants me to jump off this balcony," says Jason Statham, nodding to the window behind him, "and land on a crash pad, that's a piece of cake for me." We're only on the first floor of a Mayfair hotel, but it's still quite a drop. This isn't Statham boasting – it's more a casual aside – but we both know he's not joking, either. I'm tempted to challenge him to do it without the crash pad, though there's the possibility he'd win the bet by disabling me with a dinner plate to the throat, hurling me off the balcony with him, and using my body as a human cushion, like he did a few years ago in the movie Safe.
Statham is one of the most distinctive brands in cinema. You know exactly what type of movie you're getting when you see his name above the credits, and you can be sure that's really him doing the balcony-jumping, car-chasing and choreographed ass-whupping. He's the man with the deadliest skills, the maddest stare, the strongest cranium, the graveliest growl. When he punches the air, the air screams in pain.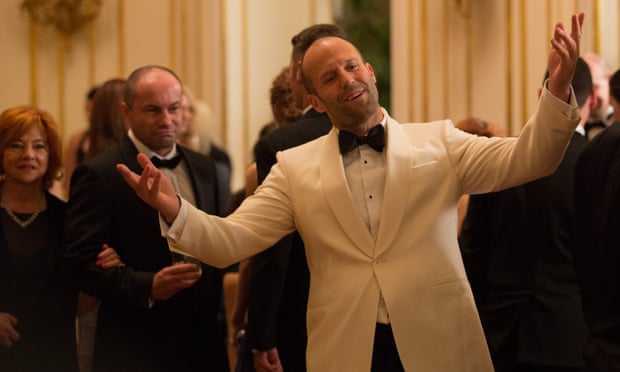 Except now Statham might have blown his cover. In his new movie, Spy, written and directed by Bridesmaids' Paul Feig, he's scene-stealingly hilarious. Melissa McCarthy is the dependably funny and surprisingly physical heroine of this gleeful action comedy, but equally revelatory is Statham, playing a chauvinistic English secret agent. He's everything James Bond isn't: sweary, vulgar, not very good at being secret, and by no means the sharpest tool in the agency's box. He's confused to learn there's not actually a "face-off machine" that can change his identity, and he's given to listing the absurd punishments he's taken in the line of duty, from ripping off his own arm to impersonating Barack Obama – all delivered with an impeccably straight face. He's basically a brilliant parody of himself.
"Paul was saying, 'Look, just don't try and be funny. That's not what I want,'" says Statham. "It harks back to Guy Ritchie saying, 'Don't try and act. That's not what I want!'"
There's no mad staring or growled threats with the real-life Statham. He's friendly and attentive, even if you get the sense he'd rather jump out of the window than go through another interview. He enjoyed being out of his testosterone comfort zone doing Spy, it seems. If he had any anxieties about playing second fiddle to smart, funny women like McCarthy, Rose Byrne and Miranda Hart, he's not admitting to them. More challenging was Feig's way of working. He encourages improvisation, and is in the habit of dreaming up new lines mid-scene and handing them to his actors on Post-it notes.
Statham might have the edge when it comes to leaping from tall buildings, but when it comes to verbal dexterity, he's happy to bow to McCarthy. "She was just … great," he says, amused by his own inarticulacy. "For myself, it's not something I've been accustomed to experimenting with."
Feig wrote the part especially for Statham. He's a big fan, it turns out. He'd seen all of Statham's movies – "even the bad ones" – and he clearly recognised something that becomes apparent watching Spy: Statham has been a comedian all along. Many an absurd story would have been impossible to buy without Statham's unwavering deadpan. Like the one where the hero can only survive by committing high-adrenaline acts such as having public sex and driving through shopping malls (Crank). Or keeps his artificial heart charged by attaching jump leads to his tongue and rubbing up against polyester-clad grannies (Crank 2). Or assassinates someone by ambushing them from the bottom of their swimming pool, then moves the corpse's arms and legs from underneath to make it look like they're still having a swim (The Mechanic).
Statham has been keeping a straight face for some time, I suggest, half-tensing in case he decides to shove my dictaphone into the side of my neck. He laughs. "I get paid too well not to keep a straight face."
Statham's school-of-life ascent is almost the stuff of legend now. His acting skills were acquired hawking cheap costume jewellery on London street markets. The athleticism was encouraged by his father, who was a boxer and gymnast. "He taught me to do a handstand practically before I could walk. I could do somersaults and backflips from a very early age." That led to diving, and a place on the national team, but not the success he craved. "You have to start when you're five years old; when I started at 12, it's way late. You need pro coaches; my coach was a chartered accountant."
Guy Ritchie took a chance on him with Lock, Stock …, Luc Besson took another with The Transporter in 2002, and it's been a succession of strenuous B-movies and increasingly lucrative franchises ever since. His previous movie, Fast & Furious 7, is now the fourth-highest-grossing of all time, having taken more than $1.5bn worldwide.
Statham's comfort zone has never looked the slightest bit comfortable, mind you. It's exhausting just reading about his punishing training regimen: rowing machines, circuit training, weights, sprints, rings, trampolines. Having said that, he recently divulged he also likes to get drunk and float about in his Los Angeles pool with his girlfriend, Rosie Huntington-Whiteley. "It's been feast and famine," he admits. "I've had untold years of burning the candle: going out, overeating, over-drinking. Even when you do it, you understand you can't live that way. As you get older, you get a bit wiser." He'll be 48 next month. Given his new comedy direction, could it be he's easing out of the action game?
He shakes his head. "I really like doing action movies. It's opened the door for me and I've had a great career out of it. Why not continue doing something I've always wanted to do?"
The problem is, in today's movie landscape, Statham is facing competition from all directions. On the one hand, there's a conveyor belt of superhero contenders muscling in on his turf; on the other, you've got actors such as Liam Neeson, Denzel Washington, even Colin Firth, taking late-life detours into action movies.
Not to mention the Expendables old guard, including Sylvester Stallone and Arnold Schwarzenegger, who refuse to retire. Statham doesn't begrudge the latter: "They were my heroes growing up. Sly Stallone is a real athlete; he gets stuck in." But he's riled by the number of phoneys he sees around him.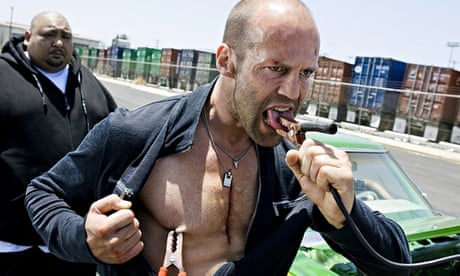 "They are not doing what they're supposed to be doing," he says, becoming more animated. "I'm inspired by the people who could do their own work. Bruce Lee never had stunt doubles and fight doubles, or Jackie Chan or Jet Li. I've been in action movies where there is a face replacement [that "face-off machine" really does exist] and I'm fighting with a double, and it's embarrassing. But if you really are an aficionado of action movies, you know who's doing what and who ain't. To me it's a little bit sad."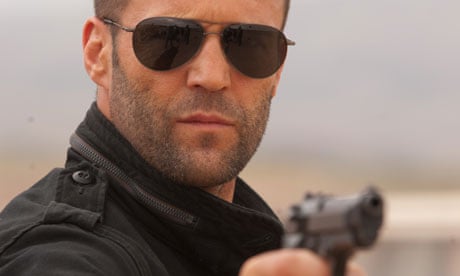 He's clearly not impressed by the superhero upstarts, either: "You slip on a cape and you put on the tights and you become a superhero? They're not doing anything! They're just sitting in their trailer. It's absolutely, 100% created by stunt doubles and green screen. How can I get excited about that?"
Statham's next project is something of a change, though: a thriller entitled Viva La Madness. "It's a completely different thing to what I've been doing," he says. "This is a real jump back to something very serious. It has its own element of black comedy but very slick, very sophisticated."
At this point certain dots start to join. Viva La Madness is written by JJ Connolly. It's a sequel to Connolly's Layer Cake, in which Statham's character was played by Daniel Craig. Layer Cake was credited as Craig's audition for James Bond. Craig has announced this year's Spectre will be his penultimate Bond movie. Statham would be a wild card choice for the next Bond, but why not?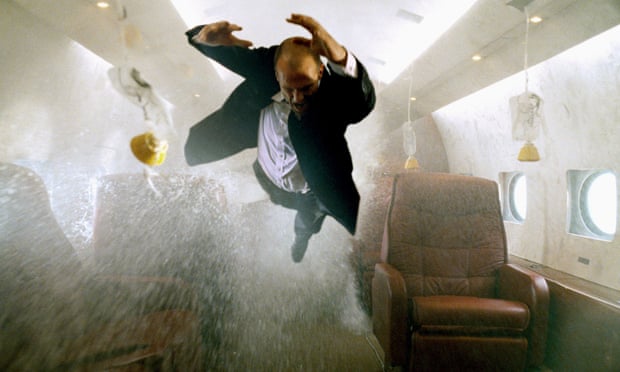 "Could I do it? Abso-fucking-lutely," he says. "Would I do it? Abso-fucking-lutely. Is Daniel Craig a great Bond? Abso-fucking-lutely."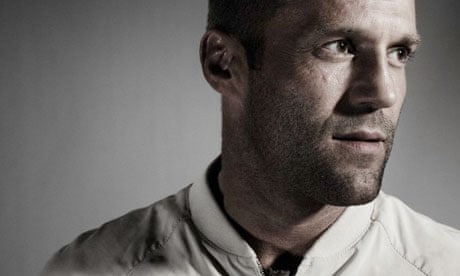 There's no doubt Statham can walk the Bond walk. And talking his talk can hardly be an issue with a character whose accent has fluctuated between Sean Connery's Scottish brogue and Timothy Dalton's Welsh. Added to which, Statham's self-made, by-the-bootstraps backstory is surely more in tune with modern Britain than the traditional public-school elitist Bond biography. "Yeah, I'd make a decent Bond," he says. "But it'd be very, very different if I did it."
What about a Bond villain?
"Er …" he hesitates. "I don't know if I wanna to do that. That's not my thing. I'd rather play the other guy."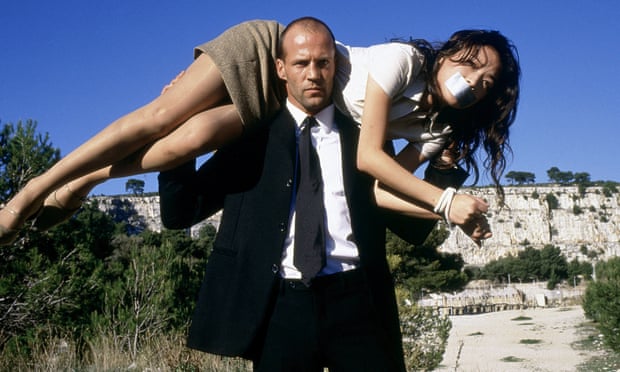 He's not that bothered, really. He's doing fine without Bond. After Viva La Madness, work starts on Fast & Furious 8. And Spy will almost certainly be a sequel-spawning success. He's enjoying himself. "Yeah," he says. "It's a good spot. But it's very unpredictable. It's inevitable what goes up must come down." Keeping his feet on the ground might be the wrong expression when it comes to Statham. Let's just say he's still landing on the crash pad.
 Spy is released in the UK on 5 June.