Scarlett Johansson
Scarlett Johansson Channels Judy Garland in the First Trailer for Asteroid City
The first trailer for the upcoming film Asteroid City has arrived in all its Andersonian glory, promising everything we've come to expect from the past 30 or so years of Wes Anderson films. There's a muted, pastel color scheme, quippy dialogue, and the appearance (and promise) of Anderson regulars like Jason Schwartzman, Adrien Brody, and Tilda Swinton. There are some newcomers this time around, however, most notably, Scarlett Johansson.
Techincally, Johansson has been featured in an Anderson film once before—in the 2018 stop-motion animated picture Isle of Dogs. This, however, will be the first time we see the actress' face in one of the auteur's films, and she seems to have really transformed for the role. Johansson plays Hollywood actor Midge Campbell who gets stuck in Asteroid City along with Schwartzman, his four kids, and a host of other characters. Their arrival in the 1950s-set desert town coincides with its annual Junior Stargazer/Space Cadet convention in honor of the Arid Plains Meteorite which hit the area in 3007 B.C. Unfortunately, the event, "organized to bring together students and parents from across the country for fellowship and scholarly competition," as the synopsis reads, is interrupted by "world-changing events."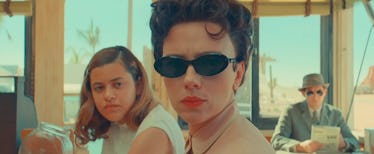 In the trailer, though, Johansson's Midge seems unbothered by the seeming arrival of aliens into town. Instead, she's more interested in getting recognized and seducing the newly-widowed Schwartzman. Johansson looks to be channeling some Judy Garland energy, with her perfectly coifed hair atop her head, and her make-up consistently smudged just-so. At one point, she matter-of-factly seduces Schwartzman through parallel windows. "I do a nude scene. You want to see it?" she asks.
It's a bit of return to form for Johannson. Now that her days as the Marvel Cinematic Universe's reigning Black Widow are behind her, this role is set to remind audiences that it was offbeat and quirky indie films like Sofia Coppola's Lost In Translation and Terry Zwigoff's Ghost World that originally made her a star.
Johannson joins an A-list cast in the film, including Margot Robbie, Tom Hanks, Maya Hawke, Jeffrey Wright, Bryan Cranston, Edward Norton, Liev Schreiber, Hope Davis, Steve Carell, Hong Chau, Willem Dafoe, Margot Robbie, and Jeff Goldblum. Asteroid City, directed and written by Anderson with some help in the latter category by his frequent collaborator Roman Coppola, will hit select theaters on June 16th with a wider release on June 23rd following what will likely be a star-studded premiere at Cannes Film Festival in May. Check out the trailer below.