Keanu Reeves
7 of Keanu Reeves and Alexandra Grant's cutest couple fashion looks: the John Wick: Chapter 4 actor and his artist girlfriend stunned at the Saint Laurent show, Moca Gala and X Artists' Books launch
Keanu Reeves and artist Alexandra Grant rarely make public appearances together. But when they do, the couple always looks ever so stylish. The John Wick actor typically sports dark suits with boots, while Grant often wears long gowns.
Last weekend, the duo even showed some PDA during their appearance at the Museum of Contemporary Art Gala in Los Angeles. The internet's "new favourite couple" shared a smooch on the red carpet, sending fans into a frenzy.
But what are their best looks together to date?
1. UNAIDS Gala, June 2016
Reeves and Grant share a friends-to-lovers story that spans more than a decade. The actor and artist met at a dinner party in 2009, according to Bustle, and they formed a working relationship soon after.
But it wasn't until 2016 that they walked a red carpet together for the first time as friends. Grant wore a grey dress with short, ruffled sleeves, and Reeves paired a brown suit with a white shirt and dark tie.
'Soul sisters' Selena Gomez and Nicola Peltz's top twinning fashion moments
14 Apr 2023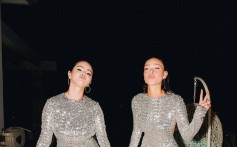 2. X Artists' Books launch, November 2017
The two originally bonded over a book called Ode to Happiness. Grant shared in a 2020 interview with Vanity Fair that she created the book years ago by combining his writings with her drawings.
"The book was made as a surprise, by me, for Keanu, as a private gift. All our friends sitting in the room got the giggles when I gave it to him – they said, 'Please publish it!' So that's how we got into publishing," she said.
Grant and Reeves were later inspired to create a small publishing company together called X Artists' Books. At the launch of the Los Angeles-based press in 2017, they wore casual outfits that included a leather jacket for Grant and a graphic T-shirt for Reeves.
3. Moca Benefit, May 2019
They often attended events and red carpets together before announcing their romantic relationship. One of those events was the 2019 MOCA Benefit. The Matrix star looked dapper on the red carpet in a dark blazer, matching trousers, a grey button-up, and brown boots.
Shine like a diamond: 7 most successful celebrity beauty brands in the world
18 Apr 2023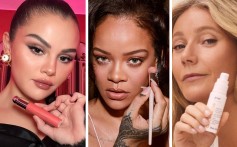 Grant went with a more glamorous look, wearing a sparkling, short-sleeved dress and silver flats.
4. Saint Laurent fashion show, June 2019
By 2019, however, it was clear that their relationship had evolved. In June that year, Grant and Reeves attended a Saint Laurent fashion show together and held hands in front of photographers.
The artist paired a black halter dress with a sparkle-covered athletic jacket and thigh-high boots, while Reeves wore a long blazer over a T-shirt and black pants.
5. LACMA Art + Film Gala, November 2019
Their couple style also evolved after they made their relationship public. At the 2019 LACMA Art + Film Gala, Grant and Reeves looked glamorous on the red carpet together.
Reeves wore a dark, three-piece suit with the same brown boots he donned at previous events. Grant stood beside him in a navy-blue gown with black, sparkling straps across its bodice.
Inside the luxury lives of the Spencer sisters – Amelia, Eliza and Kitty
9 Apr 2023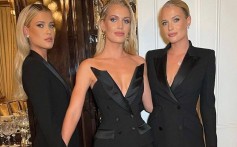 6. Moca Gala, June 2022
They had a stylish appearance together in June 2022, and even coordinated their outfits. To match Grant's red gown – which had a wrapped neckline and form-fitting bodice – Reeves wore a red-striped tie with his navy-blue suit.
7. Moca Gala, April 2023
But their best fashion moment to date happened over last weekend. On April 15, the couple attended the 2023 Moca Gala together and even shared a kiss on the red carpet.
Grant, 50, stood out in a red halter dress, which had a flower appliqué at the neckline, a full skirt with ruffles, and an all-over floral print.
The Canadian actor, 58, on the other hand, kept things simple in a navy suit, striped tie, and brown boots.