Gigi Hadid
Gigi Hadid's Black Suit Is a '90s Business Woman Special
Gigi Hadid's string of colorful looks (perhaps, partly due to the launch of her cashmere brand Guest In Residence) has been notable in recent months. But clearly, her adaptation of knits and stripes doesn't mean that once in a while she won't throw in a toned-down look here and there. While out in London this weekend, the model ditched her recent candy-colored ensembles for what was a very '90s, Matrix-coded look.
Hadid, who was out for dinner, embraced the minimalism of the decade with a strong-shouldered jacket and leather slingback heels. The menswear-style jacket was notable both in its engulfing size (an oversized silhouette that the model has previously sported in the spring) and for its lack of branding, a "quiet luxury" signifier which Gigi went for just last month.
She wore a pair of cigarette-style trousers that cut off just above the ankle and a black t-shirt underneath to round out the look. Accessories-wise, a pair of black sunglasses and a Miu Miu Arcadie bag were mostly consistent with the outfit's color scheme, with the only departure being a gold chain.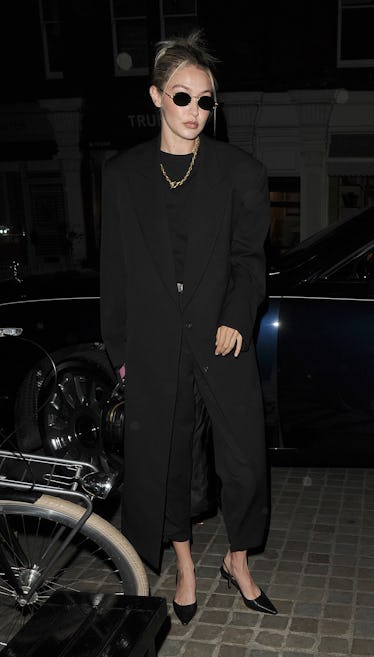 This look was the second neutral-colored ensemble that Hadid sported while in the British capital. The week prior, she went a touch more colorful (though barely) in the form of a grey Miu Miu jacket that she paired with a black undershirt and a pair of slate leather pants.
The jacket did have a small detail that might have went unnoticed otherwise—just past the cuffs, the black lining was slightly frayed, imitating the look of frayed seam (though presumably, this was designed on purpose). Hadid again chose casual slingback heels, this time moto-inspired from Balenciaga, a pair of white sunglasses, gold jewelry, and a green clutch complete with gold hardware.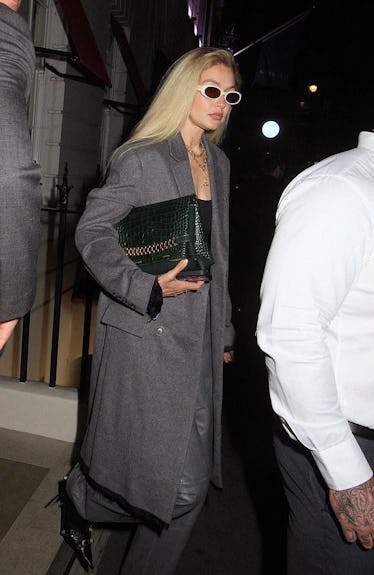 The Italian brand's uniform-like separates have been everywhere and on everyone of late. Hadid is no exception, she's really gravitated to their matching sets (like a slew of other fashion girls) as well as their range of colorful leather mini bags. The brand also unveiled a new campaign last week, with the 28-year-old model as the face of their Arcadie and Wander bags.