Megan Fox
How Megan Fox Has Allegedly Been Feeling Since Her Reconciliation With Machine Gun Kelly
Will wedding bells still ring?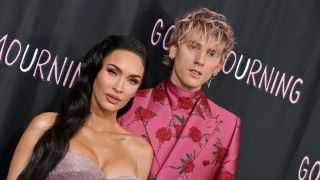 (Image credit: Photo by Axelle/Bauer-Griffin/FilmMagic)
Megan Fox and Machine Gun Kelly have been a fan-favorite Hollywood couple ever since they went public with their romance in early 2020. Three years later, the two are currently engaged but have experienced a rough patch in recent months. There were hints at a brief breakup in February, when Fox removed MGK from Instagram and had to address cheating rumors. In the time that's followed though, the stars have apparently reconciled and are getting back on track. A new report now offers an update on how Fox is allegedly feeling at this point.
After couples therapy was reported to have helped "save" the relationship, a source told People that the actress "seems much happier" and has even been rocking her engagement ring while out and about after having taken it off and being photographed months prior. The individual claims that she and MGK have "done a lot of work" to strengthen their bond as a couple and are in a more solid place.
That being said, they aren't necessarily rushing into wedding planning. Megan Fox and Machine Kelly remain engaged but are reportedly still actively working through some things. When the pair had a falling out around February, rumors swirled that the singer cheated on Fox. When addressing the claims, she shared that there "has been no third party interference" in their relationship "of any kind." They were later spotted together holding hands on vacation in Hawaii. And last month, the rapper, whose real name is Colson Baker, walked a red carpet in May to support his fiancé' being on the cover of Sports Illustrated. Here's a photo of Fox and Kelly together at the event:
Couples often go through their trials, but few have to do so while also being in the limelight like the Midnight in the Switchgrass stars do. As their romance seemingly amps back up, both of them have been keeping busy within the world of entertainment. MGK is in the Netherlands this weekend for the Pinkpop festival, where he shares the bill with P!NK, Red Hot Chili Peppers, The War On Drugs, The Black Keys and Johnny Depp's band, Hollywood Vampires. He's set to continue his world tour into fall 2023.
Megan Fox, on the other hand, is set to star in one of the biggest 2023 new movie releases, Expend4bles, alongside Jason Statham, Sylvester Stallone, Dolph Lundgren, 50 Cent and Andy Garcia. The action movie is set to hit theaters on September 22.
While the timeline of Megan Fox and Machine Gun Kelly's romance has not been linear, we wish them the best in their continued reconciliation. Many are rooting for them to reach the altar at some point, especially because they know the wedding is going to be one for the books, especially if they do end up taking those rumored blood oaths.