Angelina Jolie
Fact Check: Is Angelina Jolie missing a leg? Viral picture debunked
A fake viral picture of American actress Angelina Jolie sitting in a wheelchair with an amputated leg is making rounds on the internet. The photo first appeared on the internet in early July, but the concerns about the star's health have recently reached a peak.
The fake picture is a social media post on Facebook where Jolie's face can be seen morphed onto the body of a hospital patient, identified as Chantelle Cox by The Scottish Sun. The post is captioned as "Hollywood reports very sad news about Angelina Jolie."
The patient is seen with an amputated right leg and using a wheelchair. When looked closely, Jolie is seen sporting long, dyed silvery hair, which is a major giveaway considering the actress has dark brown hair.
Not just on Facebook, the fake picture is also making rounds on Twitter with netizens expressing concerns about the trend of hoax social media posts and celebrities being the prime target.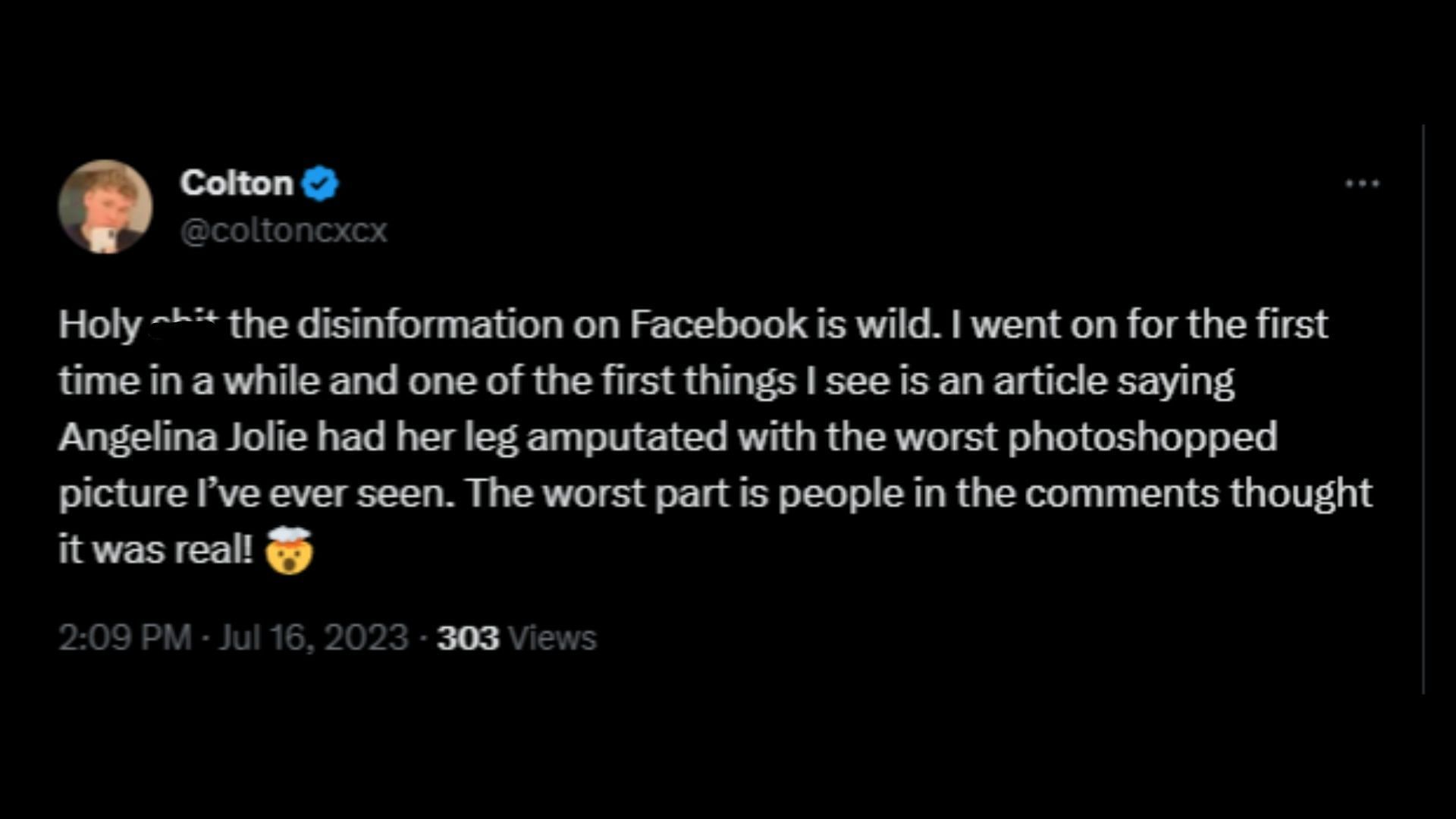 ---
Cancer survivor was shocked to see Angelina Jolie's picture photoshopped on her body
In an interview with The Scottish Sun, 25-year-old Chantelle Cox revealed that she was shocked to see her picture photoshopped with Angelina Jolie's face. This came about after she shared a snap online to show her family and friends that she was doing fine after a life-altering surgery.
She said:
"You couldn't make this up. As soon as I saw the picture I knew it was me right away — I wasn't flattered at all by it. I was more confused and really concerned that this could happen. I wanted to know who made this and why they used my picture?"
Cox, who is the mother of two-year-old boy Harry, had her leg amputated in January 2021 after four too-big-to-treat tumors were found in her ankle and calf.
As for Angelina Jolie, the fake picture comes after the actress recently paid tribute to her mother, Marcheline Bertrand, on World Ovarian Cancer Day. Jolie's mother passed away in 2007 after a battle with breast and ovarian cancer.
Taking to her Instagram handle, the 48-year-old actress shared a childhood picture of hers, alongside a lengthy caption:
"Tomorrow would have been my mother's 73rd birthday. She passed away 15 years ago, after a long struggle with breast and ovarian cancer. In June, I will be a month away from the age when she was diagnosed."
Jolie has been open about her health issues, including the double mastectomy she underwent more than a decade ago that lowered her breast cancer risk from 87 percent to approximately five percent. This was a preventative mastectomy, as Jolie was a carrier of a "faulty gene" that increased her risk of developing breast cancer.
As of writing, Angelina Jolie has not responded to the viral picture of her making rounds on the internet.