Megan Fox
Megan Fox Turns Up the Heat as She Straddles Machine Gun Kelly at His LA Concert
Megan Fox and Machine Gun Kelly shared PDA during his show on Friday night, Oct. 15. A source at the concert told E! News, "They probably made out for a solid minute."
There's no doubt about this: Megan Fox is Machine Gun Kelly's number one fan!
The Jennifer's Body actress fiercely showed her support for the 31-year-old rocker during his show at The Greek Theatre in Los Angeles on Friday night, Oct. 15.
The couple most certainly turned up the heat and packed on the PDA at the concert—not that fans would expect anything less from the two, who have displayed their love on and offstage since they began dating last year and recently dominated social media with a sexy joint magazine shoot and candid interview.
At one point during Friday's concert, the 35-year-old actress, who finalized her divorce from Brian Austin Green that same day, was photographed straddling the "Bloody Valentine" musician as he flashed a wide smile to lift her up. That wasn't the only sign of affection they demonstrated either.
A source who attended the show tells E! News that they weren't afraid to display their love for each other in front of the concertgoers.
According to the insider, MGK—whose real name is Colson Baker—began performing his track "Candy" and walked out into the crowd to serenade Megan.
"He gets super close to her face singing the lyrics and her arms are around his neck," the source describes. "Then he picks her up and she wraps her legs around him and they start making out while his hand is playing his guitar."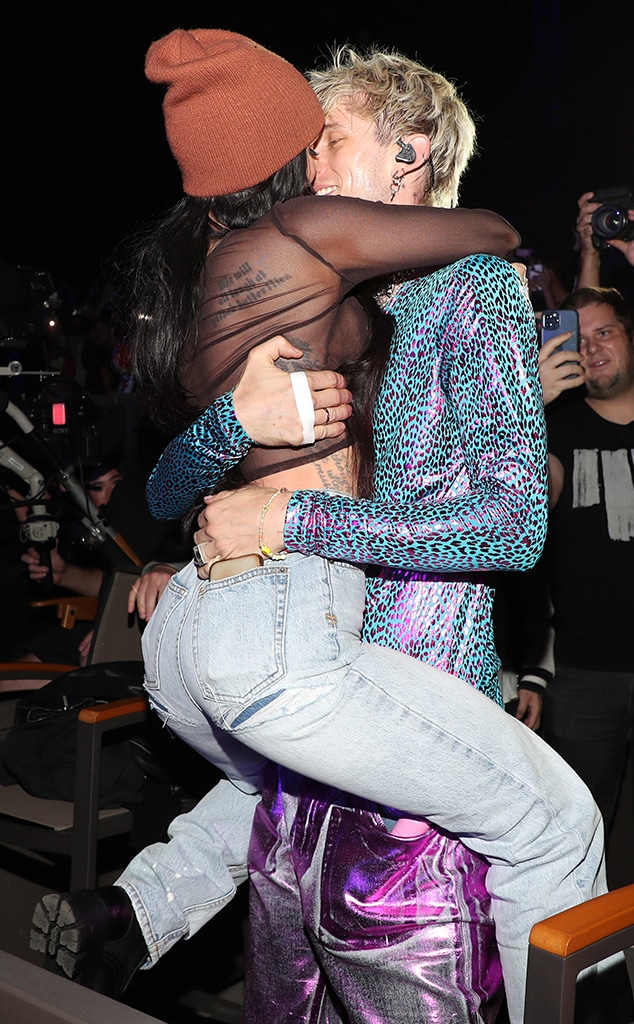 The eagle-eyed observer continues, "They probably made out for a solid minute. You can just tell they feed off of each other's energy and he was riding such a high having her there. It was adorable."
After their PDA-filled moment, the concertgoer shares that MGK went back on stage. However, notes the source, "all eyes were still on Megan."
"She was vibing the entire show, singing and dancing to every song," adds the insider. "Truly his number one fan. Overall a great show and he referenced her a few other times on stage, too!"
Additionally, the source revealed that the rock star mentioned another cheeky reference during the concert: His and Megan's recent joint British GQ interview, in which one of their responses sparked a meme.
The two recalled how they first met, interestingly at a GQ party, with the actress telling the singer at the time, "You smell like weed."
"He looked down at me and he was like, 'I am weed,'" she recalled. "Then, I swear to God, he disappeared like a ninja in a smoke bomb."
According to the concertgoer, the musician found the humor in it all, explaining, "MGK was on stage and making fun of the 'I Am Weed' meme going around, and basically owned it and laughed."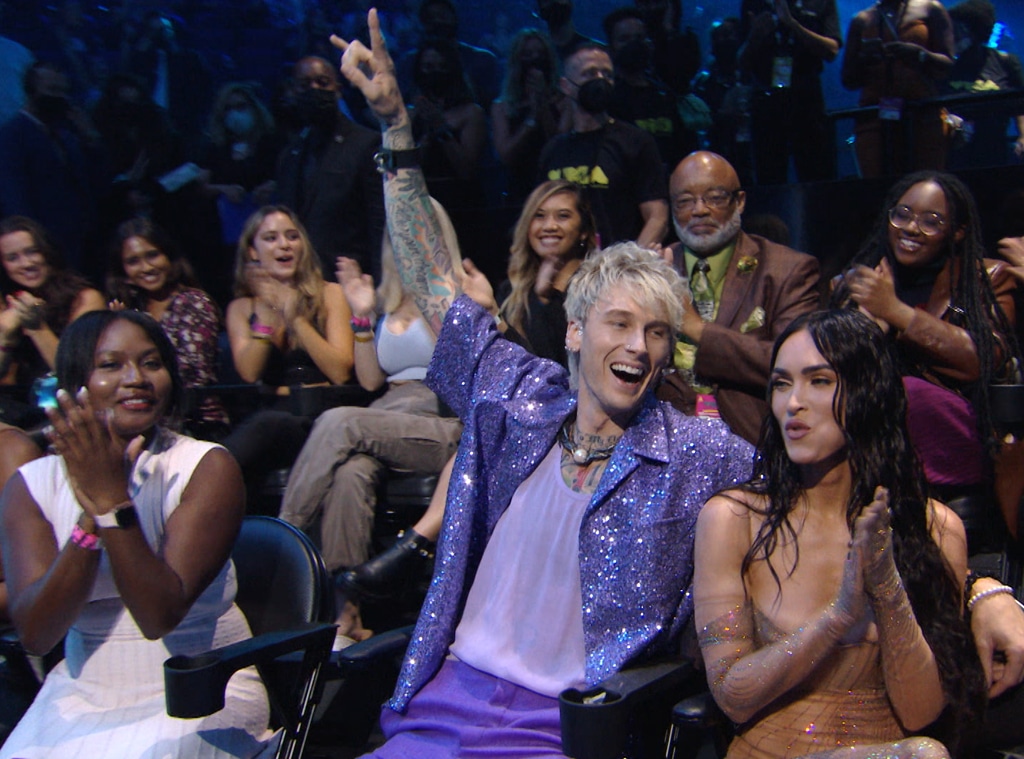 The fun didn't stop there, as the couple stepped out in Las Vegas on Saturday, Oct. 16, where they surprised fans at the hot spot The Barbershop Cuts & Cocktails at The Cosmopolitan. According to a separate source, MGK hit the stage for a surprise performance with his drummer Rook.
Megan "stood and danced," the insider shared, while her boyfriend performed his song, "Forget Me Too."