Megan Fox
Why Megan Fox Calls Machine Gun Kelly Her 'Twin Flame'
Megan Fox and Machine Gun Kelly have only been dating for less than two years – but according to Fox, they were destined to find each other. Fox and Kelly are each major celebrities in their own right, with Fox becoming one of the world's biggest sex symbols in the early 2000s and Kelly making headlines for his highly-publicized transition from hip-hop to punk music.
After the two started dating, their stars rose even higher, and these days, Fox and Kelly are two of the biggest personalities in the entertainment industry. Not long after they started their romantic relationship, Fox opened up in an intimate interview, revealing that she believes Kelly is her "twin flame."
.@MeganFox and @MachineGunKelly ask each other 40 questions for the #GQCouplesQuiz 🖤

Watch here: https://t.co/Qp9G7n97tG pic.twitter.com/2BP26hMenh

— GQ Magazine (@GQMagazine) October 13, 2021
May 2020 was a turbulent time for Fox. Amidst reports that her marriage to actor Brian Austin Green was failing, the actor was spotted with Machine Gun Kelly in LA, according to Us Weekly. Just days later, Green confirmed that he and Fox had split, and were in the process of getting a divorce.
It took Fox a few more months before she was ready to open up about her relationship with Kelly. However, waiting until after a steamy music video for the song "Bloody Valentine" was released: a video that featured she and Kelly getting cozy on-camera.
Why did Megan Fox say that Machine Gun Kelly is her 'twin flame'?
#GQStyle cover stars #MeganFox and @machinegunkelly on their love story, from their first texts to taking mushrooms and searching for a sacred Banyan tree in Bora Bora.https://t.co/7PdUCFMKMn

— British GQ (@BritishGQ) October 11, 2021
In July 2020, just two months after Green confirmed their split, Fox went on the record to talk about her new romance. As reported by Us Weekly, Fox revealed to Lala Kent that "the second that I was in a room with him … I knew right away that he was what I call a twin flame."
Fox explained, telling Kent that "instead of a soul mate, a twin flame is actually where a soul has ascended into a high enough level that it can be split into two different bodies at the same time. So we're actually two halves of the same soul, I think. And I said that to him almost immediately because I felt it right away."
Fans went wild over Fox's admission, with a tidal wave of interest in the new couple. Over the weeks that followed, Fox and Kelly continued to flaunt their romance on social media, posting a series of selfies and loved-up pictures to Instagram, proving that neither celeb felt shy about sharing with their followers.
Will Machine Gun Kelly and Megan Fox get engaged soon?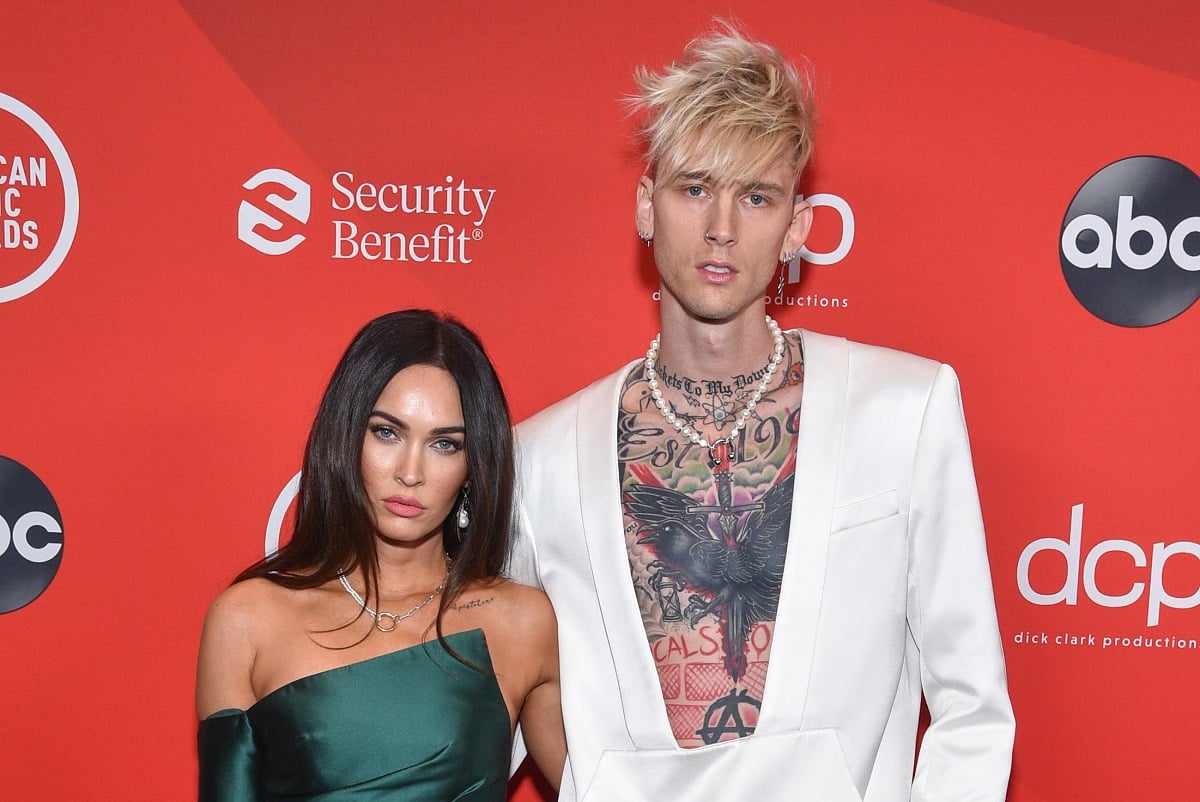 Kelly and Fox have now been dating for about a year and a half, and have become a staple at many high-profile red carpet events. The two have also not slowed down on social media, continuously sharing snapshots of each other on a regular basis. Their love affair has caused many fans to wonder if the two will get engaged soon—and there are several reasons why this could, in fact, happen.
Fox's divorce from Green was recently finalized, according to E! Online, leaving the actor free to pursue marriage to Kelly, if she wishes. Additionally, Fox and Kelly's close friend, Travis Barker, recently popped the question to girlfriend Kourtney Kardashian.
It is possible that the couple's engagement has given Kelly some ideas about how to frame a romantic proposal of his own. For fans, the next few months will reveal all, as Fox and Kelly continue to pursue their whirlwind romance.