Megan Fox
Inside Megan Fox's Relationship History
The following article includes mentions of domestic and sexual abuse allegations.
Megan Fox has long been considered one of the sexiest stars in Hollywood and beyond. Her jaw-dropping beauty is matched only by her acting talent in big-budgets films like "Transformers" and horror cult favorites like "Jennifer's Body" and "Night Teeth." While fans are naturally interested in Fox's relationships — some of which have been more high-profile than others — they may be surprised to discover that her dating history seemingly belies her bombshell status.
Fox herself has often spoken out about the personal difficulties she's faced from being so publicly sexualized and scrutinized, to the point where, as she told ET in 2019, "I didn't want to be seen in public at all because the fear and the belief, and the absolute certainty that I was going to be mocked, or spat at, or someone was going to yell at me, or people would stone me or savage me for just being out."
At the time of this writing, Fox — who's openly bisexual — is dating musician Machine Gun Kelly. But the focus on her appearance she's faced since early on in her career has also come with the assumption that she's had many romantic and intimate partners. However, as you'll soon see, that isn't the case. She and MGK may be taking over your social media timelines, but here's a timeline of Megan Fox's relationships before she met her hip-hop-rocker-bad-boy match.
Megan Fox's teen sweethearts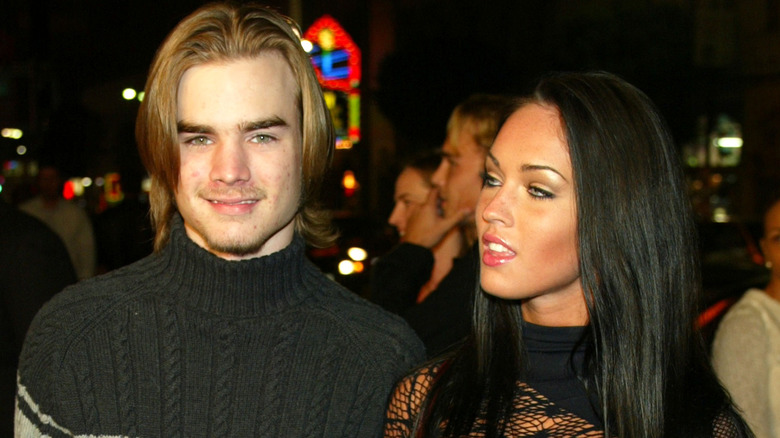 Like many of us, Megan Fox's first relationships were in her teen years, with all the awkwardness and intensity of young love. The aspiring actor started dating slightly older classmate Ben Leahy when she was 15, and the high school sweethearts were together for three years. In an interview with Rolling Stone, Fox described Leahy, who isn't famous, as "very sweet and wonderful, really tall and big with a perfect body." Noting that she "was totally drawn" to Leahy, she added, "I loved him."
Still, the star was determined to further her acting career, so her family moved to Los Angeles for its increased opportunities. Sadly, both the distance and Fox's renewed focus on her showbiz prospects proved too much for Leahy, and they eventually split. In the same interview, Leahy lamented, "It broke my heart, but I had to let her go. She was way out of my league."
Around the time Fox scored her first high-profile role opposite Lindsay Lohan in "Confessions of a Teenage Drama Queen," her personal life also heated up, as she began dating "7th Heaven" star David Gallagher in 2003, per Hollywood Life. You may recall Fox and Gallagher making their public debut at her very first red carpet appearances the following year, but their romance was also short-lived. At the age of 18, Fox found herself newly single.
Her first and (as far as we know) only girlfriend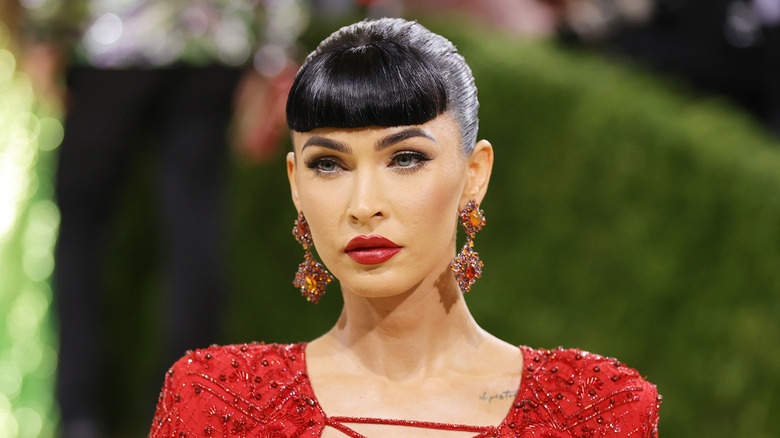 After her breakup with David Gallagher, Megan Fox briefly dated a Russian woman named Nikita, as the "Transformers" star revealed in a 2008 interview with GQ. The outlet described the resulting year following her split with the "7th Heaven" actor as "reckless," with Fox herself recalling, "I was just careless. I would get myself into situations that were very bizarre — situations any logical person would not have gotten themselves into."
In addition to legally starting her extensive tattoo collection at this time, an 18-year-old Fox, still new to Los Angeles, also fell "in love with this girl that worked at the Body Shop" — which wasn't a soap and lotion retailer, but rather an exotic dance club. "I decided that I was going to get her to love me back, and I went out of my way to create a relationship with this girl. … I bought her things — perfume, body spray, girlie stuff," Fox explained, adding that she'd visit Nikita at the club "all the time" and watch her dance — perhaps revealing that gift-giving and quality time are two of the actor's love languages. "She was sort of a tough badass," Fox added, "but she'd do these beautiful slow dances to Aerosmith ballads."
Unfortunately, their intense relationship fizzled out after about two weeks.
Megan Fox also met Brian Austin Green in 2004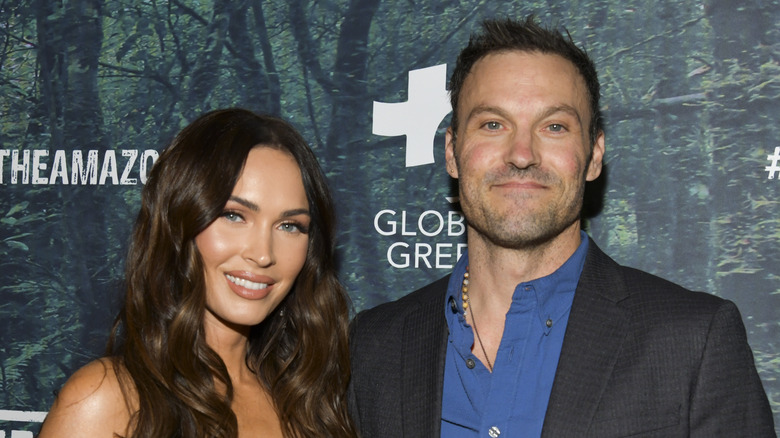 At the age of 18, Megan Fox met Brian Austin Green — who would become an enormous part of her love life — on the set of the family-based sitcom "Hope & Faith" in 2004, where Fox played a teen daughter and the "Beverly Hills, 90210" alum was cast in a guest-starring role. He was around 31 years old at the time and, given their age difference, was understandably hesitant to get into a relationship. But the heart wants what it wants, and the two fell in love.
"I liked him right away," Fox later told The New York Times. "Brian accidentally touched my leg. I remember literal electricity shooting through me and out me from every direction. It was like magic." The couple announced their engagement after two years of dating, but suddenly split up in 2009 — though that wouldn't be the end of their romance. Fox and Green reconciled in 2010, and finally got married that June. Green's son from a previous relationship, Kassius, was in attendance as they tied the knot in an intimate ceremony on a Hawaiian beach. The couple would go on to have three children together: sons Noah, Bodhi, and River.
Unfortunately, rumors of their marital demise bubbled in the spring of 2020, when Fox and Green were seen without their wedding rings. Fox began hanging out with Machine Gun Kelly, and that May, Green officially confirmed on his podcast that he and Fox had been meaningfully separated since late 2019.
She found 'love' on the set of Transformers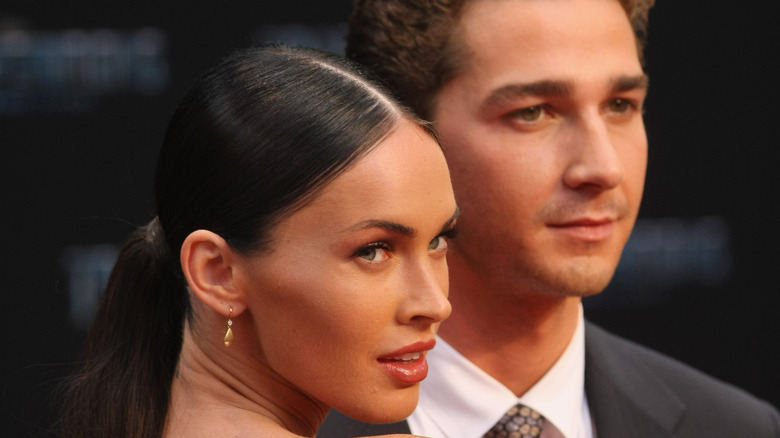 This short-lived romance took place during a period of separation from Brian Austin Green. Megan Fox and Shia LaBeouf starred together in the "Transformers" movie series during the mid-2000s, and apparently, fighting on-screen robots sparked an on-set romance, or at the very least a hookup. LaBeouf had hinted as much back in 2011, when he dished to Details magazine (via E!), "Look, you're on the set for six months, with someone who's rooting to be attracted to you, and you're rooting to be attracted to them. I never understood the separation of work and life in that situation. But the time I spent with Megan was our own thing."
However, their long-rumored relationship wasn't really confirmed until 2018, when Fox discussed it on an episode of "Watch What Happens Live." "Um, I mean, I would confirm it was romantic. I love him," she told host Andy Cohen, per Us Weekly. "I've never been really private about that. I love him."
LaBeouf, of course, later married actor Mia Goth, but their tumultuous marriage would come to an end in 2018. In late 2020, musician FKA Twigs filed a lawsuit against ex-boyfriend LaBeouf, accusing him of inflicting physical, emotional, and sexual abuse during their relationship, which he ultimately denied. For her part, Fox has not publicly commented on the allegations against her troubled former co-star.
If you or someone you know is dealing with domestic abuse, you can call the National Domestic Violence Hotline at 1−800−799−7233. You can also find more information, resources, and support at their website.
If you or anyone you know has been a victim of sexual assault, help is available. Visit the Rape, Abuse & Incest National Network website or contact RAINN's National Helpline at 1-800-656-HOPE (4673).
Megan Fox's boyfriend Machine Gun Kelly enters the chat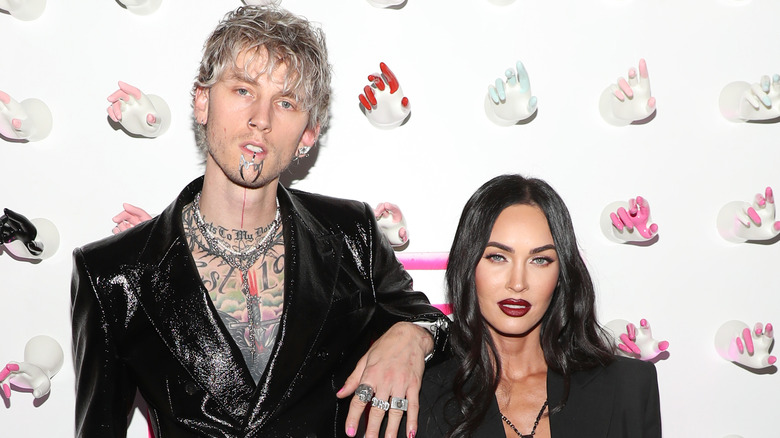 In 2020, a new "it couple" burst onto the entertainment scene: Megan Fox and Machine Gun Kelly soon took their public displays of affection to a new level with a relationship that's so in-your-face it's spawned memes. When Fox revealed to British GQ in October 2021 that Kelly's first words to her years prior at a Los Angeles party were, "I am weed," the jokes wrote themselves. While neither remember much else from their initial real-life meet-cute, sparks flew when they reunited on the set of indie thriller "Midnight in the Switchgrass" in March 2020. They were romantically involved by that June and went Instagram official the following month.
Love makes people say and do seemingly silly things — running the gamut of getting matching tattoos to wearing a necklace filled with their partner's blood — but no matter how some may feel about this celeb couple, they seem to be in it for the long haul. "I knew right away that he was what I call a twin flame," Fox revealed on Lala Kent's "Give Them Lala" podcast in July 2020 (via ET). "Instead of a soul mate, a twin flame is actually where a soul has ascended into a high enough level that it can be split into two different bodies at the same time. So we're actually two halves of the same soul, I think. And I said that to him almost immediately, because I felt it right away."
May their twin flames burn brightly.