Gal Gadot
Gal Gadot Responds To The Controversy Surrounding Death On The Nile
Kenneth Branagh's "Death on the Nile" is a movie that features an all-star cast, a legendary story, and one of the industry's leading producers, Ridley Scott. But most of the coverage around the film has been centered around the elephant in the room — controversial actor Armie Hammer.
Back in January 2021, the "Call Me by Your Name" star became engulfed in a massive abuse scandal that included disturbing accusations of sexual violence (via Complex). As the details came out, Hammer was dropped from several different Hollywood projects. However, his appearance in Branagh's adaptation of "Death on the Nile" remained intact. The movie wound up bombing at the box office (per Rolling Stone), and experts are now wondering whether Hammer's participation may have played a role.
"Did Armie Hammer's Scandal Sink 'Death on the Nile'?" asked Rolling Stone in a Feb. 14 article. Fans reacted swiftly to the "Death on the Nile" trailer when it first came out back in December, with many feeling furious and voicing their outrage with Hammer's inclusion. But what do Hammer's co-stars think, specifically his on-screen love interest Gal Gadot?
Gal Gadot calls Armie Hammer controversy 'complex'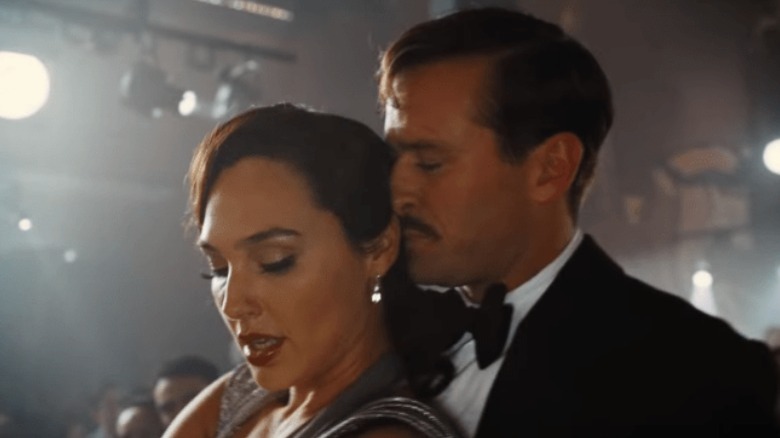 According to Armie Hammer's "Death on the Nile" co-star Gal Gadot, there's a lot to take in when it comes to the actor's abuse scandal and how it has affected everyone involved. 
"It's very complex," Gadot explained, speaking to Israel's N12 (per ComicBook.com). "If the truth is that he did things…then a person has to pay the price for his actions and take responsibility," she added. Gadot went on to say that she's not sure what will happen with Hammer or his future in Hollywood, only that "The Social Network" star should be punished if the allegations against him are true. "I don't know what will happen," Gadot said.
Hammer previously denied the accusations against him (via E! News). According to TMZ, Los Angeles police have completed their investigation of the rape allegations against Hammer and forwarded the case to the local district attorney's office for possible charges, but sources say a case is not likely.
Hammer was not involved in any press for "Death on the Nile" and appeared very minimally in all marketing. The film only has a 65% critic rating on Rotten Tomatoes, though it has fared slightly better with audience approval.
If you or anyone you know has been a victim of sexual assault, help is available. Visit the Rape, Abuse & Incest National Network website or contact RAINN's National Helpline at 1-800-656-HOPE (4673).