Shiloh Jolie-Pitt is the fourth child and second daughter of ex-spouses Angelina Jolie and Brad Pitt. Shiloh joined the Jolie-Pitt family in 2006 when she was born in Namibia; her older siblings are Maddox, Pax, and Zahara Jolie-Pitt, and her younger siblings are twins Knox and Vivienne Jolie-Pitt. Shiloh and her sister Zahara are close in age and reportedly share a close bond as well (per The Sun).
As the first biological child of Jolie and Pitt, Shiloh's birth attracted an enormous amount of media attention, which is one of the reasons her parents chose Namibia for the site of her birth (per ABC News). Over the years, both Jolie and Pitt have been selective about what they have and haven't shared about Shiloh and all of her siblings, but every so often a detail or two about their daughter slips out.
Here's a look at what we've come to learn about Shiloh through the years so far.
Shiloh Jolie-Pitt was born in May 2006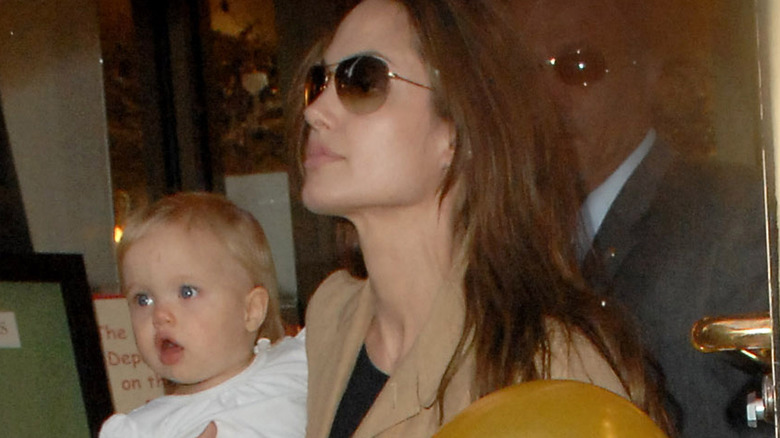 When the world found out Angelina Jolie and Brad Pitt were expecting a baby together, the interest in the pair's first biological child was astronomical. As The Hollywood Reporter notes, Jolie, Pitt, and baby Shiloh Jolie-Pitt were featured on the cover of People together following her birth, and the issue reportedly sold over 2 million copies. Jolie and Pitt were paid over $4 million for the feature, and the pair were said to have given the money to charities that support children throughout Africa.
At the time, a source close to Jolie told People that she couldn't have been happier to be building her family with Pitt. The source said that Jolie was thrilled to be adding on to her family with a partner, explaining, "This is a woman who values her relationships with her children more than anything. Now she is creating a family in the context of an adult relationship."
Pitt praised the people in Namibia who helped bring Shiloh into the world, saying, "They've been so gracious and made our stay here very special, and because of that we've had an incredible time with our family exploring the country, and (had) a truly peaceful birth of our daughter" (via People).
In 2008, Brad Pitt revealed Shiloh liked to be called John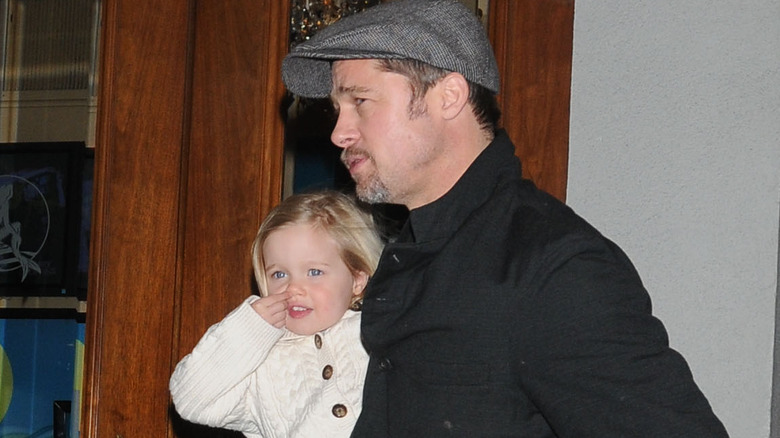 In 2008, Brad Pitt offered up a story about Shiloh Jolie-Pitt: the then-two-and-a-half-year-old preferred to go by the name John. Instead of denying that choice, Pitt and Angelina Jolie were happy to accept it. Pitt explained to People that the decision was all hers, and that the toddler was very serious about it. He said, "She only wants to be called John. John or Peter. So it's a 'Peter Pan' thing. So we've got to call her John. 'Shi, do you want …' — 'John. I'm John.'"
Jolie also spoke about the change to the Daily Mail at the time, telling the publication that it wasn't a big deal and wasn't really something she wanted the world at large to spend too much time thinking about. She explained that it was easy to go with Shiloh's preference, saying, "She likes to dress like a boy and wants her hair cut like a boy and she wanted to be called John for a while. Some kids wear capes and want to be Superman and she wants to be like her brothers. It's who she is."
The family didn't make too much of a big deal about Shiloh being called John, a move that likely helped the youngster feel supported and loved. These days, it seems she is comfortable going by Shiloh again.
Angelina Jolie says she and Shiloh Jolie-Pitt are a lot alike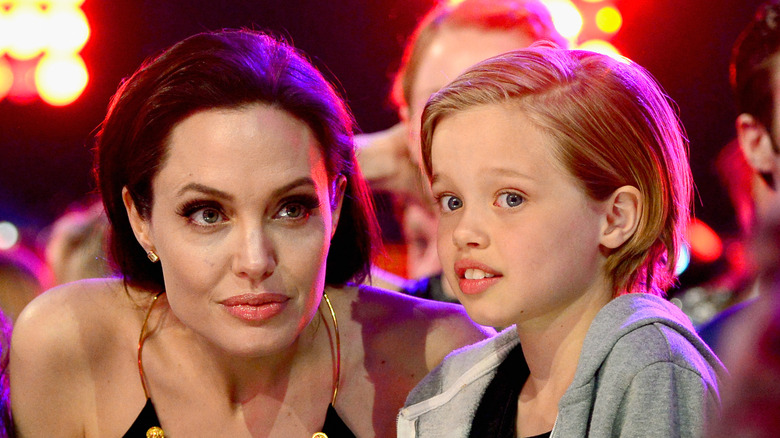 Raising six children is no small feat, and it's understandable if Angelina Jolie and Brad Pitt sometimes feel like they have their hands full. However, both have been open about how they support each of their children as individuals, and Jolie has even commented that she feels like she was most like Shiloh Jolie-Pitt when she was a young child. She explained to Vanity Fair in 2010 that Shiloh displayed a lot of early signs of being a performing, noting that her daughter was "goofy and verbal" and it's something she remembered identifying within herself. Jolie explained, "I used to get dressed up in costumes and jump around. But at some point, I got closed off, darker. … Then, as I had kids and got older — being goofy, lighter — it all came back."
In the same interview, Jolie again describes Shiloh as being "playful" and comments that her daughter is also very entertaining. It will certainly be interesting to see if Shiloh decides to follow down the paths laid by both her enormously talented and famous parents.
Shiloh Jolie-Pitt has her own foundation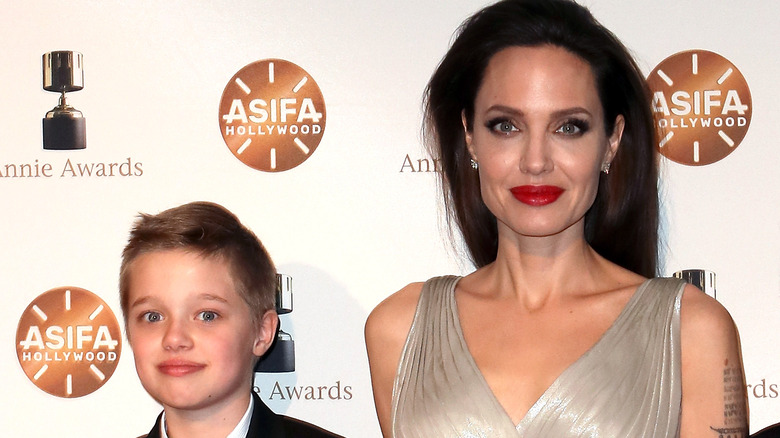 Four years after Shiloh Jolie-Pitt was born in Namibia, Angelina Jolie and Brad Pitt found a way for their daughter to give back to the place that provided them with such a lovely birthing experience. The pair founded the Shiloh Jolie-Pitt Foundation, which works closely with the N/a'an ku sê Wildlife Sanctuary in Namibia (via People). As described on the sanctuary's website, the family's contribution provides serious care for many of the animals that call the sanctuary home. The website explains that the addition includes "holding pens, trucks, crates and veterinary equipment," and supplies the sanctuary with a full-time veterinarian. It also adds that all this helps give the animals the best possible chance, noting, "Animals that come to the facility will be cared for until they are fit and ready to be returned to their places of origin."
Staff at the sanctuary were thrilled by the offering, and, in turn, decided to name a sweet little cheetah after Shiloh. While Shiloh was too young at the time to meet the cub who bears her name, Jolie told the foundation that Shiloh loved watching videos of the cheetahs: "She loves that little cheetah Shiloh has a tough and independent nature, and cannot wait to visit Naankuse and meet [the cheetahs] herself." The visit finally took place in 2017, and human Shiloh got to meet cheetah Shiloh (via People).
Shiloh Jolie-Pitt is already a practicing humanitarian


Considering her mom, Angelina Jolie, is an active humanitarian who prizes giving back to others, it's not a surprise that Shiloh Jolie-Pitt displays similar traits. Shiloh has gone on several trips with her mother, father, and siblings over the years that have been focused on humanitarian efforts, and has also focused on helping others in other ways. For example, in 2016 the Daily News reported that Shiloh and her sister Zahara Jolie-Pitt donated $200 worth of new clothes to a family of 13 children in Cambodia, where the family was spending time while Jolie worked on "First They Killed My Father."
When Shiloh was 9, she and her mother traveled to Lebanon as envoys for the United Nations. As People reports, the pair spent a lot of time with refugee families. Shiloh even made friends with a 12-year-old there, an act that Jolie was particularly proud of. She told the publication, "It was wonderful that they were able to meet, play together, and make friends. So many refugees are children."
During the same trip, Shiloh and Jolie visited Turkey and met with Turkey's President Recep Tayyip Erdogan to discuss the ongoing refugee crisis in the country (via People).
In 2006, Shiloh became the youngest person to be immortalized at Madame Tussaud's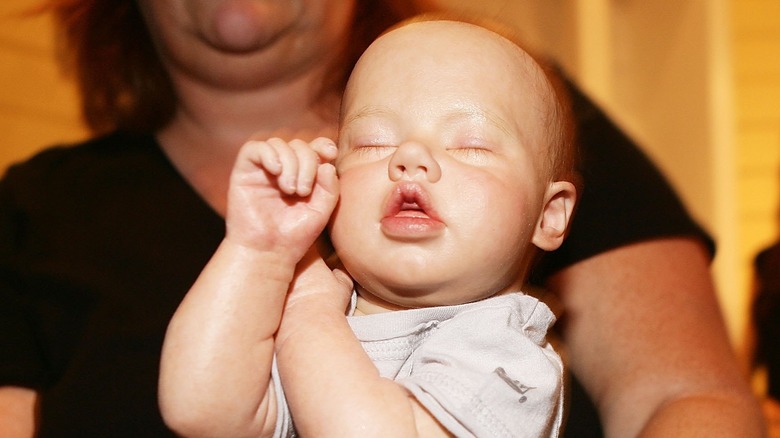 Shiloh Jolie-Pitt is only a teenager, but in her time on this planet, she has already made a big impact in a lot of ways. For starters, in 2006, Shiloh became the youngest person ever to be immortalized at the famous wax museum, Madame Tussaud's. Shiloh was captured at only 8 weeks old for the New York branch of the museum, and her infant form was paired with the wax figures of both her parents (via CBS News).
The museum's general manager Janine DiGioacchino explained that Shiloh's appeal to their visitors was nearly limitless, which made her an obvious must-have addition to the museum's collection. Per CBS News, DiGioacchino said, "Even though she's just a few months old, Shiloh is already an iconic figure in world popular culture." The museum even decided to extend the Jolie-Pitt's family inclination toward humanitarian aid by offering to donate $1 from every photo taken with the wax forms of Shiloh and her parents to UNICEF.
Shiloh Jolie-Pitt has also been a part of her parents' films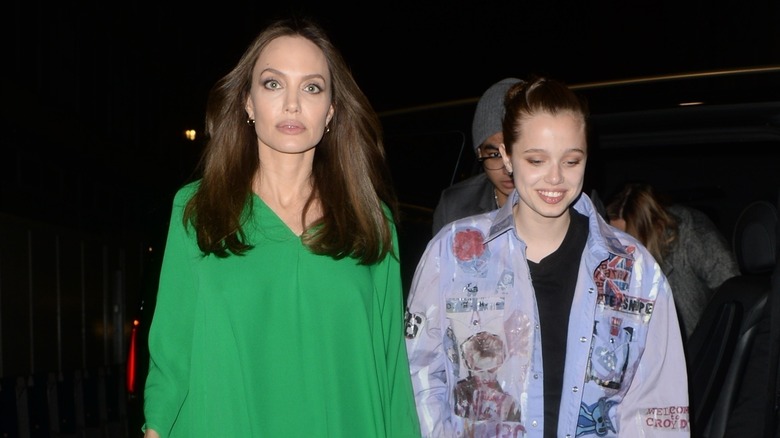 Brad Pitt and Angelina Jolie have been only too happy to incorporate Shiloh Jolie-Pitt into their work. Shiloh even had a small role in Pitt's 2008 "The Curious Case of Benjamin Button." Shiloh was able to step in when a pair of twins who played Cate Blanchett's character's daughter in the movie weren't able to shoot their scenes.
A source told the New Zealand Herald how it all fell into place, explaining that the twins "wouldn't settle down … Then quick-thinking Brad realised his daughter's happy and mellow disposition made her a quick fix for the role." The source went on to add that Shiloh seemed like a natural, even laughing and appearing to enjoy shooting her scenes that day.
Shiloh has also had an impact on her mother's work. In 2014, Jolie revealed that she decided to take a part in "The One and Only Ivan" because Shiloh had read the book. Jolie told People, "My daughter Shiloh read the book. She loved it and she loved Ivan. Then I just inquired who was making it, what was happening with it." Jolie added that she was moved by the story, and while working on the film realized her character was just concerned about protecting her kid.
In 2020, Shiloh had surgery for undisclosed reasons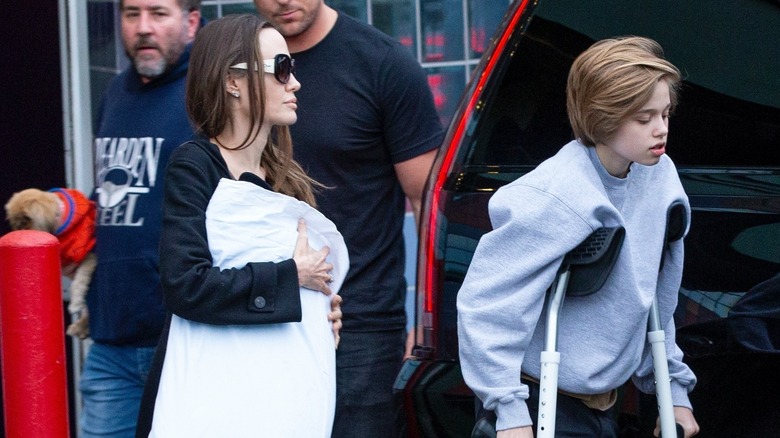 In 2020, Shiloh Jolie-Pitt made the news again after Angelina Jolie revealed that two of her daughters, Shiloh and her sister Zahara Jolie-Pitt, had both had surgery within a short span of time. While Jolie was not willing to reveal the details of their surgeries, she praised both of her daughters in a moving essay for Time about health issues and concerns that children around the world face.
Jolie wrote, "I have spent the last two months in and out of surgeries with my eldest daughter, and days ago watched her younger sister go under the knife for a hip surgery," before adding that both girls had given their permission for Jolie to share their stories in the piece. Jolie continued by tying her daughters' experiences to those of children around the world, noting that both Shiloh and Zahara had since gained a greater understanding of what it means to face a medical challenge and to heal from it.
Sources who spotted the family after Shiloh's surgery told People that Shiloh appeared to be doing well on crutches, and that her younger sister Vivienne was also on hand to help Shiloh as needed. This echoed another part of Jolie's essay, in which she wrote that her daughters all took turns paying attention to what the nurses were doing, and then helped one another as they healed (via Time).
Shiloh recently started re-wearing some of her mom's old gowns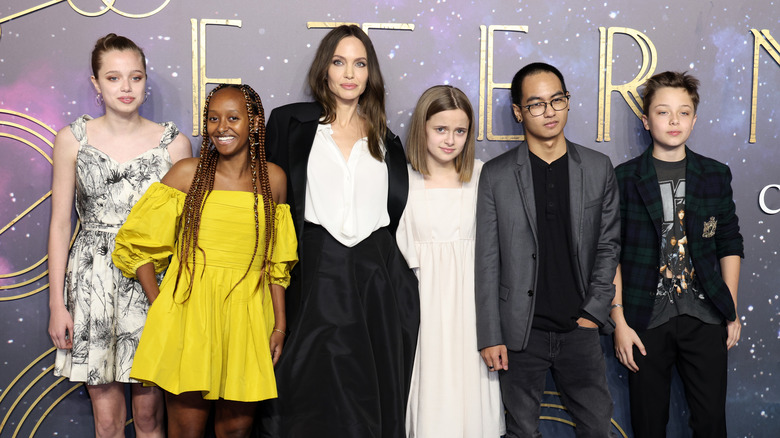 In 2021, Shiloh Jolie-Pitt showed that, as a 15-year-old, she's open to reinventing herself and exploring different styles and types of clothing. After preferring to dress in a more masculine fashion in her younger years, Shiloh has begun re-wearing some of her mom's older gowns and dresses to the events she and her siblings attend. For example, the family was on hand to support Angelina Jolie at the U.K. premiere of "Eternals" in November, and Shiloh opted to wear the same black-and-white Dior dress her mom wore two years earlier at a different event (via People).
Jolie separately revealed to Entertainment Tonight that all of her kids love to raid her closet, and she supports them doing so. Describing their outfits at the L.A. premiere of "Eternals," she explained, "My kids are all mixed with vintage, and in my old Oscars dress. We did all vintage and upcycled my old stuff." At that event, Shiloh opted to wear a tan Gabriela Hearst dress that Jolie had been photographed wearing on vacation in France during the summer of 2021, per People.