Gigi Hadid
Bella Hadid Says She 'Blacked Out' On The Met Gala Red Carpet After Wearing Tight Corset
'I don't even think I got one good photo on the red carpet'
Bella Hadid rocked up to the Met Gala in a dramatic, all-black leather and lace ensemble designed by Burberry's Riccardo Tisci.
And while she looked fierce and poised on the night, she told Interview magazine: 'I literally like, blacked out,' when recalling her red carpet experience.
She added: 'I don't even think I got one good photo on the red carpet.
'Now that I look back, I realise that people literally stand there for 20 minutes and they give. I looked once to the left, once to the right, and I ran up the stairs.'
'I don't think I was out there for more than three minutes. I don't know if that was my anxiety, or maybe the waist was giving cinch and I couldn't breathe. I mean, there were probably a lot of things happening.'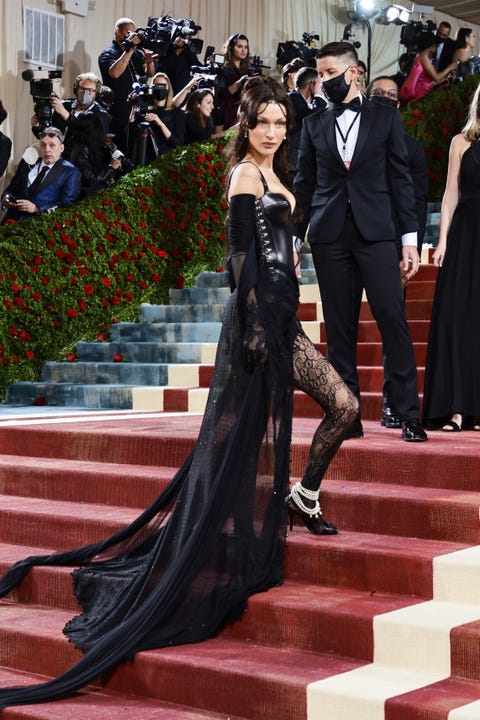 Discussing the Met Gala more generally, the supermodel explained that the first Monday in May – when the annual event traditionally takes place – causes her 'so much anxiety', though now she is able to put less pressure on herself and enjoy it.
'We spend a lot of time — designing the dress and with my glam team — figuring out the creative part before I actually get to the hotel on Met day,' she told the publication.
'So by the time it's Met day, we're just like living, listening to music, dancing.
'But 20 minutes beforehand it gets kind of stressful, because I'm a Libra and I'm always late. I try to not be late, but I always am anyway.'
For this year's event, themed 'In America: An Anthology of Fashion', the 25-year-old, who was absent from last year's event, shared her ideas with Tisci using a 25-page presentation.
She said: '…I tried to limit it to the period from 1895 to 1903.'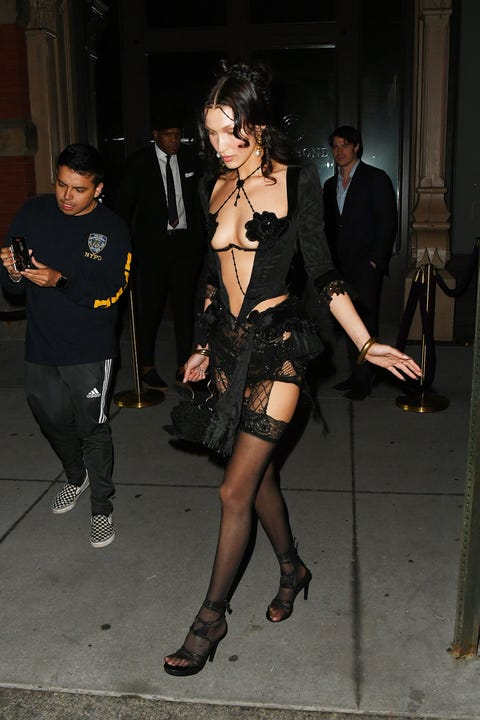 MEGAGETTY IMAGES
'I really liked a lot of the ties and the big fabrics and the tulle and obviously the corsets and the bustiers, but we also wanted to make sure that it stayed very much Riccardo — very simplistic, but chic.'
Hadid's corset was finished with side chain embellishment, and she completed her look with tulle gloves, a floor-pooling train and a vintage pearl multi-strand necklace from Briony Raymond around her ankle.
The dress code for this year's Met Gala was 'gilded glamour and white tie', an ode to the era between 1870 to 1890.
'It was about embodying the grandeur of Gilded Age New York.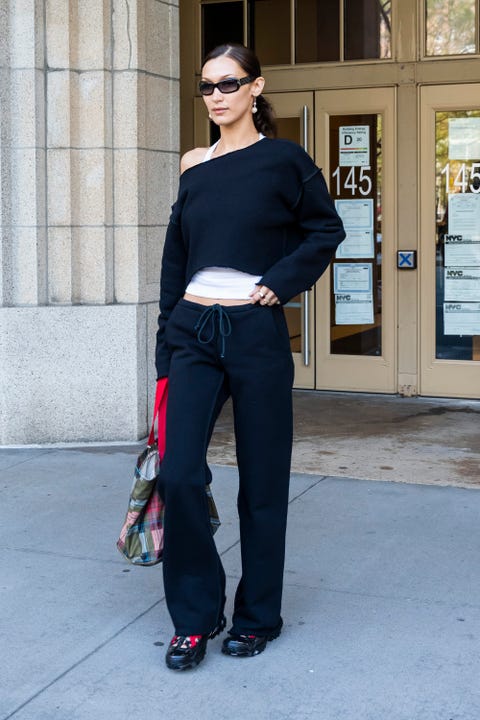 GOTHAMGETTY IMAGES
The runway regular's after party look saw her slip into a lingerie-inspired outfit by the same fashion house.
Her fellow model sister Gigi Hadid wore a wine-hued catsuit to the event, which also came with a corset bodice.
Gigi's outfit, dreamt up by stylist Mimi Cuttrell and Donatella Versace, was finished with a striking coordinating cape that she later took off.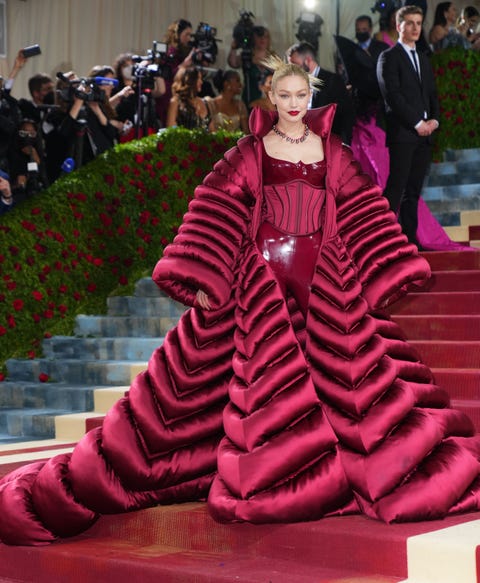 GOTHAMGETTY IMAGES
Bella Hadid previously told WSJ that her personal struggles led her to no longer use a stylist.
The new face of Swarovski, who's fronted campaigns for designers such as Alexander Wang, Michael Kors and Versace, said at the time: 'It was really complicated for me to get out of the house and put an outfit together.
'Even though on Instagram things look so beautiful, at the end of the day, we are all cut from the same cloth.'