Gigi Hadid
The Met Gala 2022's best jewellery, from Gigi Hadid's Chopard pearls and Vanessa Hudgen's Messika bling, to Bridgerton's Simone Ashley dripping in De Beers
For the Gilded Glamour dress code, Amber Valletta dazzled in Buccellati, Maggie Rogers donned Chanel earrings and Vogue host Vanessa Hudgens wore plenty of diamonds
Marvel's Shang-Chi icon Michelle Yeoh looked elegant in Tasaki jewels while YouTuber Emma Chamberlain, Cartier's new ambassador, showed off a tiara from the brand
Resplendent in diamonds, pearls and coloured gemstones, celebrities paraded their sparkling interpretations of the Met Gala 2022's theme "In America: An Anthology of Fashion" and its dress code Gilded Glamour.
This year's fundraiser for the Costume Institute at the Metropolitan Museum of Art in New York City was particularly significant for jewellery aficionados, given its theme evoking glittering American opulence and allure. So for their ultimate red carpet fashion moment, celebrities accessorised their over-the-top ensembles with equally extravagant high jewellery from some of the world's most revered brands as well as upcoming exclusive designers.
Here are a few highlights of some of the scene-stealing jewellery designs from this year's Met Gala.
1. Michelle Yeoh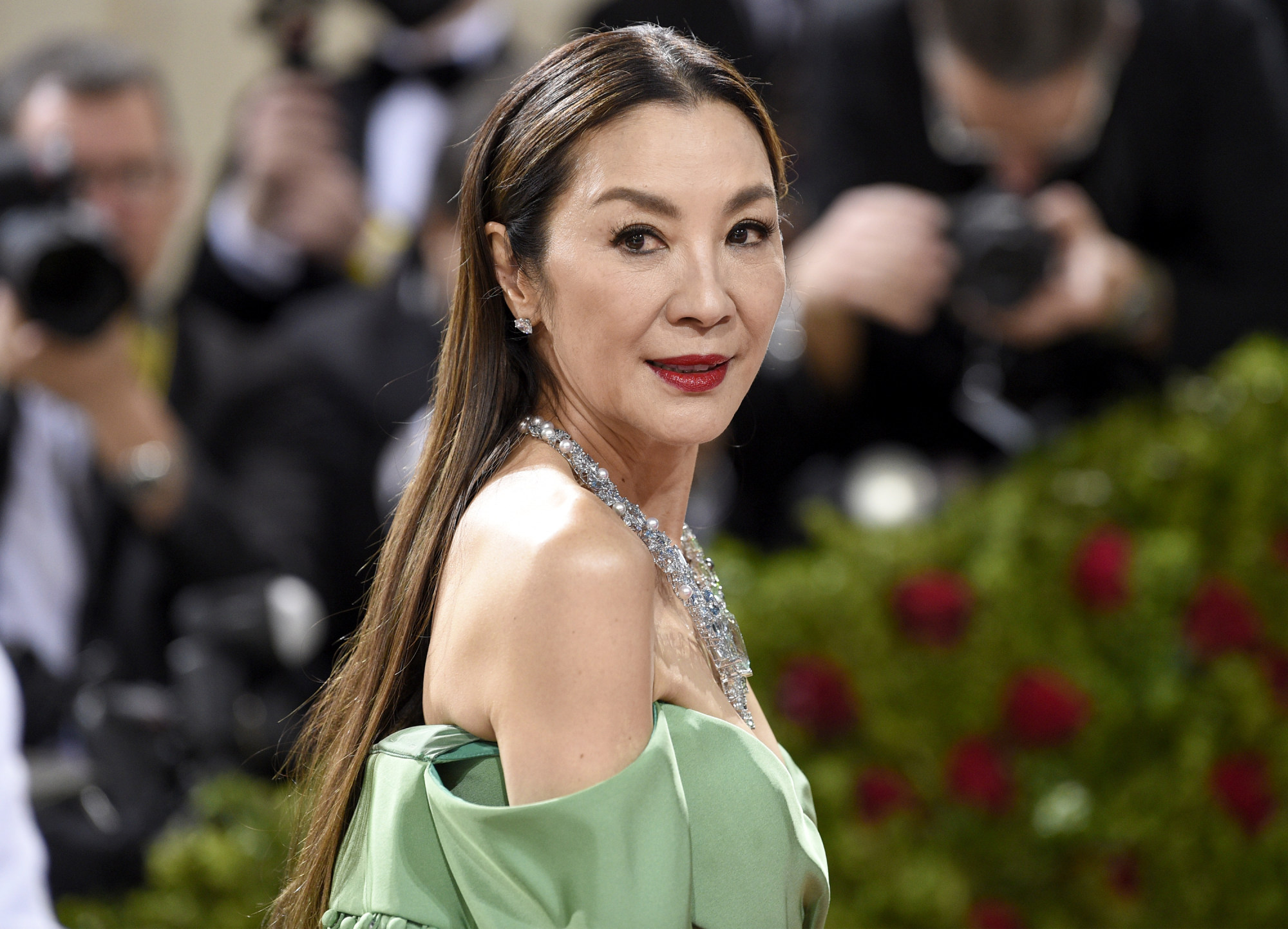 Michelle Yeoh looked resplendent in diamonds for her outfit at The Metropolitan Museum of Art's Costume Institute benefit gala celebrating the opening of the "In America: An Anthology of Fashion" exhibition on May 2, in New York. Photo: AP
The celebrated Asian actress made her show-stopping appearance on the red carpet wearing a breathtakingly sumptuous necklace named Forest Valley, in the Atelier collection from the Tasaki brand. The creative director of the collection is renowned fashion designer Prabal Gurung, who is also the creator of Yeoh's upcycled gown.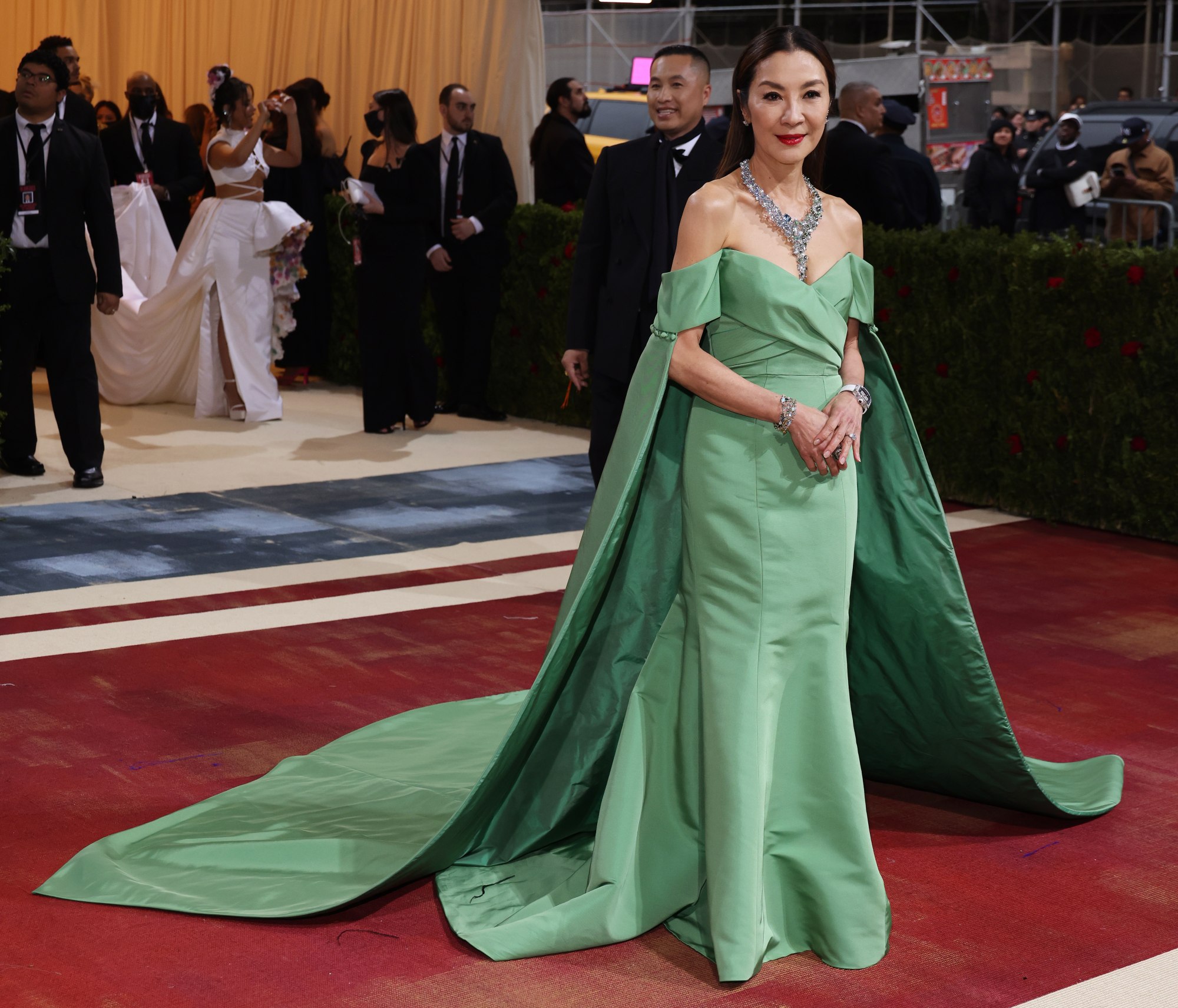 Crouching Tiger, Hidden Dragon's Michelle Yeoh looked like a vision in emerald at the Met Gala 2022 on May 2, in New York, wearing the Forest Valley necklace from Tasaki. Photo: EPA-EFE
The handcrafted Forest Valley necklace is a poetic, stylish vision of foliage featuring a myriad of cascading pearls and gemstones in cool blue and silvery hues, including white Akoya pearls, black South Sea pearls, sapphires, tourmaline, beryl and aquamarine, and shimmering diamonds. As a finishing touch to her look of contemporary luxury, Yeoh chose to wear a Richard Mille jewelled watch as well.
2. Vanessa Hudgens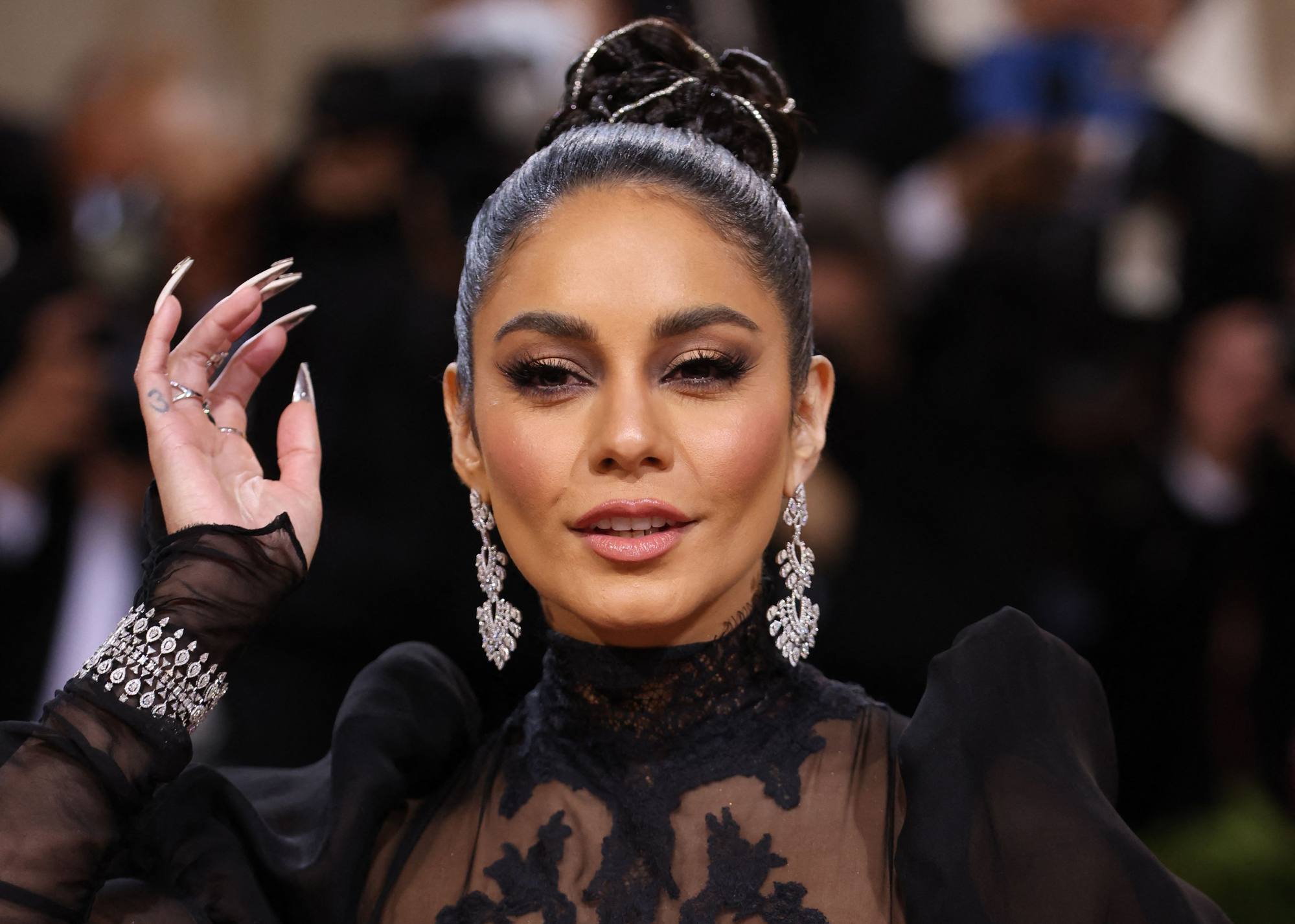 Vanessa Hudgens was a Vogue co-host for the "In America: An Anthology of Fashion"-themed Met Gala at the Metropolitan Museum of Art in New York, on May 2. Photo: Reuters
The American actress and singer was one of Vogue's co-hosts for this year's gala. Highlighted by her all-black lace and chiffon Moschino gown were the exquisite white diamond pieces from Messika High Jewelry. With a distinctively intricate look, the designs featured a mixture of diamonds in various shapes and sizes, mounted onto extremely delicate precious metal filigree and lacework settings.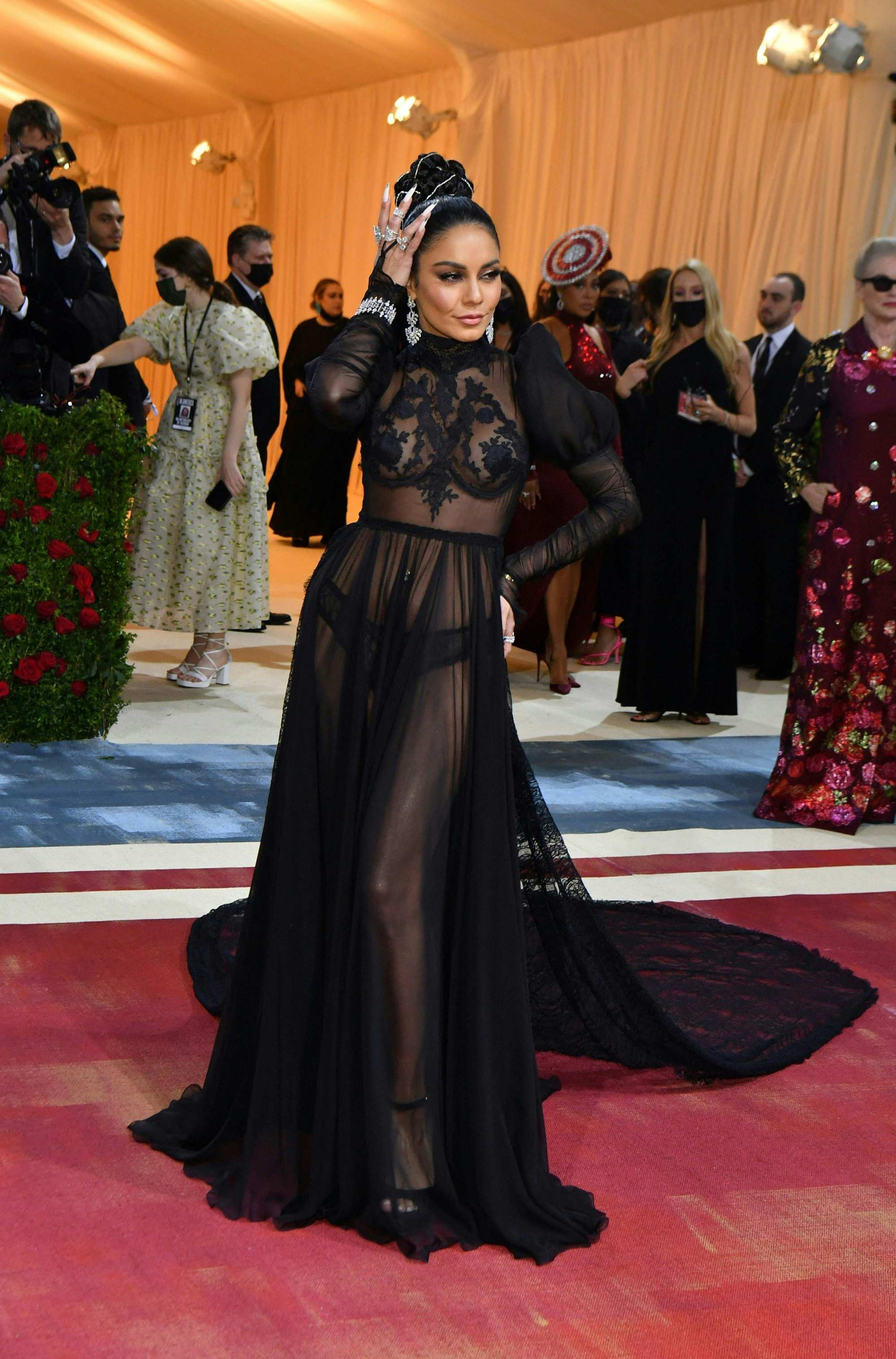 Former Disney star Vanessa Hudgens wore an all-black lacey number from Moschino complemented by stunning accessories from Messika High Jewelry at the Met Gala 2022, on May 2, in New York. Photo: AFP
The pieces were from several signature high jewellery lines from the brand, including the Desert Bloom chandelier earrings, a bracelet in the Exotic Charm Messika by Kate Moss and rings from Miss Milla and Diamond Catcher lines.
3. Gigi Hadid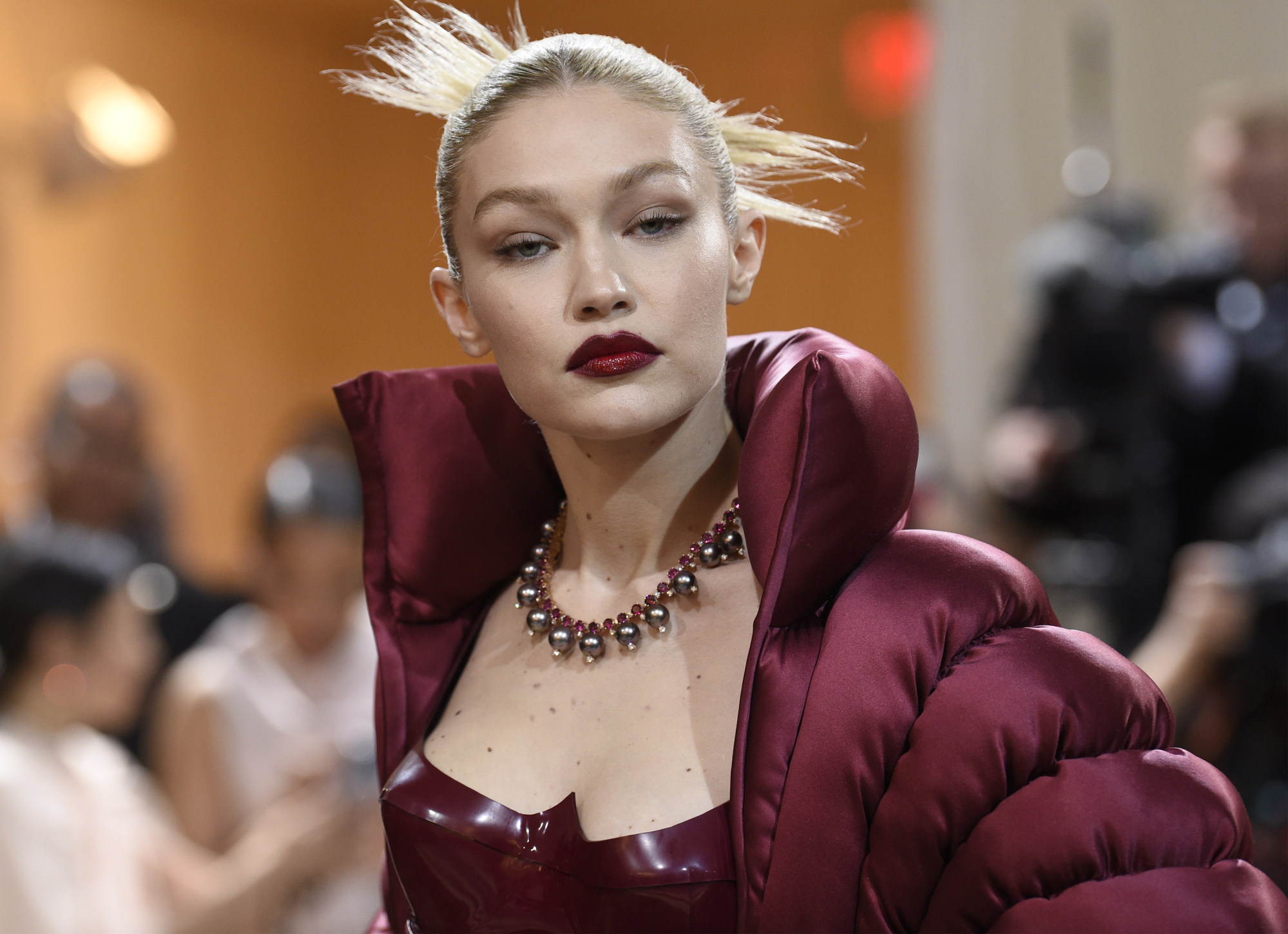 Supermodel Gigi Hadid wore a burgundy coloured Versace puffer for her red carpet appearance at the Met Gala 2022, on May 2, in New York. Photo: AP
The supermodel contrasted her ultra futuristic outfit with opulent jewellery pieces in classic styling. Her necklace, from Chopard's Haute Joaillerie Collection, featured large black pearls in perfectly matched rose-coloured overtone and alluring lustre.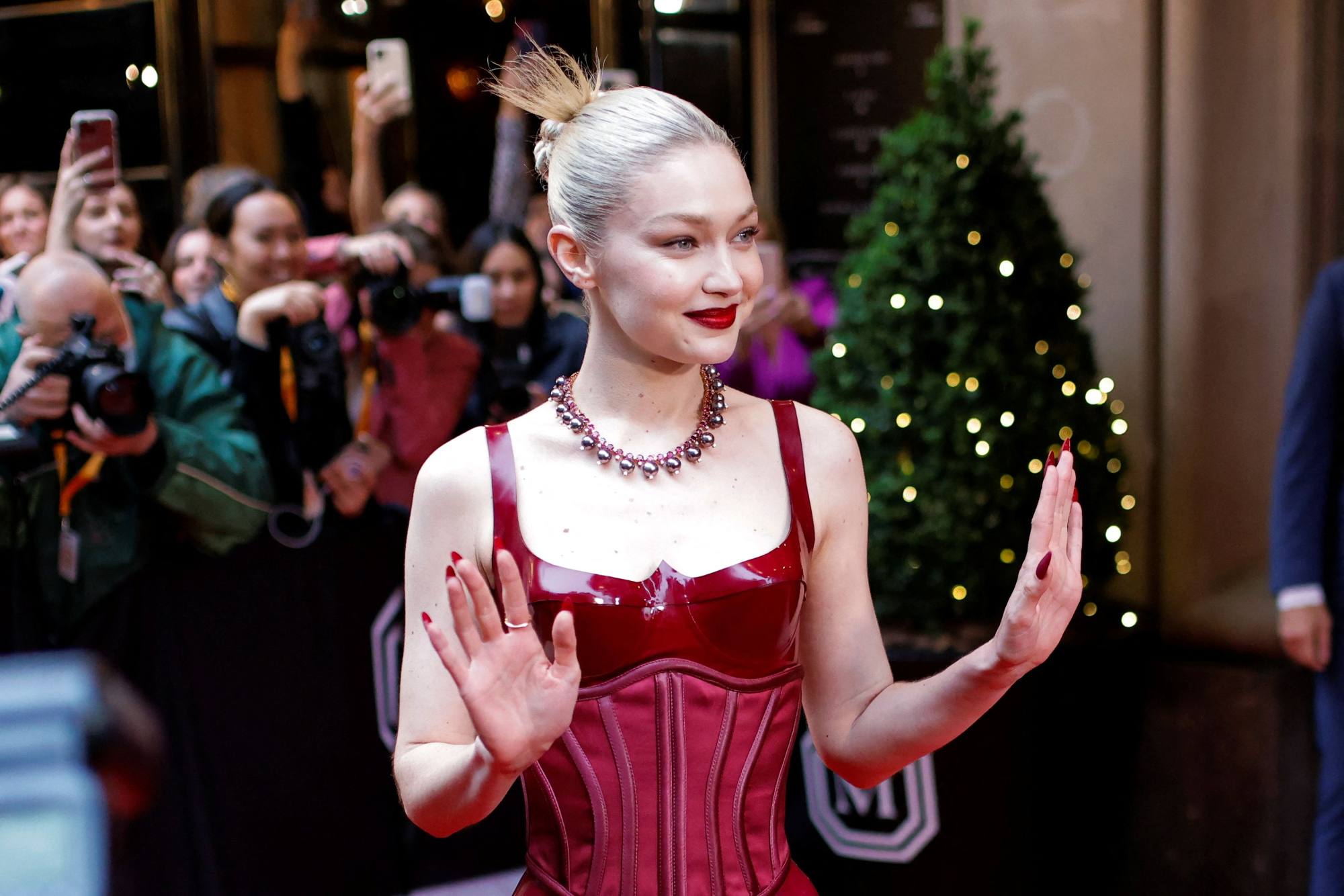 Gigi Hadid's futuristic-looking ensemble turned heads at the Met Gala 2022, but all eyes were on her jewels too, which were from Chopard's Haute Joaillerie Collection. Photo: Reuters
The greyish-pink pearls were complemented with rubellite tourmaline stones in dark fuchsia with diamond accents. All the deep pinkish and red colours in the pearls and gemstones were further highlighted by the 18-karat rose-coloured gold setting.
4. Simone Ashley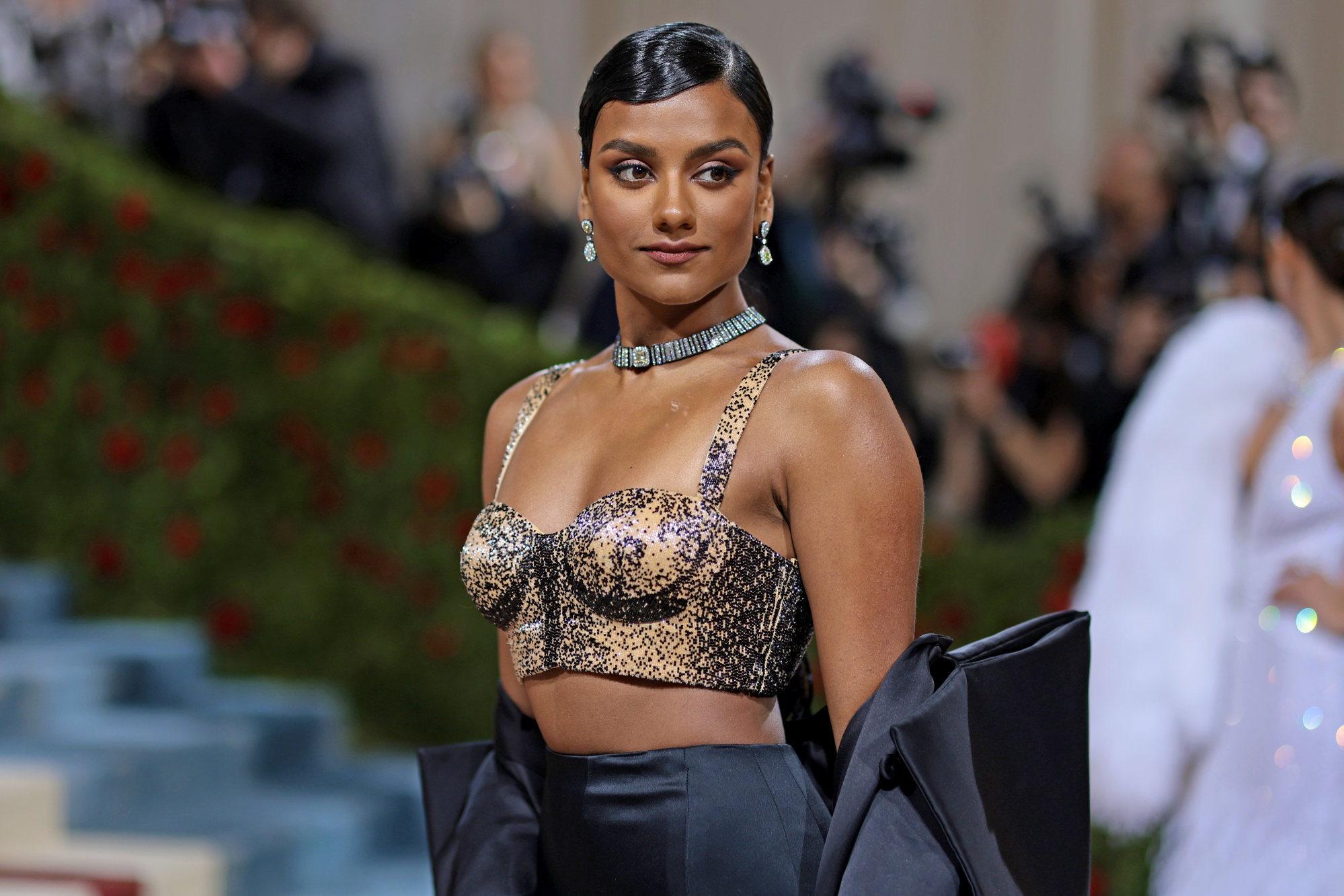 Famous for her role in Netflix's Bridgerton, Simone Ashley stunned during her Met Gala debut in jewellery pieces from De Beers' High Jewellery collection. Photo: Getty Images
The actress starring in the popular Netflix Bridgerton series interpreted an English Regency vibe with a twist. She picked diamond designs with a distinctively antique jewellery feel for the gala.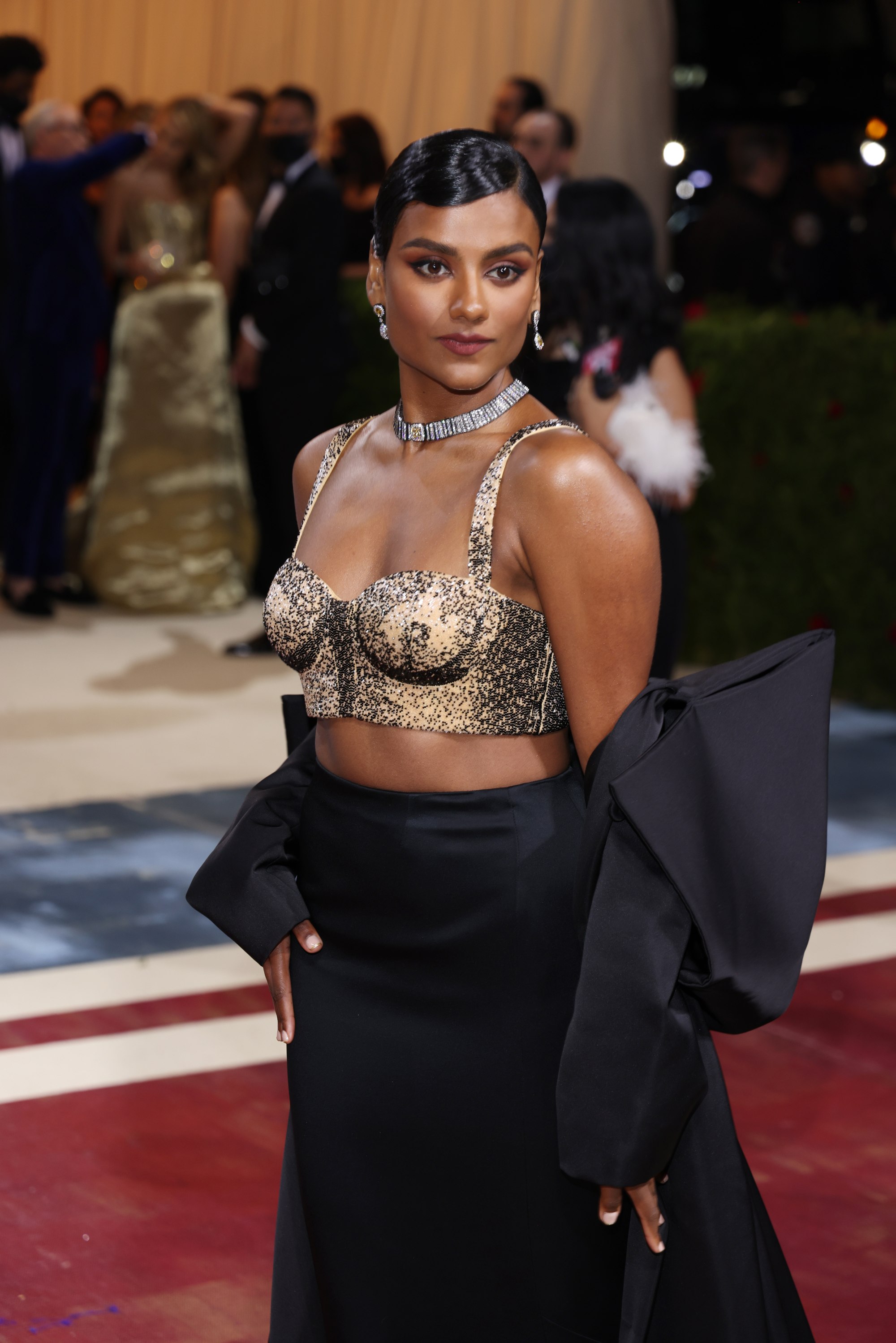 Simone Ashley turned heads with her gorgeous look at the Met Gala 2022, on May 2, in New York. Photo: EPA-EFE
The pieces from De Beers' High Jewellery collection, The Alchemist of Light – Light Rays, featured earrings with white and yellow diamonds and a spectacular choker in black rhodium-plated gold, set with a 4.22-carat fancy brownish yellow radiant-cut diamond, juxtaposed by rows of white diamonds.
5. Emma Chamberlain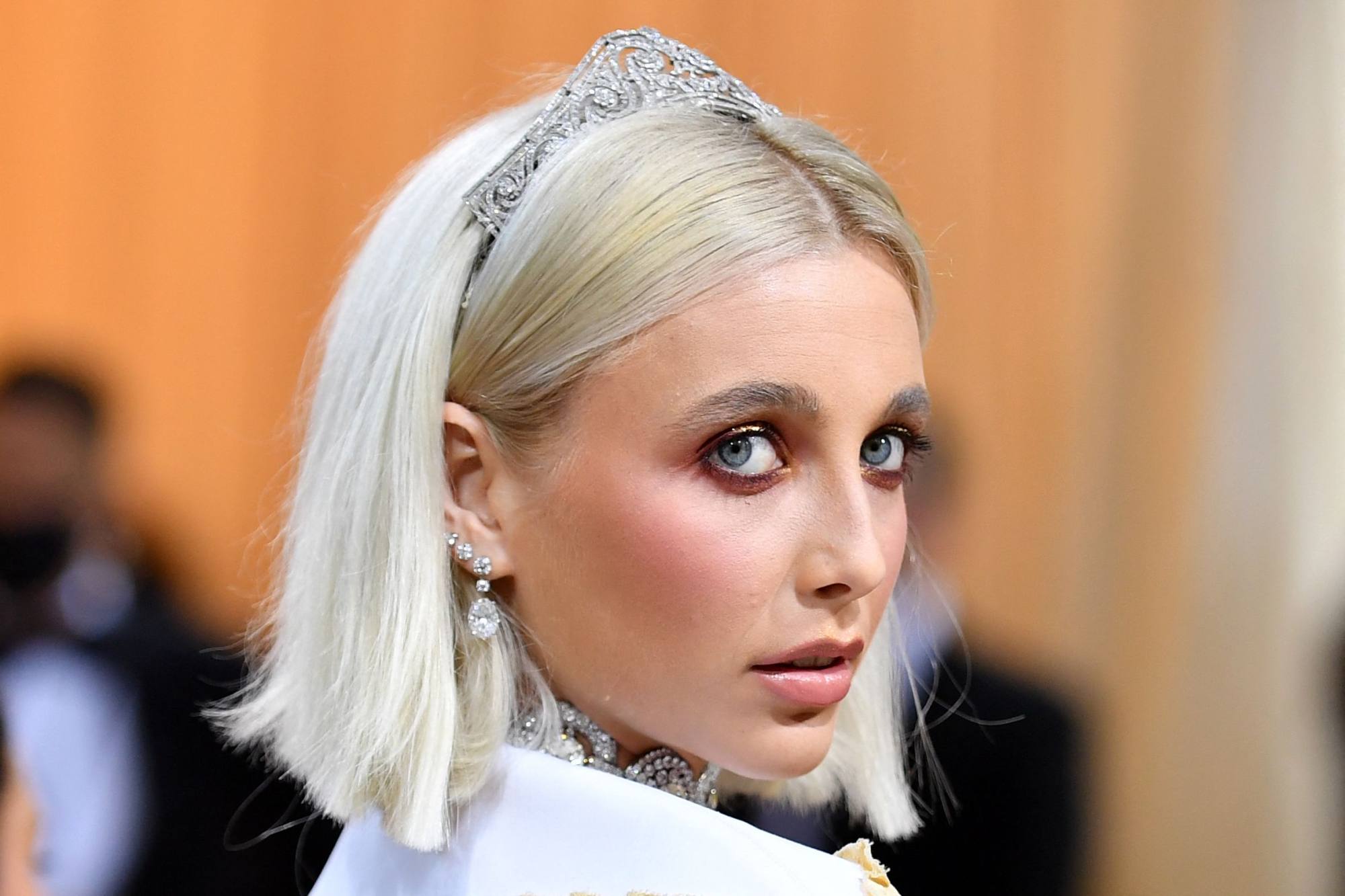 YouTuber and influencer Emma Chamberlain has just been named Cartier's new ambassador, wearing jewels from the brand at the Met Gala, on May 2, in New York. Photo: AFP
The American YouTuber, influencer and newest Cartier brand ambassador wowed the red carpet crowd with a vintage Cartier platinum and diamond tiara, made in 1911. The traditional Kokoshnik tiara belongs to the Cartier Collection.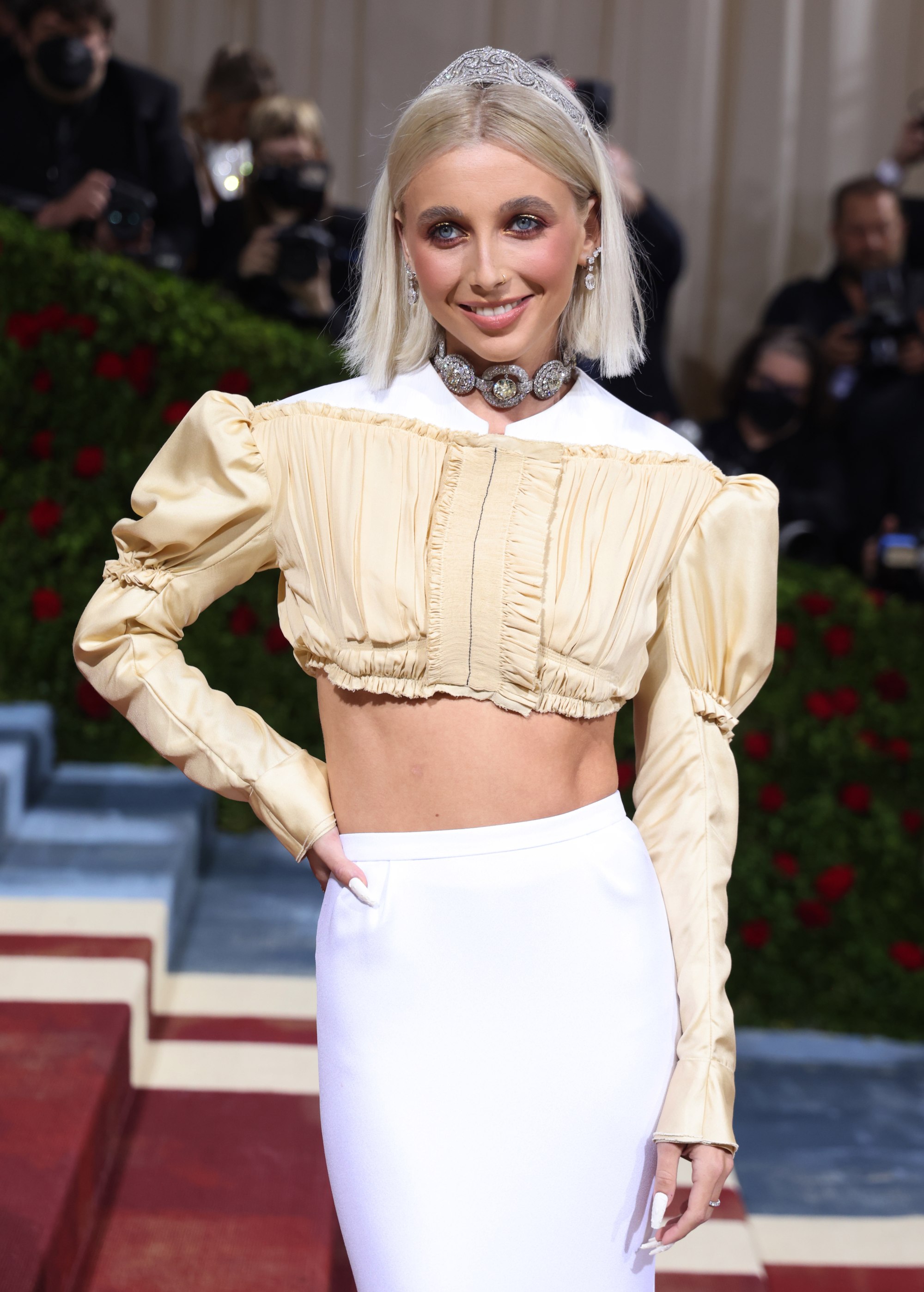 Emma Chamberlain's Cartier tiara has a fascinating history behind its ownerships. Photo: EPA-EFE
The equally magnificent diamond choker was also a vintage piece made by Cartier and belonging to the brand's collection. It has a storied provenance: the diamond choker used to belong to the Maharaja of Patiala, Punjab in India, the late Sir Maharaja Yadavindra Singh. The wealthy ruler commissioned many spectacular pieces from Cartier.
6. Amber Valletta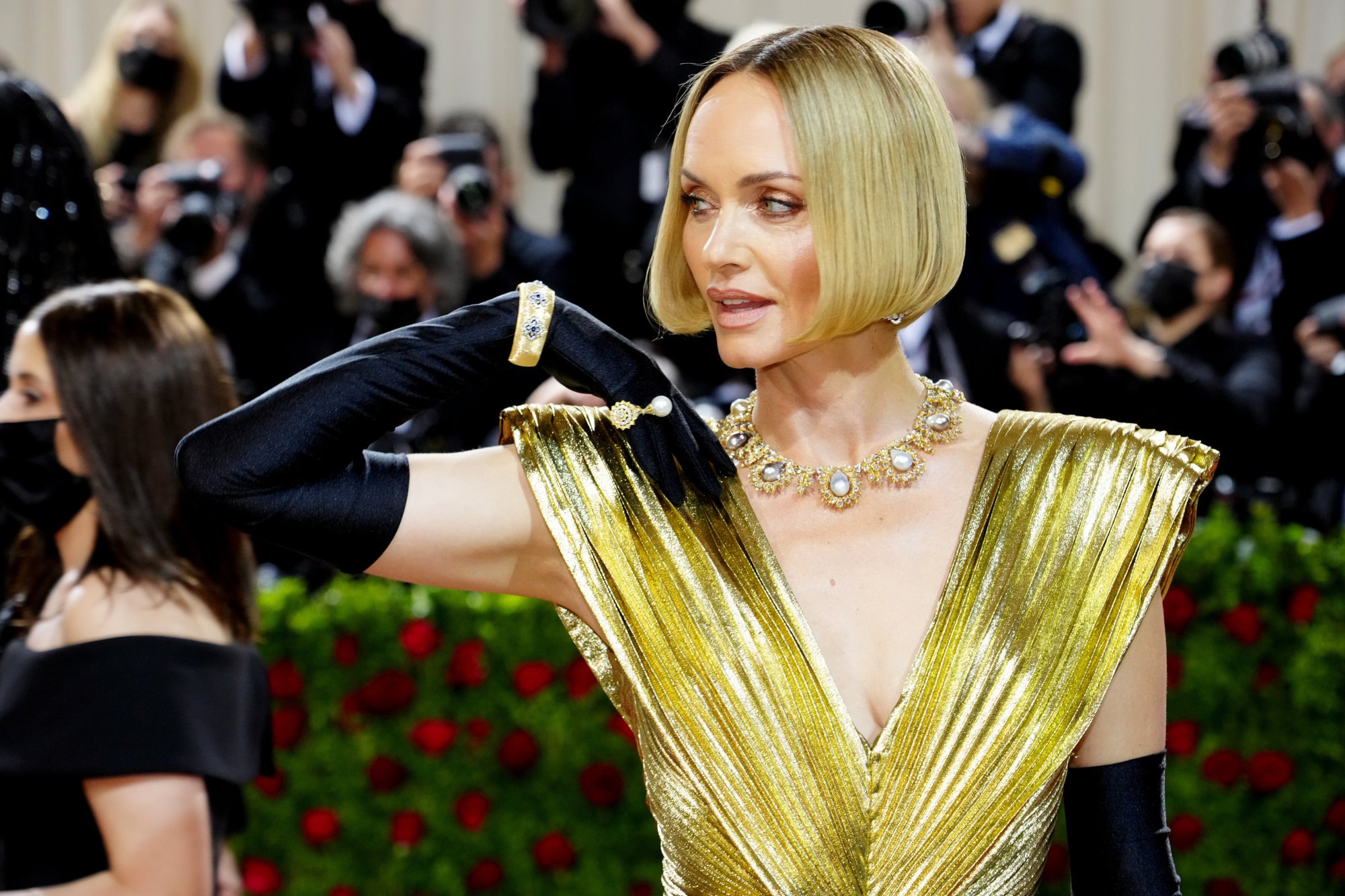 Model Amber Valletta dripped in gold on the Met Gala red carpet 2022, on May 2, in New York. Photo: FilmMagic
For her red carpet jewellery, the supermodel chose the iconic designs from the Italian brand Buccellati's high jewellery collection. The brand's signature styles, including its intricate filigree designs inspired by Venetian lace and exquisite textured metalwork of superb finish, were showcased to perfection by Valletta.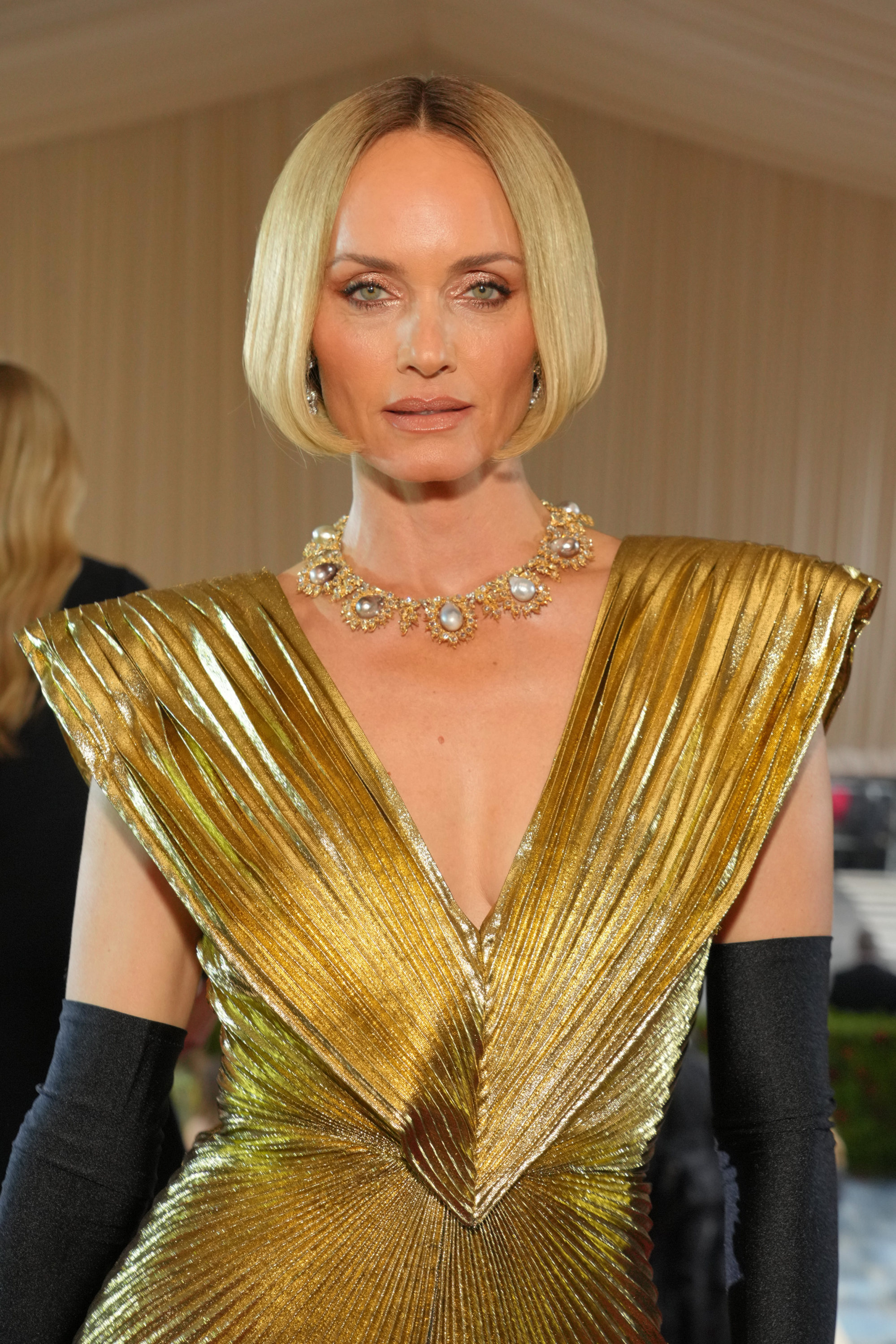 Amber Valletta's Met Gala look was a show-stopper thanks to her sleek dress and Buccellati jewellery. Photo: Getty Images
The pieces included a South Sea pearl and diamond necklace and diamond bangles, bracelet and rings from the brand.
7. Maggie Rogers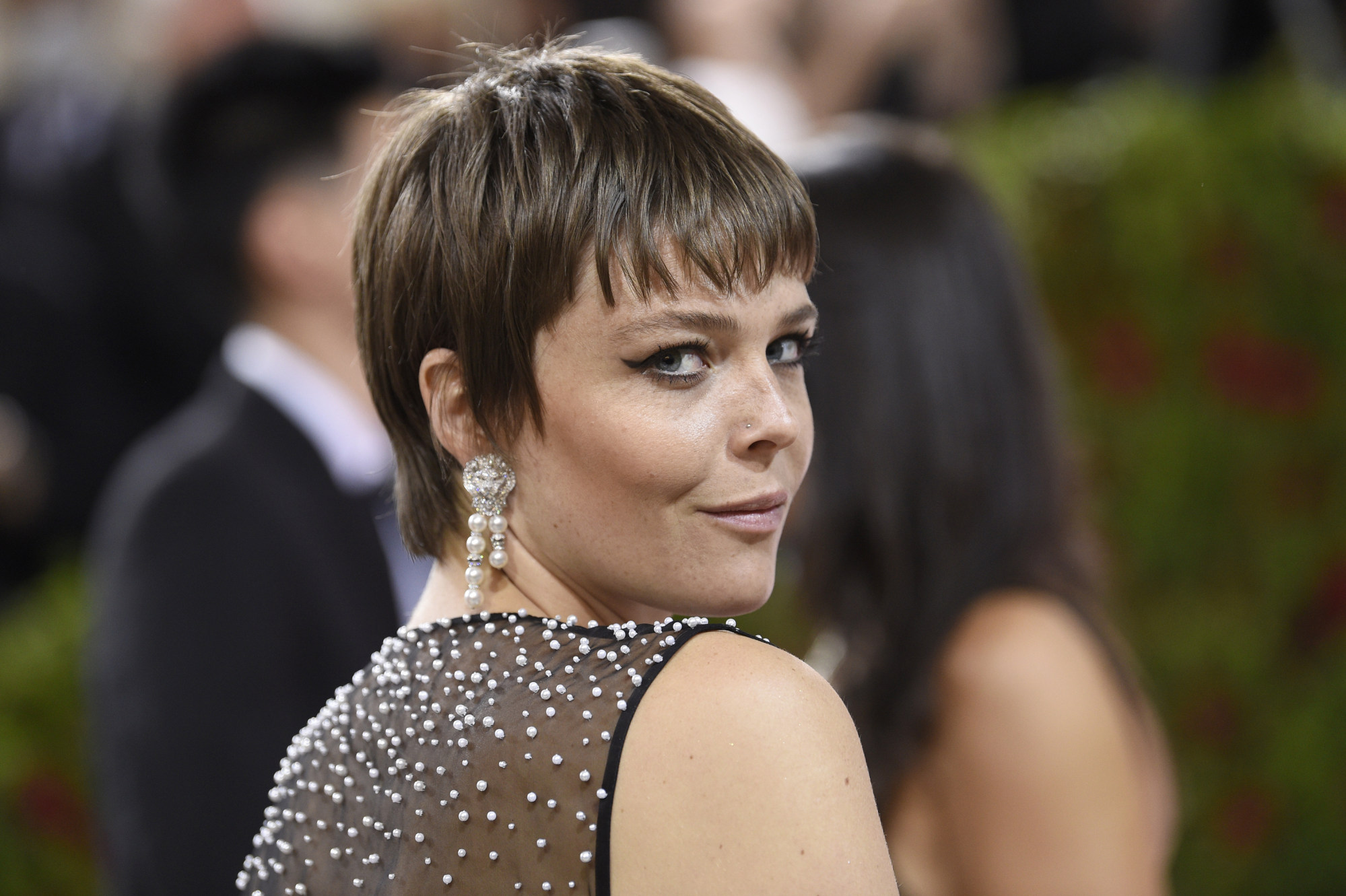 Maggie Rogers wore Chanel earrings for her Met Gala 2022 look, on May 2, in New York. Photo: AP
The American singer and songwriter accessorised her minimalist evening outfit with a pair of diamond and pearl earrings from Chanel's high jewellery collection. The diamond-encrusted sculptural lion heads in gold dangled strands of white pearls, juxtaposed with pieces pave-set with small diamonds.