Gigi Hadid
Bella Hadid kiest de mooiste vintage jurken tijdens Cannes Filmfestival
De Queen of Cannes kiest voor vintage glamour!
De 75ste editie van Cannes Filmfestival vond afgelopen week plaats in het zonovergoten Cannes, Frankrijk. Natuurlijk voor filmliefhebbers zijn alle premières en prijzen het grote hoogtepunt van deze week, voor modeliefhebbers is het dat wat eraan vooraf gaat: de rode loper. De dresscode van het festival kenmerkt zich door de ultieme glamour van de jurken, glanzende juwelen en de mooiste beautylooks.
Bella Hadid steelt de show in Cannes
De rode loper en haar bezoekers hebben de kans om iconisch te worden. Denk maar aan Rihanna, die volgens haar eigen woorden in 2017 onuitgenodigd de show stal in een witte Dior-jurk en zonnebril. De afgelopen jaren is er een nieuwe Queen of Cannes: Bella Hadid. Keer op keer weet ze ons te verrassen in de prachtigste jurken. Vorig jaar betoverde ze het publiek in een haute couture jurk met enorme ketting van Schiaparelli. Waar ze vorig jaar ook begon met het dragen van vintage op de rode loper (die ene prachtige jurk van Jean Paul Gaultier) zette ze dit jaar die lijn door. En op wat voor manier! Met de hulp van stylist Law Roach zette het duo looks neer die we nog lang zullen herinneren. Van Gianni Versace tot Karl Lagerfeld, dit zijn de looks die Bella Hadid droeg tijdens de 75ste editie van het Cannes Filmfestival.
Vintage glamour: Bella Hadid tijdens Cannes Film Festival
Bella Hadid in vintage Gianni Versace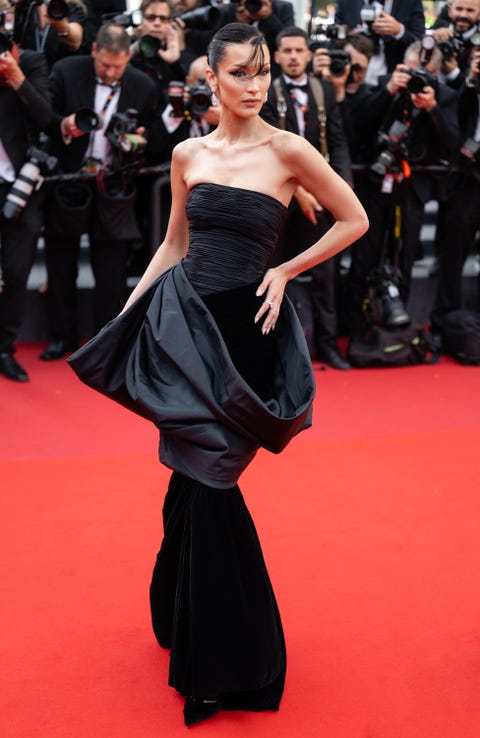 SAMIR HUSSEINGETTY IMAGES
Bella doet in deze vintage Versace jurk haast denken aan de zwarte zwaan van het Zwanenmeer. De jurk werd in 1987 door Gianni Versace ontworpen voor een opera in Milaan. Het plaatje wordt natuurlijk compleet gemaakt met de kenmerkende snatched haar look van Bella, oorhangers van Chopard en opvallende eyeliner.
2. Bella Hadid in vintage Versace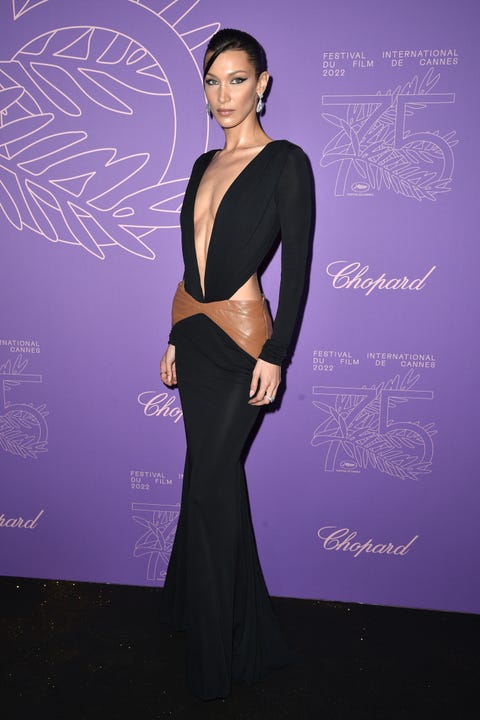 LIONEL HAHNGETTY IMAGES
Voor een diner georganiseerd door Chopard droeg Bella een vintage jurk van Versace ontworpen door Donatella Versace in 2001. De jurk met een plunging V-hals waar je u tegen zegt wordt afgemaakt met een leren tailleband. Al met al een echte show stopping look.