Gigi Hadid
Gigi Hadid Says Sister Bella 'Saves The Cannes Red Carpet Year After Year' While Sharing A Photo Of Her
She seemingly deems her the best dressed
Bella Hadid has been a hit on the Cannes Film Festival red carpet since 2016, and for 2021 she really set tongues wagging with a most epic Schiaparelli dress, that featured a gilded brass neckline and rhinestone adornments.
One person who's stanning Bella's style hard, is older sister Gigi Hadid, who made very clear her fan girl status with her latest IG sentiment.
The runway regular shared a photo of Bella at the 2021 Festival to her Instagram story, along with a message seemingly suggesting the 25-year-old is always the best dressed of them all.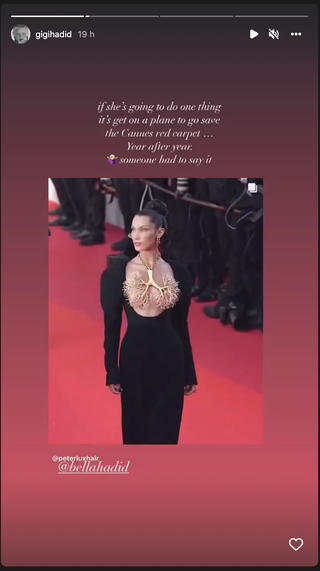 Emphasising her point, she added: 'Someone had to say it.'
Bella's now legendary 2021 Cannes look for the 'Tre Piani' screening at the festival saw her sport a slick updo that put flattering focus on her exaggerated skin-baring neckline, and she finished the look with glittering heeled sandals.
In the same year, she also donned a svelte Jean Paul Gaultier gown spliced with twisted black mesh, which formed a halter neck and swept the floor.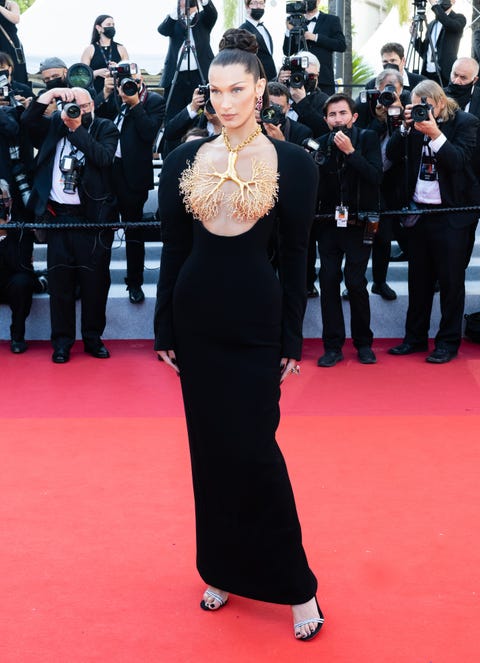 GETTY IMAGES
The Swarovski campaign star's other note-worthy looks include the 1920-style Roberto Cavalli Couture design she wore in 2016.
And we can't forget her asymmetric tiered-tulle Christian Dior gown worn in 2019, either, nor the sculpted and ruched red number with embellished straps that oozed va-va-voom – also from Cavalli.
In April, Bella marked Gig's 27th birthday by a sharing a series of photos showing their tight sisterly bond, along with a sweet sentiment.This content is imported from Instagram. You may be able to find the same content in another format, or you may be able to find more information, at their web site.