When it comes to gauging his action hero status, there's no way you can deny Jason Statham a summit position. While James Bond charmed his way throughout the swinging '60s and excessive '70s, the Reaganomics '80s trotted in muscle via Arnold Schwarzeneggar. The '90s grunge bomb cleared a path for ordinary Joes like Bruce Willis, and in the 2000s, internet technology ushered in the cyber-fighting Keannu Reeves in "The Matrix" saga. The next decade saw the fourth wave of feminism introducing action heroes like Charlize Theron in "Mad Max: Fury Road" and "Platinum Blonde."
Upon the dawn of the post-truth era, Statham's ambiguity as a heroic villain (or villainous hero) fits in with today's real-life headlines. For at least $10 million a picture, he usually plays an underworld operative who gets the job done, but rarely gets the girl. "I never get a chance to be romantic," he said to On Demand Entertainment. "I'm always hitting people around the head and saying 'I'm out of bullets, give me the car keys!'"
Even though his cinema presence often spells box office gold, awards still elude Statham. "You ain't ever gonna get an Academy Award for doing 'Crank,' and you certainly won't for doing all the other movies I've done," he once told Dark Horizons. Considering that Celebrity Net Worth pegged his estate at $90 million in 2022, he's hardly crying his way to the bank. This is how he got to that number and what he likes to spend it on.
He first plunged into athletics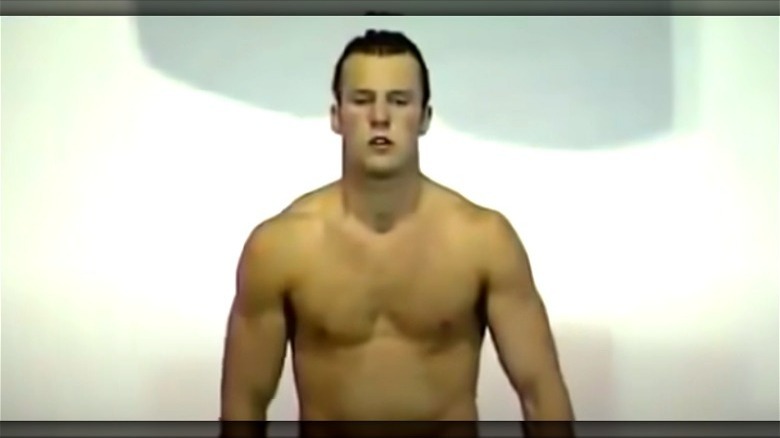 BBC/YouTube
Recalling his childhood life in Derbyshire, England, Jason Statham told Esquire Magazine that he idolized movie idols including Burt Lancaster and Steve McQueen — stars he would later emulate in most of his films. He also derived an appreciation for musicals via his mother, who was a professional dancer. However, diving turned out to be one of his earliest passions, when as a kid he saw a high diver in action in Miami, where he vacationed one summer with his parents. "I was like 11 or 12, and within a year was on the British team and then it just took its own momentum and I just spent the next ten years doing that," he said to Katie Couric. 
It wasn't long before the young diver was ranked 12th in the world, although the sport was hardly a bread-winning occupation back in the '80s. His only revenue would have been a meager stipend from the British government. Had he been an American gold medalist, instead, he could have received a bonus worth about $37,000 these days. That gratuity doesn't even include corporate sponsorship or endorsements, which were rare back then, but have since mushroomed to amounts as outrageous as the reported $20 million per year made by Jamaican sprinter Usain Bolt in endorsement deals alone. But given the myriad of aquatic scenes he performed in such movies as "Crank," "The Mechanic," and "The Meg," at least those swim skills came in handy once Hollywood started beckoning.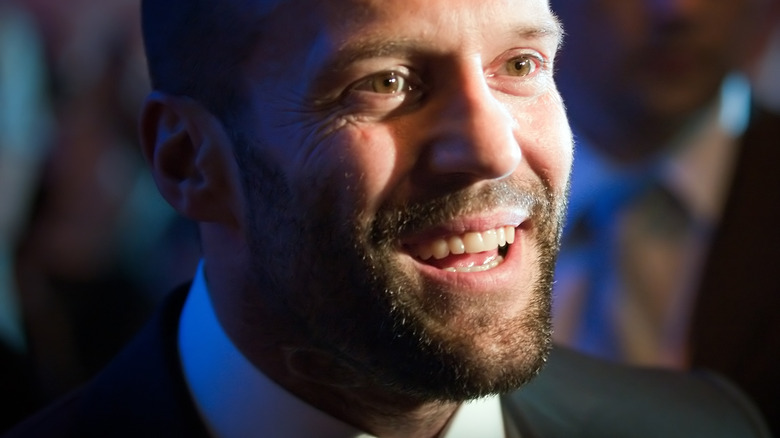 Jason Statham sold fake jewelry
Jason Statham wasn't exactly raking it in as a world-class diver. Luckily, he had a sideline gig — one that could have landed him in the clink if he got caught. The "Snatch" star sold fake jewelry on the streets of London, an occupation that would apparently bring in around $2,500 daily for Statham and his buddies, who'd split the bounty at the end of each shift. Statham told Details Magazine (via Female First) that his father, a salesman, taught him how to sell the counterfeit wares by staging mock auctions at home before trying out those skills on the streets. Apparently, he never lied to his clients about the goods being fake. "It's people's own greed that allows them to get ripped off," he said. "If your intuition served you at all, you'd never be in that shop or that corner. And we never said, 'That's gold, that's Cartier.' We just never let them ask."
That huckster education later provided him enough transferable skills for the camera in his first movie, "Lock, Stock and Two Smoking Barrels," which saw him selling knock-off goodies out of a handy attaché case. "No acting required," recalled Statham to AOL. "Just me stepping into a world of cinema doing what I used to do." It also helped that he bore an icy stare and a gruff Cockney-accented delivery, which would become trademarks of his screen presence. And let's not forget his washboard abs rigid enough for a Cajun percussionist.
Guy Ritchie changed his life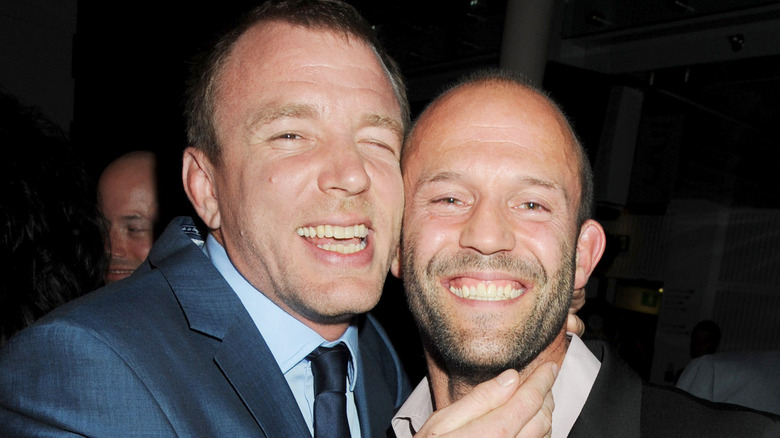 Before he quit diving, Jason Statham landed a few cameos in music videos, including Yello's "To the Sea," Erasure's "Run to the Sun," and "Comin' On" by Scottish dance act, The Shamen. But he soon had another profession to juggle when a talent agent approached him to consider modeling. 
A few catwalk appearances later, Statham drew the attention of film director Guy Ritchie, who felt the upstart model had the right look for roles in the 1999 drama "Lock, Stock, and Two Smoking Barrels" and "Snatch" a year later. Statham's take from both movies was modest, considering the low-budget outings managed to rake in a combined $110 million at the worldwide box office, "I got £5,000 for doing 'Lock, Stock' [around $6,000 USD] And then, for Guy's next movie, 'Snatch,' I got like 15,000 [roughly $18,000 USD]," he told Esquire.
Still, he felt appreciative for the break. "I've been extremely lucky," Statham told the BBC. "I've been in the right place at the right time. However, I will always be grateful to Guy Ritchie … he offered me that part and changed my life." Over time, the parts got larger until he managed to snare his first lead role of chauffeur-for-hire Frank Martin in "The Transporter," which brought in nearly $44 million worldwide (twice the film's budget) and became successful enough to warrant two sequels. From that point on, Statham demonstrated that he could spin action into gold.
Statham's flicks have made more than $7 billion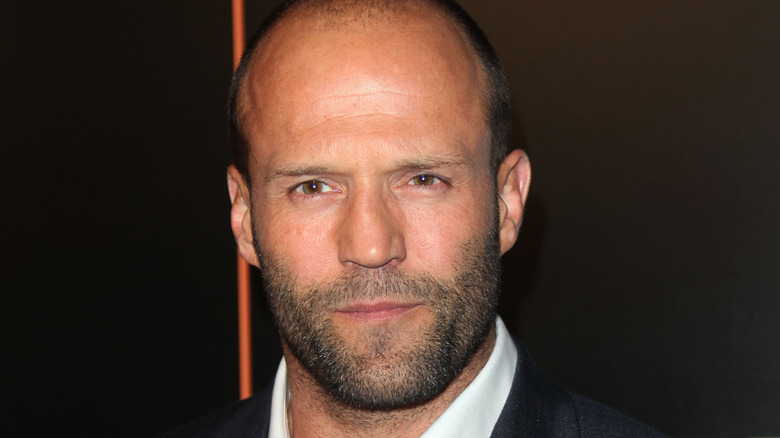 Compared to what more recent Jason Statham films have earned, the returns from his first two movies "Lock, Stock and Two Smoking Barrels" and "Snatch" would barely cover the cost of one of his high-end sports cars. Once Statham transformed from a minor star to a lead, it became impossible to deny Statham's box office mother-lode status. Movies where he was low in the casting ranks such as "Ghosts of Mars" where he played second fiddle to Natasha Henstridge and Ice Cube, and "Collateral" starring Tom Cruise, have grossed nearly $400 million globally. But once Statham started getting more prominent parts, flicks like "The Italian Job" and "Cellular" earned considerably more, topping out at nearly $1.8 billion. 
Once the star snared lead roles in outings like the "Crank" and "Transporter" series, or became part of a roster of superstars like "The Expendables" or "Fast & Furious" franchises, that money-stream gushed into a tsunami that surged his box office up to the $5-billion mark. As of 2022, the grand total of Statham's global box office proceeds exceeded $7.2 billion. Coffers range from $1.2 million generated by the 2000 drama "Turn It Up" to the outrageously lucrative 2015 blockbuster, "Furious 7." As for Statham's earnings, he once told Esquire about his first two movies, "I would have done them for free just for the opportunity to do something different." Fortunately for him, he received considerably more than that.
He commands eight figures per movie

At the start of his career, Jason Statham made a combined £20,000 (around $24,000 USD) for his first two films, "Lock, Stock and Two Smoking Barrels," and "Snatch." After that, his asking price drastically escalated. According to The Richest, he received $450,000 for "The Italian Job," $750,000 for the first installment of "The Transporter" series, and $5 million for "Crank 2: High Voltage."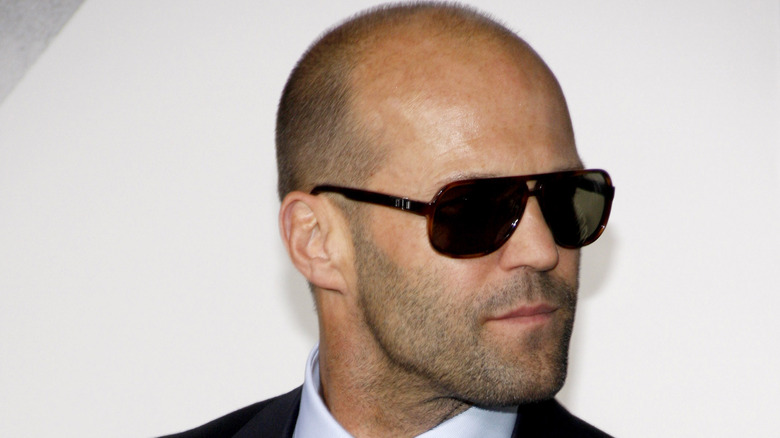 As of 2022, his asking price per film is reportedly even higher. While Celebrity Net Worth suggests the star pulls in over $10 million per job, Business Insider reported him being paid $13 million for his work on the "Fast & Furious" spinoff "Hobbs & Shaw." Given the boffo box office results of those projects that signed him up, he seems to be worth it, although it's nowhere near the $120 million paycheck that Bruce Willis negotiated for his work on "The Sixth Sense," or the reported $100 million that Will Smith was paid for "Men In Black 3."
Clearly, Statham is money in the bank. In the US alone, "Hobbs & Shaw" made $173.9 billion, equating to a return of $13 for every buck spent on the star. The actor also performs his own stunts, eliminating the need to hire a stand-in. "I get paid a lot of money these days, so they like to get their money's worth," he told ET Canada. "It's no good me sitting on a chair and having somebody else do all my hard work."
Statham's life has been Rosie since 2010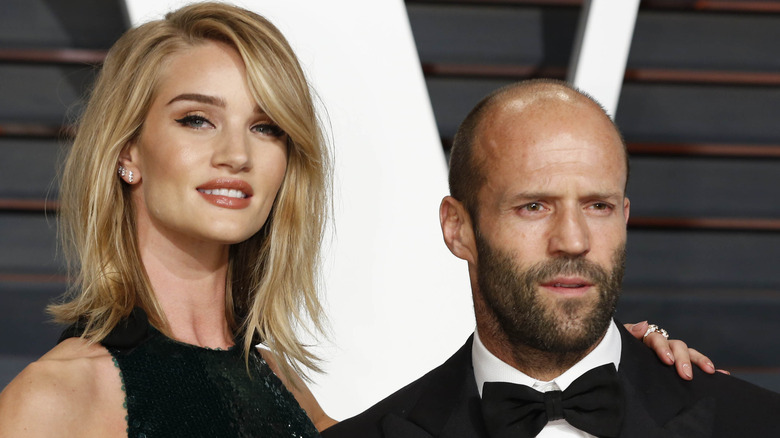 The tabloid media have been keeping tabs on Jason Statham's love life ever since he emerged into the spotlight. and has dated celebrities including Brit model and "Piranha 3D" star, Kelly Brook and Aussie singer and media personality Sophie Monk. But he seemed to have met his match when he first met Victoria's Secret model Rosie Huntington-Whiteley at a party in London in 2009, per US Weekly. 
Although Statham is 20 years older than his other half, he seems to have found a kindred spirit in his partner. The relationship has seemingly remained solid since they met, including bringing two children into the world together. Although they were engaged in 2015, as of 2022, a wedding hadn't yet happened. Instead, Huntington-Whiteley told Extra in 2018 that they were focused on balancing child-rearing alongside their respective careers. "We definitely talk about [getting married]," she said. "We're looking forward to that time, but it's also not a huge priority to us. We're so happy, you know?"
The good thing is that if they tie the knot, a prenup probably wouldn't be necessary. Huntington-Whiteley has stretched her wings to include a lucrative design deal with Marks & Spencer, and even landed major roles in big-time flicks like "Transformers: Dark of the Moon" and "Mad Max: Fury Road." According to Celebrity Net Worth, the star had $30 million to her name as of 2022, raising the household's overall revenue to $120 million.
The family lives large In Beverly Hills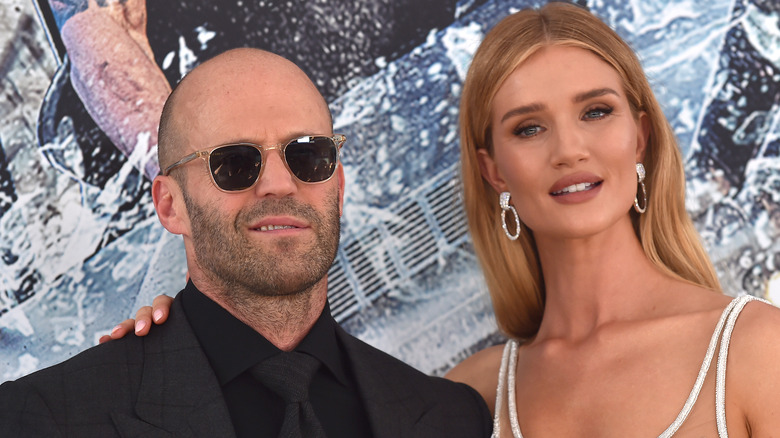 Jason Statham is pretty guarded about his private life. In an interview with Collider, he once even insisted, "We're not talking about Rosie." But what's public is his real estate investments including a two-story Beverly Hills mansion that he bought for nearly $13 million and shares with his other half and two children. That's three times the original value of the home, which was in rough shape when the previous couple bought it for $4.582 million in 2006 (they spent nearly $5 million restoring the place). 
The abode boasts five bedrooms, eight bathrooms, a dining room den, and a media room. The 5,600 square-foot residence was also decked out in reclaimed wood for the kitchen, with fireplaces warming up the master bedroom, living space, and den. The property itself takes up roughly a third of an acre with olive trees, hedges and even a koi pool, complete with fountain.
Statham also owns a nearby home built in 1957, worth $2.7 million which has all the basics plus a den and fireplace adjacent to the master bedroom. The 2,917 square-foot home has plenty of patio space with much of the property dedicated to gardens, a spa, and a saline pool. According to Celebrity Net Worth, Statham previously owned Ben Stiller's $7.3 million Hollywood Hills home, which he sold to Johnny Galecki for $9.2 million. He also owned a Malibu pad worth $10.6 million, which he eventually sold for $20 million in 2020.
Statham is big on supercars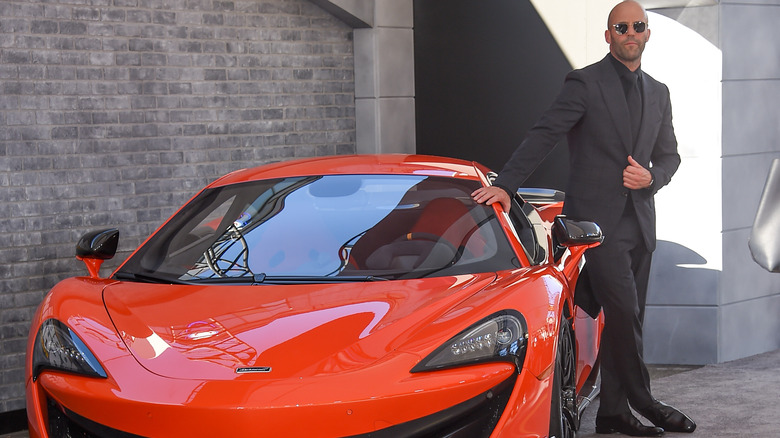 Most of Jason Statham's flicks feature him living a fast life, a stereotype that translates well to his real life in the case of the cars he owns. According to 21motoring's inventory of the action hero's opulent four-wheelers, the "Crank" star's collection stood 12-strong, as of 2021. By far his priciest acquisition is a $1.5 million McLaren Senna, the fastest model the automaker had built up to that point, achieving a top speed of 204 mph. It happens to be Statham's favorite car, simply because it's easier to handle than a muscle car. "There is much less to do at the wheel, yet the car is doing infinitely more," he told YouTuber, Will King.
Going down the list of what's in Statham's palatial garage, his next most expensive luxury ride is a Lamborghini Murcielago, worth $354,000 and boasting a V12 engine that can propel the vehicle to more than 60 mph in just 3.2 seconds. Third on the list of costly items in Statham's palatial garage is a real James Bond machine — an Aston Martin DBS Volante, presumably without a grille-mounted machine gun or ejection seat. Also included was a Ferrari F12 Berlinetta worth $319,000 when he got it, but was reported as being up for sale for nearly $230,000 in 2019. He also owns a Mercedes-Benz, another McLaren, a Porsche, two Jaguars, and three Audis. The total value of his garage contents, assuming he unloaded his Ferrari, is roughly $3.2 million.
He has a thing for watches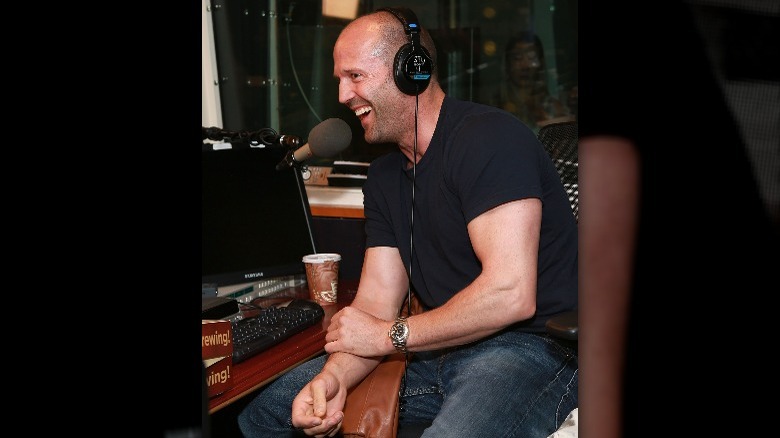 Nobody ever needs to tell Jason Statham what time it is, since he has some rather extravagant watches to perform that task for him. Evidently, he's drawn to high-end timepieces. "[I'm] not a collector … although I do own a lot of watches," he told Watch Culture. "I don't wear jewelry: chains, bracelets, rings. I love watches because they reflect the human mind and creative energy." 
According to Swiss Watch Expo, one of his favorites is a Jaeger LeCoultre Valentino Rossi timepiece worth around $6,990 and named after one of Italy's most legendary racecar drivers. He's also big on a Rolex Explorer II Steve McQueen vintage steel watch that Chrono 24 pegged as being worth as much as $70,000 — a natural fit for Statham, who's a huge fan of the late actor. Another Rolex he favors is the Submariner Ceracrom Bezel stainless steel watch valued at $7,500 that he wore while filming "The Killer Elite" and "Parker." Not to mention the TAG Heuer Monaco CW 2113 watch that Statham wore when he starred in "The Bank Job," which sells for around $5,000.
Every watch he wears on set remains on his wrist, even during his own stunts, so they need to be durable. As he told Watch Culture, he invests in watches with practicality in mind. "I prefer 'extreme' watches: chronographs, pilot watches, watches designed for flight," he explained. "… I see them as more than watches; they're tools that serve a purpose."
Endorsements may bring in a pretty penny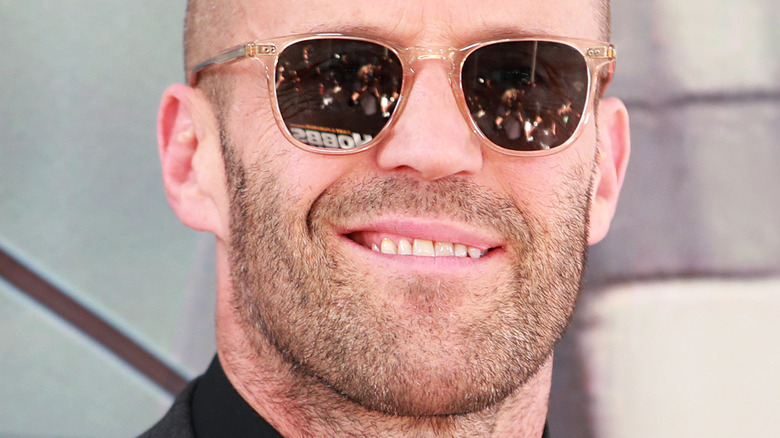 Of course, showing off his glitzy watches onscreen may also double as convenient product placement for Jason Statham. However, it's not his only endorsement. From his days as a model to the Hollywood star he is now, he's helped to advertise numerous products including French Connection fashions, Russia's Gazprom G-Energy motor oil, Lee jeans, and Kit Kat candy bars. Clearly, he learned a lot of those skills on the street hawking counterfeit jewelry, although his icon status does most of the talking for him these days.