Megan Fox
Megan Fox Offers Support to Sophie Lloyd Following Machine Gun Kelly Cheating Rumors
Megan Fox just proved there is no bad blood between herself and Machine Gun Kelly's guitarist Sophie Lloyd: "Sophie you are insanely talented. Welcome to Hollywood."
This twin flame is lit up.
After Megan Fox made it clear there is no bad blood between her and guitarist Sophie Lloyd following rumors she was involved in an affair with the actress's fiancé Machine Gun Kelly.
"How me making a joke in order to absolve this girl of a hurtful accusation somehow turned into a confirmation of it—I will never understand," Megan wrote Feb. 19 in the comment section of Sophie's latest Instagram post. "Why are people so…so dumb. Sophie you are insanely talented.
Megan continued to offer MGK's guitarist more sound advice.
"Welcome to Hollywood. Your first unwarranted PR disaster," the Jennifer's Body star continued. "You have now been baptized by the flames of fame. It only gets worse from here unfortunately. Just ignore it as much as you can. Middle finger up."
The Transformers actress' comment was just the latest record she set straight since returning back to the social media platform. Earlier in the day, Megan took to her own page to clarify the cheating and breakup rumors that have been circulating about her and the "Bloody Valentine" singer since Super Bowl weekend.
"There has been no third party reference in this relationship of any kind," the 36-year-old wrote in a screenshot from her notes app. "That includes, but is not limited to…actual humans, DMs, AI bots or succubus demons."
"While I do hate to rob you of running random baseless news stories that would have been much more accurately written by ChatGPT, you need to let this story die," she continued. "And leave all these innocent people alone now," adding a prayer hands and purple heart emoji.
Megan also set her following count back to zero—a week after her actions online Feb. 12 raised eyebrows.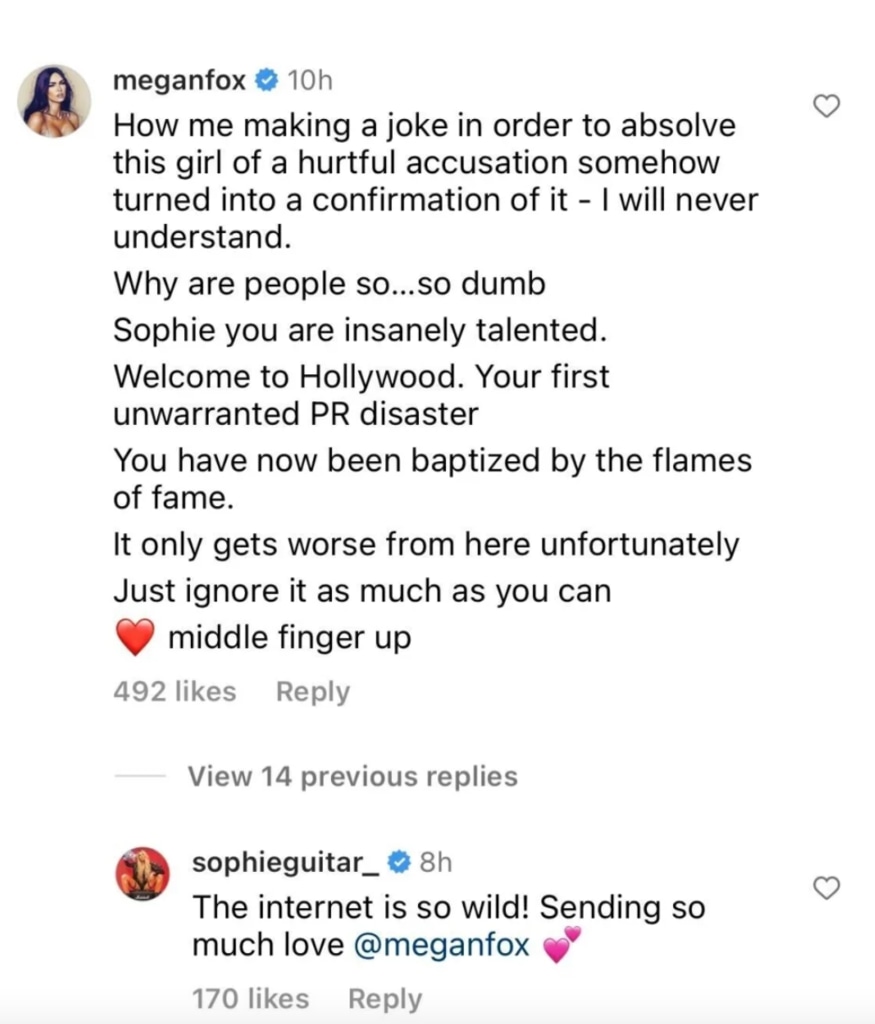 Instagram
She originally deleted all her Instagram posts of MGK and shared a cryptic Beyoncé lyric about "dishonesty" from her 2016 song "Pray You Catch Me." And to top it off, Megan followed just three celebrities—Eminem, Harry Styles and Timothée Chalamet, before de-activating her account all together.
Fans automatically assumed there was trouble in paradise, with one user commenting, "He probably got with Sophie," to which Megan shot back before leaving the app, "Maybe I got with Sophie."
Sophie herself has since slammed the rumors.
"Sophie Lloyd is a professional, accomplished musician who has been needlessly dragged into the media based off of meritless accusations made by social media," her management team told Page Six Feb. 15. "Any suggestion that she has ever acted in an unprofessional manner or stepped out of her relationship are untrue."
E! News has reached out to Sophie's rep for comment on her statement to Page Six and has not yet heard back.
As for how the twin flames are doing? Megan and the rocker have been photographed out since the scandal ignited, once exiting an office building Feb. 13, per Daily Mail and again in the car on Valentine's Day, with MGK driving and Megan riding shotgun.
E! News has reached out to Megan and Machine Gun Kelly's reps for comment on the breakup rumors and hasn't heard back.