Anne Hathaway
Anne Hathaway's Dramatic New Cut Extends 'Short Hair Season' By Another Month
While Anne Hathaway largely stays true to her chic red carpet style and timeless makeup preferences, hair is one arena in which she's always down to experiment — maybe that's why so many of her most iconic films feature haircuts as plot devices? After a few years enjoying long, curtain bang-accented blowouts, it looks like the She Came To Me actor has shaken things up again. And get excited, because it's her edgiest look since her legendary 2013-era pixie cut. Hathaway's bob with bangs was just unveiled as part of a new Bulgari fine jewelry campaign shoot starring the A-lister. Dressed up in a vegan leather biker jacket by Stella McCartney and tons of luxe Bulgari accessories, Hathaway's damp-looking, shoulder-clearing bob looks impossibly elegant, especially paired with the wispy blunt fringe she's been loving over the past five months.
Truth be told, it's technically impossible to deduce if she's done up in a lifelike wig or legitimately went for the big chop, but it really does seem like the latter. Hathaway's been pretty quiet on social media for most of the summer, last spotted IRL in Venice to celebrate Bulgari's Mediterranean High Jewelry collection in late May. That makes the timeline for an actual haircut and subsequent photoshoot feel much more plausible.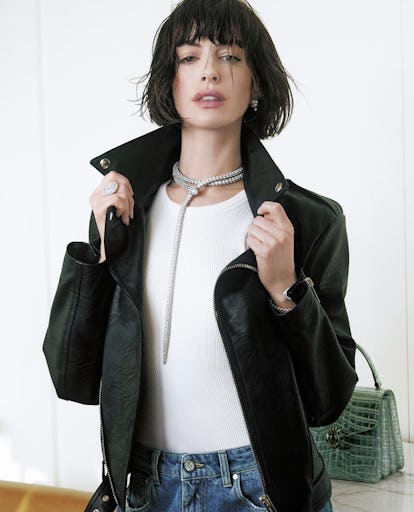 It's a major departure from the long, polished layers she's been wearing loose and flowing all year long. The bangs are a relatively recent addition, first appearing in February, but she's stayed relatively relaxed beauty-wise, allowing her hairstyles and makeup to highlight key elements of her outfits.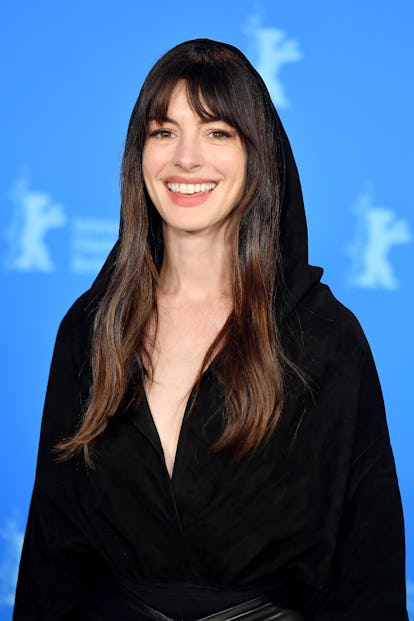 In terms of real-life cuts, this is Hathaway's shortest hair since the grow-out stages of the buzzcut she got in 2012 for her role in Les Misérables, for which she'd score an Oscar nom. By the time the Oscars rolled around the following year, she had enough length for an adorably gamine pixie.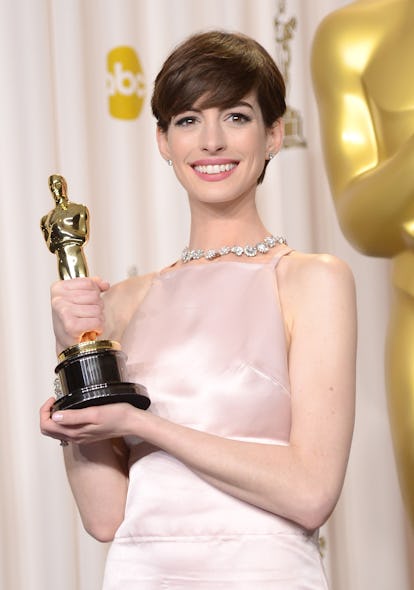 While we wait for details, go ahead and save the shot of her bob to your camera roll. As the celebrity-endorsed short haircut craze rages on, you'll want to be able to refer back to one of the year's best looks.